Leon County Holds Memorial Day Wreath Laying Ceremony
Wreaths will be placed at memorials and monuments to honor veterans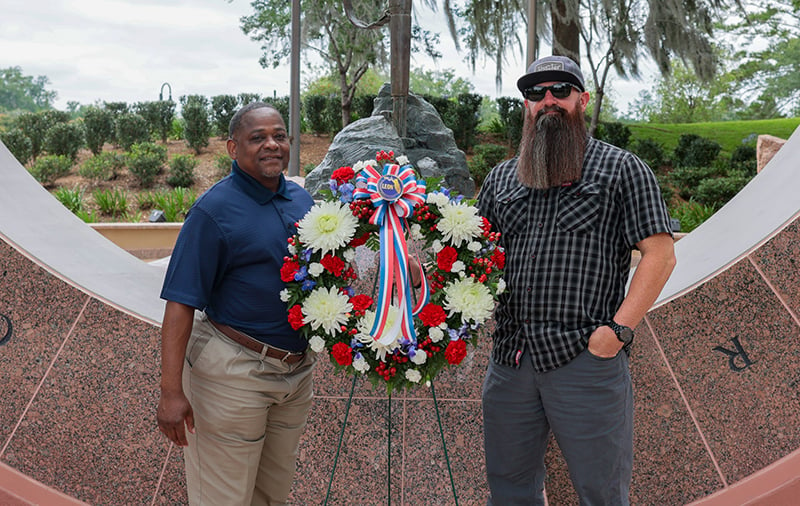 Leon County Government will honor the brave men and women who died while serving in the U.S. military by placing wreaths at memorials and monuments in the community during Memorial Day weekend.
In the County's ongoing commitment to recognizing and supporting local veterans, staff will lay a wreath during a formal ceremony hosted by the American Legion Sauls-Bridges Post 13 on Monday, May 29, at 11 a.m. at Oakland Cemetery, 838 North Bronough Street.
The County also placed wreaths at six additional locations:
World War II Memorial at the Leon County Courthouse, 301 South Monroe Street
Korean War Memorial at Cascades Park, 790-798 Suwannee Street
Florida Vietnam Veterans Memorial, 463-489 South Monroe Street
Big Bend Hospice Veterans Memorial Garden, 1723 Mahan Center Boulevard
Daniel B. Chaires Community Park, 4768 Chaires Cross Road
Greenwood Cemetery, 1601 Old Bainbridge Road
Established in 2015, Leon County's Operation Thank You Commemorative Wreath Program places wreaths at local monuments and memorials every year for Memorial Day to honor our fallen hometown heroes.
For more information, contact Ben Bradwell, Director, Leon County Veterans Services, at (850) 606-1900 / BradwellB@LeonCountyFL.gov or Mathieu Cavell, Leon County Community and Media Relations at (850) 606-5300 / CMR@LeonCountyFL.gov.