Goodwood Revs Up for Opening of Rev Café
Family had everything to do with Joe Costanzo's decision to open another cafe.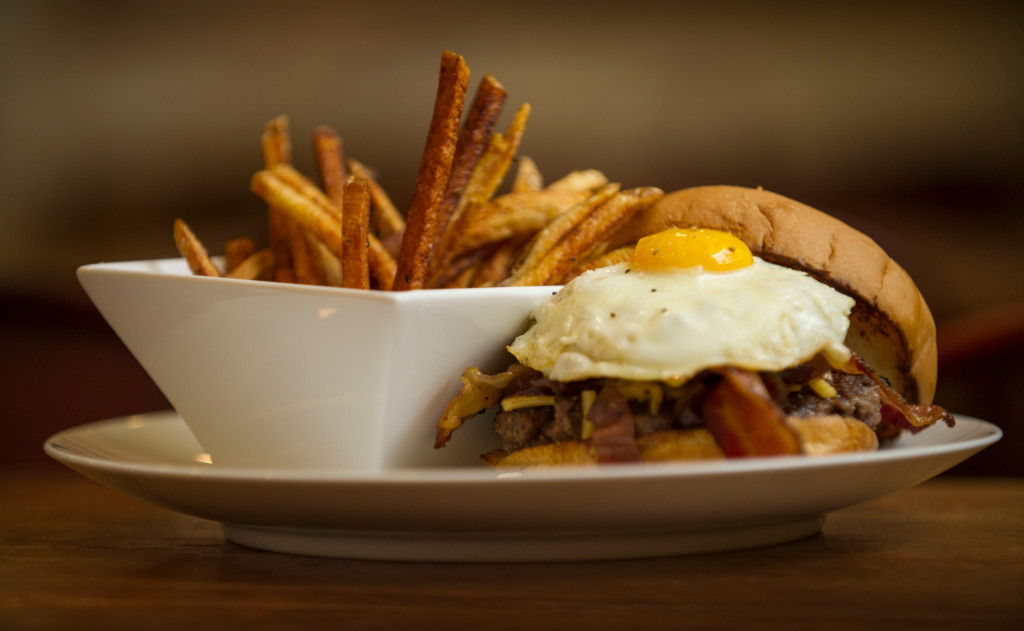 Joe Costanzo's family had everything to do with his decision to open a second location of the Rev Café at Goodwood Museum & Gardens this fall.
His wife, Jaclyn, and two older daughters loved going to Fanny's Café at Goodwood, and they were disappointed when it closed so the building could undergo badly needed restoration and renovation.
Costanzo later learned that Goodwood wanted a restaurant back in the building once the work was done, and he was intrigued.
One Saturday morning, when he and his daughters were roaming the grounds to kill time while his wife was at a nearby dentist's office, Costanzo had a chance encounter with one of Goodwood's co-executive directors.
"I went home and called TalCor, the commercial agent handling the rental," Costanzo said.
Having a Rev Café at Goodwood is expected to bring the same kind of positive changes to the historic Tallahassee property that Costanzo's original Rev Café brought to downtown Monticello when it opened in November of 2016.
The Rev not only brought venison sliders and shrimp 'n' grits to a small town that was pretty much limited to Mexican fare in the evening, it also brought a much-needed venue for a nice dinner and cocktail or glass of wine as well a place to grab coffee to go in the mornings.
"Rev up" in the morning and "rev down" in the evening, enjoying the charm and architecture of the Jefferson County Courthouse square.
Goodwood's leadership says Rev Café is a perfect fit for Goodwood.
"We think it's very important to have an eatery on the premises, because it gives visitors an opportunity to linger on site and enjoy the grounds," co-executive director Jennifer Humayun said. "Plus, Joe is doing great things with Southern-style food, which enhances the story of Goodwood and its legacy of hospitality."
Costanzo describes his food as "American rustic," or classic Southern food with an upscale twist: fried green tomatoes with a chipotle aioli and baby kale salad with a peach vinaigrette dressing.
He uses locally sourced products as much as possible, including Johnston's sausage for jambalaya, satsumas for Sunday brunch mimosas, and local honey and Tallahassee-based Proof beer for beer bread with honey-butter.
Six of the eight beer taps at Rev Café in Monticello pull Florida craft brews, including two from Tallahassee (a Proof and a Lake Tribe), two from Jacksonville and one each from Apalachicola and Tampa.
The other two brews are pineapple cider from California and a popular mass-market light beer.
Among the wine selection are four types of blueberry wine from a winery near Ocala.
Costanzo is all about offering options. The basic chili at his Monticello location is vegan, but diners have the option of adding bison, venison or Angus beef.
The burgers come in bison, venison, Angus beef or Portobello mushroom. He's very proud of the fact that almost 100 percent of the menu can be prepared gluten-free.
"For so long, the only gluten-free option out there was a salad," he said. "That drives me crazy. A lot of things can be made gluten-free, including the batter for frying chicken and the bun for a burger."
Costanzo plans to offer a similar menu at the Goodwood location, although he will leave many of the details to the discretion of the Goodwood location chef. While Costanzo has been in the restaurant business most of his life, he focuses on the business and branding aspects.
He's also a big believer in giving back to the community — another tie-in with Goodwood and its mission of being a community venue where history is preserved and shared, the arts are enjoyed and significant life events are celebrated.
The Rev Café in Monticello participates in fund-raisers for worthy local causes and provides space for an outdoor farmers' market on Saturday mornings.
Costanzo's sense of civic duty was formed early: Young Joey Costanzo was one of Boynton Beach's "lemonade kids": three boys, ages 11 and 13, selling lemonade on the side of the road on Saturdays in the wake of the Sept. 11, 2001, terrorist attacks.
Joey, his brother David, and friend Joey Scanzano raised almost $10,000 for the American Red Cross. The South Florida Sun-Sentinel reported that many people made donations without ever tasting the lemonade.
The Monticello location is open Tuesday through Saturday, 11 a.m. to 9 p.m., with a Saturday brunch. There are plans to open on Mondays, too. The Goodwood location likely will start with lunch and dinner Monday through Saturday and later add brunch.
Being open in the evening is something new for any café at Goodwood. "This will significantly expand our audience and bring in the young professionals who might not be able to come for lunch during weekdays, but who can come by for dinner or a drink after work," Humayun said.
For Costanzo's family, the big attraction was and remains the building that houses the café. When it was built in 1915, Goodwood's then-owner, wealthy New Jersey widow Mrs. Alexander Tiers, called it Camellia Cottage.
Tiers, who was known to friends as "Fanny," used Goodwood as her winter estate and built several of the prominent structures on the property, including Jubilee Cottage for entertainment and parties.
Camellia served as the cabana for the nearby swimming pool, and guests who weren't ready to retire at the end of an evening's festivities in Jubilee moved over to Camellia to continue their revelry, prompting Goodwood staff who cleaned up the next day to nickname it, "The Rough House."
Both Fanny's — the last café to lease the space — and the earlier Paula's Cabana Café gave a nod to Goodwood's history in their names. The proprietor of Fanny's, who also runs a catering business, opted not to bid on a new lease after the restoration project, Goodwood officials said.
The $100,000-plus restoration and renovation earned Goodwood and architects Barnett Fronczak Barlowe & Shuler accolades from the Tallahassee Trust for Historic Preservation. On a personal level, it saved a place for Constanzo's family treasures.
"My wife is really into British culture, and she's passing that love on to our daughters," Costanzo said. "Going to the Rough House is like going (out) for tea. It's a sense of place."