Fired Up About Glass
Women Artists Find Their Artistic Style in This Magical Medium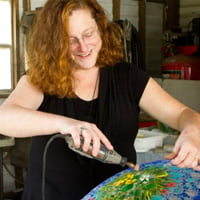 Photo by Scott Holstein
Cheryl Sattler polishes a piece of art glass in her studio.
All that glitters isn't gold — but it just might be glass, which frequently contains metal to give it color. Intense heat magically transforms sand, lime and soda ash into the sparkling translucence we call glass. Add a pinch of gold oxide to the pot and you get cranberry glass; cobalt oxide, brilliant blue; and iron oxides, green and brown.
Enchanted by the magic of the medium, a group of Tallahassee artists are earning national recognition for their work. Sarah Coakley, Terrie Corbett, Susan Frisbee, Jaye Houle, Lesley Nolan, Cheryl Sattler and Kathy Wilcox are among those who ventured into a field once dominated by men. Each artist developed her own style and techniques using the highly versatile medium.
"I'm blown away by the talent and quality of work produced by glass artists in this area," says Ann Kozeliski, executive director of the LeMoyne Center for the Visual Arts. "You can really see the progress they have made over the years." She is impressed by the time and money they invested to develop their skills. "You have to be involved down to the cellular level to work with glass."
This year marks the 50th anniversary of the American Studio Glass Movement. Prior to the early 1960s, glass was made only in large-scale industrial settings. American studio glass differs from factory glass because an individual artist creates the piece. Both Lesley Nolan and Terrie Corbett were invited to participate in an exhibit to celebrate the movement's anniversary at the renowned Bender Gallery in Asheville, N.C.
"Lesley and Terrie have galleries outside the state, which speaks to the quality of their work," says Dr. Viki Wylder, curator of education at the Florida State University Museum of Fine Arts.
Cheryl Sattler
Fused Glass
Cheryl Sattler specializes in fused glass expressing the two distinct themes of freedom and family ties, and the inevitable tension between the two. "I make glass that people feel compelled to touch," she says. "I love that. Go ahead — break the rules."
A distinctive feature of her work is the combination of colorful glass crushed to varying degrees and then formed back together. Where Lesley's pieces tend to fuse together neat geometric shapes into a larger tidy pattern, Cheryl's art seems to celebrate disorder and rule breaking.
With an art degree from FSU, Cheryl tried weaving, pottery, painting and basket weaving before she finally took a class in glass. "It was love at first sight," she says. "The beauty of glass is that it's a liquid. I try to catch the light and capture the fluidity."
Cheryl is putting together a 2014 show for Gadsden Art Center called "10,000 Hours," the amount of time "Outliers" author Malcolm Gladwell says it takes to become proficient in any area and push it further than it has ever gone before. When people ask how long it took her to make a piece, she tells them, "All my life." The skill and imagination in any piece are cumulative.
Her 2,500 square foot studio in Quincy is called "Imagine That!"
Lesley Nolan
Fused Glass
A central figure in Tallahassee's glass community, Lesley has worked with fused glass since 1992, though she worked with stained glass earlier. Her backyard studio boasts three kilns.
"Lesley's style is a combination of playful and serious," says Wylder. "It's colorful and engaging, drawing you into her imagery."
Lesley builds her distinctive pieces around a story, such as people walking on the beach or girlfriends bonding. She used to sew quilts and a similar effect of combined prints and patterns informs her art glass.
"The stories I tell in the main body of my work celebrate our common human moments," Lesley says. Besides wall-sized collages of human figures, she also creates colorful tableware. Much of her work utilizes brilliant primary colors in stunning combinations.
Lesley's work first gained national exposure through a competition sponsored by Bullseye Glass in Portland, Ore. Since then, her glass has won recognition in San Francisco and Chicago exhibitions and in publications like "Contemporary Warm Glass" by Brad Walker and "A Beginning Guide to Kiln-Formed Glass" by Brenda Griffith.
Over the years Lesley shared her knowledge with others, helping to create a synergistic community of local glass artists.
Terrie Corbett
Enamel on Glass
Tallahassee's other representative at the Bender Gallery celebration, Terrie Corbett, paints on glass with vitreous enamel, which is fired in a kiln to fuse the two together. Enamel consists of powdered glass.
"Terrie's paintings have an abstract expressionist style, an expression of emotion and spirituality. When you look at her work, you see no objects but you see the burst of energy," Wylder says.
"I love the element of surprise when you combine the act of painting with the capricious nature of kiln-fired glass," Terrie says. The only thing she dislikes is the wait while her art goes through the fire. "If there are problems when I remove it from the kiln, then there is sandblasting, additional painting and subsequent firings."
Her creations have a very contemporary feel. Terrie's glass paintings have been juried into an International Glass Exhibition called "Ignite" and six nationally juried exhibitions, as well as being included in the inaugural opening of the Florida Museum for Women Artists in Deland. Recognized in "The Best of Florida Artists," Terrie has a BFA in painting and drawing.
Photos by Scott Holstein
Fusing glass with Cheryl Sattler: Sattler cuts heat-resistant fiber paper (1) to the size of the base piece of glass and then sifts finely ground, dry, colored glass onto the fiber paper using a tea strainer (2). Carefully wetting the ground glass (3) allows the fiber paper to hold more glass and causes the powder to stick together. Bending the fiber paper (4) gently causes cracks in the surface of the wet glass powder. The powder/paper is placed on a kiln shelf and topped with a piece of clear glass the same size and shape. Then, pre-fired gems are added to the edge (5). These gems are made in an entirely different process. Gems are lined up along the edge of the glass (6), leaving space between them for more crushed glass. Various colors and sizes of crushed glass are mixed together (7) then the crushed glass mix is added between and around the gems (8). During firing, the powder fuses onto the piece of glass, making the pattern. No longer necessary, the fiber paper is peeled off (9). After being cleaned, the piece is placed flat on a stainless steel mold covered with a release so it doesn't stick (10). It's heated up very slowly so the glass bends gently, and then must cool very slowly so it doesn't crack. The photo shows a piece that is about to be fired (left) and another that has already been fired (right).
Kathy Wilcox
Enamel on Copper
Most of us associate the word enamel with glossy paint that comes in buckets. Kathy Wilcox finds she has to educate customers because not that many understand her enamel is actually finely ground glass.
Kathy enamels on copper with powdered glass that she applies in multiple layers. Each layer must be fired in the kiln. "It can be a tedious technique," Kathy says. "There might be 10 to 30 firings on a large wall piece."
She often incorporates gold foil in her designs. "It's thicker than gold leaf and requires meticulous work, but it adds a lot to a piece."
Fish, birds, reptiles, insects, blossoms and plants are common themes of her art, stemming from childhood experiences in Coconut Grove with her father, who was a naturalist.
With a BA in Art Education, Kathy enjoys teaching workshops, and has taught enameling techniques to Corbett, Houle and Coakley. "There aren't many places to learn enameling," she says. She took a course at FSU, but they no longer teach it there. For the past five years, she's been on the faculty of the Arrowmont School of Arts and Crafts in Gatlinburg, Tenn., teaching a weeklong class on enameling.
Though she's won many awards, a competition held by the International Enamelist Society stands out. Her work became part of a six-month exhibit traveling nationally from museum to museum.
Susan Frisbee
Stained and Fused Glass
For 26 years, glasswork has been Susan Frisbee's livelihood. Glasswork by Susan is located in the cottages at Lake Ella. Susan's work can be seen all over town in custom stained glass front doors and transoms. She created and installed 14 stained glass windows for a Methodist Church in Carrabelle and another 14 for a church in Quincy.
"When I do custom pieces, I try never to duplicate so each person gets a unique piece of art," Susan says. Not to mention, it keeps her from ever feeling bored.
Currently she is working on a Tiffany-style lamp in the magnolia shape with 1,282 pieces of glass. Though Susan specializes in stained glass, she also works with fused, and you'll find everything from jewelry to Christmas ornaments to sun-catchers in her shop.
Jaye Houle
Stained and Fused Glass, Pate de Verre
After Jaye Houle married a biologist, three-dimensional insects became a dominant motif in her art. For her very first show, she created a giant glass dragonfly, which became the symbol for her business, Dragonfly Glass. "With each piece I create, I try to distill the complexities of nature into simple, but recognizable, patterns and forms," Jaye says.
A geographer by training, she thinks in map forms like circles and squares and incorporates those shapes into many of her designs.
In 1980 she took a stained glass class, and her interest in the medium took off from there. She's experimented with fusing, sandblasting, airbrushing and using lusters and glass powders to add detail to her pieces. When she airbrushes mica on the glass, the result is shimmery iridescence.
Currently she works with pate de verre and cast glass. These pieces begin with clay models, progress to plaster/silica molds and then are packed with glass frit.
Sarah Coakley
Fused Glass, Architectural Glass
Like many other glass artists, Sarah Coakley painted on canvas, branched into enamels on glassware and later discovered fused glass. She also quilted. "Everything that I've done before informs what I'm doing now," she says. "I recently did a series of glass samplers for a new grandmother. It looks like a glass quilt with her grandchild's footprints and birth information."
Sarah works out of FSU's Master Craftsman Studio. A distinctive feature of her glass is the way she manipulates it while it's in the kiln to create unique effects. "I also love the look of mixed media," she says. Her jewelry sometimes combines fused glass with silver clay for a sculptural effect.
Sarah has been involved with outstanding pieces displayed in the community, including stained glass windows in the Werkmeister Reading Room at FSU and a glass sculpture of a rose incorporated into a water feature on the grounds of the university president's home.
As the Studio moves into architectural glass, Sarah hopes more businesses will consider custom creations — from glass bar tops to chandeliers to windows.
Currently, the Studio is collaborating with the Learning Systems Institute at FSU to produce videos illustrating how math and science are used by artists in the real world. Videos will highlight how principles of physics like momentum, force and energy transfer are involved in sculpture and glasswork.
Where to Learn Glassmaking
Other women in the Tallahassee glass community include Darcy Abbott, Claudia Howat, Carol Nahoom and Karen Pritzl. And already the passion for glasswork is firing up the next generation. At Killearn Lakes Elementary School last year, Coakley's daughter Bridget participated in a school-wide project where students design and create an item and market it to students or parents. Since Bridget had already been working with fused glass alongside her mother for four years, she made and marketed glass jewelry.
Several artists offer classes regularly and share the secrets of their craft.
Kathy Wilcox teaches enamel workshops in her studio. The typical one-day fee is $115, including materials; private lessons are $200. Leon County teachers can earn in-service credit. Contact Kathy through her website.
LeMoyne Center for the Visual Arts offers an extensive educational program. Susan Frisbee teaches summer camp stained glass workshops there for ages 13–17. At various times, she and Carol Nahoun also teach adult glass courses. Call (850) 222-8800 or see the current schedule at lemoyne.org.
Master Craftsman Studio encourages small groups like book clubs to schedule an evening to create fused glass jewelry. For $25, each participant makes and (after firing) takes a piece of custom jewelry. Bring your own food and beverages and make a party of it. Contact Sarah Coakley if you are interested at (850) 644-0139.
WHERE TO SEE AND/OR BUY ART GLASS AROUND TOWN
1020 Art!
1020 East Lafayette St.
Terrie Corbett, Cheryl Sattler
The Museum of Florida History
500 S. Bronough St.
Kathy Wilcox
Gadsden Arts Center
13 N. Madison St., Quincy
Cheryl Sattler, Kathy Wilcox
Glasswork by Susan
1661 N. Monroe St.
Susan Frisbee
LeMoyne Center for the Visual Arts
125 N. Gadsden St.
Terrie Corbett, Cheryl Sattler
Nomads
318 N. Monroe St.
Jaye Houle, Kathy Wilcox
Master Craftsman Studio
905 W. Gaines St.
Sarah Coakley
Mozaik Restaurant
1410 Market St.
Jaye Houle
Signature Gallery
2782 Capital Circle N.E .
Terrie Corbett, Lesley Nolan,Cheryl Sattler
Or contact the artists through their websites.