Honor Flight Tallahassee
Round Trip to Washington Confers Deserved Respect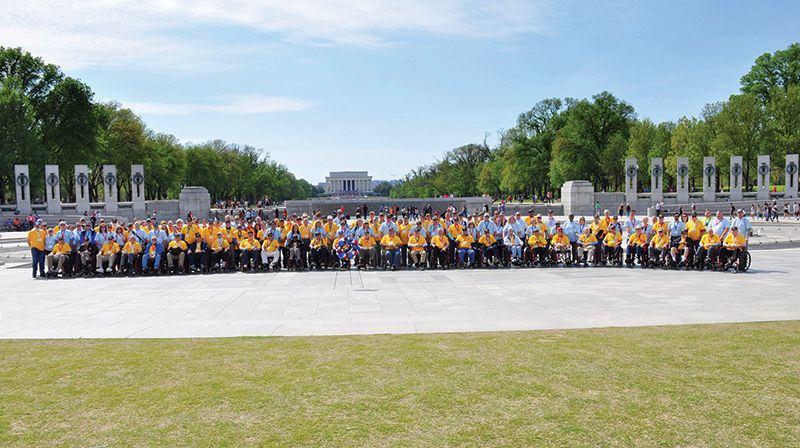 Seated at a cafe beside his wife Sonya, retired U.S. Marine Johnny Linton scrolled to a folder of photos on his phone.
Titled "Vietnam," it contains more than 39,000 photos, including sepia-toned portraits of Linton as a thin, young man at war, bloodied helicopters and fellow soldiers.
"Most people don't know what that experience was like," he said of his two tours in Vietnam. "But I'd go back to that war multiple times before ever returning to boot camp."
He paused on photographs of four drill sergeants.
"These men were the worst," he said. "I was all bruised, cut and beat up. I had a size 12 boot print in purple right on my chest from being kicked. We had to survive all that just to go to the war."
Linton, in a button-up flannel shirt and neatly combed-over hair, recalled that many of the men he served with did not return from the war. His closest friend was scheduled to leave Vietnam the same day as Linton but died in combat eight days before their discharge date.
Left with severe post-traumatic stress disorder due to his Vietnam experiences, Linton was placed on full disability and deals with physical and mental consequences from the war to this day.
The Honor Flight Network, a nonprofit founded in 2005, is dedicated to honoring veterans like Linton. Since its inception, it has taken more than 200,000 veterans on all-expense-paid trips to Washington, D.C., where they spend a day with other veterans and tour war memorials.
Honor Flight Tallahassee first took off on May 11, 2013, when it escorted its first planeload of mainly World War II veterans to experience a day they'll never forget.
Aboard that first flight was WWII veteran Bryce Thornton, who served in the 104th Infantry Division. He spent 11 months overseas during the war, and even at 98 years old, he can still rattle off his dates of service: June 14, 1943, to December 12, 1945.
"Going on the Honor Flight was one of the finest experiences," said Thornton, who recalled the reception he enjoyed upon coming home from the war. "I remember seeing the Statue of Liberty in the distance and all these people on tugboats with giant water cannons spraying in a salute. They followed us all the way in."
For soldiers returning from Vietnam, there was no hero's welcome.
"They threw rocks in my face and called me all sorts of names," Linton recalled.
Participating in Honor Flight Tallahassee in April 2022, Linton was finally able to release the disgust about that experience that he had harbored for 50 years.
---
The next Honor Flight Tallahassee is scheduled for Saturday, April 29, 2023. To learn more, visit HonorFlightTallahassee.org.
---