Stop and Smell Thomasville's Roses
Thomasville merchants extend Rose Show to month-long spring celebration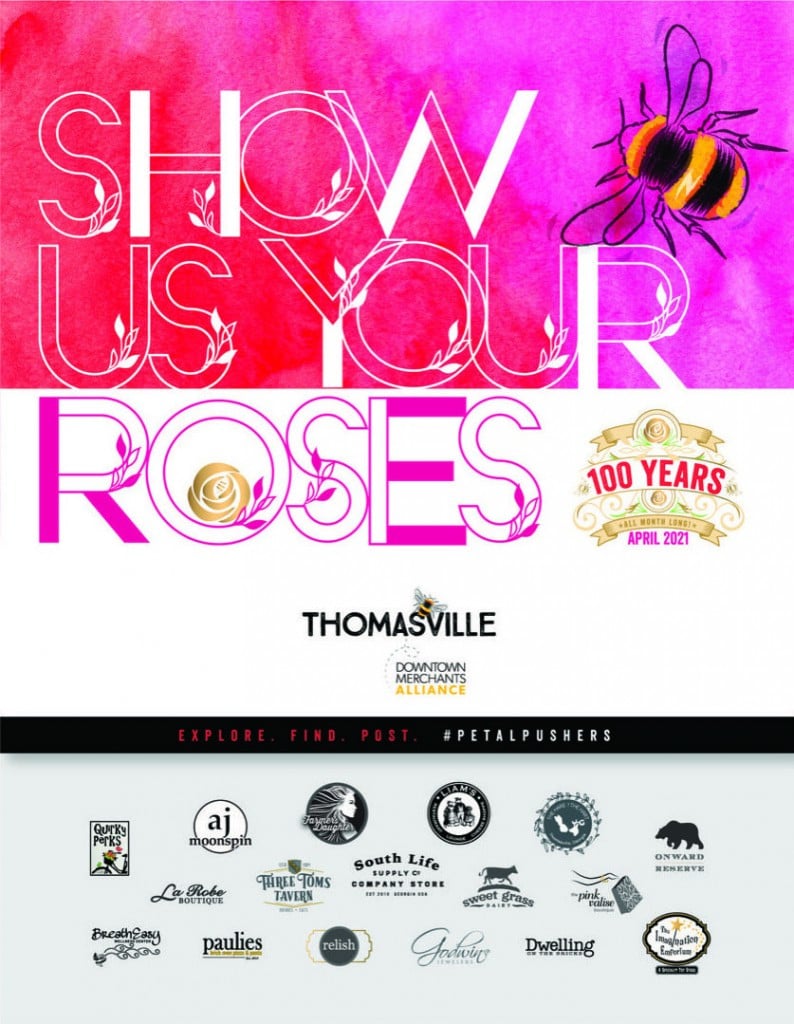 There's no need to take off your rose-colored glasses when the Thomasville Rose Show and Festival is celebrating 100 years of success. With the iconic festival reaching its 100th year, the Thomasville Downtown Merchants Alliance organized a spring celebration, Show Us Your Roses, that will span the month. It will include activities and contests that encourage visitor traffic and community connection.
From now until the weekend of the Rose Show, April 22–24, over two dozen local shop owners are uniting to offer spring festivities and rose-themed food, beverages, decor, gifts, apparel and more. Blooming buds and pretty petals will be present in everything from craft cocktails to children's coloring pages.
"It's amazing that the traditions of the Rose Show have lasted and been upheld while continuously evolving over the past 100 years," said Rhonda Foster, co-owner of Liam's restaurant in Thomasville. "That's something to be celebrated for more than two days."
The Show Us Your Roses campaign began on March 1 with a coloring contest eligible for those 12 and under. To obtain a coloring sheet, just stop into any participating restaurant or store, made apparent by the bee in the window. Completed sheets should be turned into the Imagination Emporium by April 30.
Awards will be presented in three age categories, and all artwork will be included in galleries at local assisted-living communities to bring color, joy and community into these spaces. TDMA will also be donating all post-show flowers to the assisted living communities and residences.
"We wanted to do things that are inclusive and would draw every member of the community in," said Foster. "From the children's coloring pages to the senior citizens who will get to enjoy them, we wanted everyone to be a part of such a big celebration that impacts the community."
With a bevy of photogenic flowers around town, the festival started a social media campaign to encourage people to post pictures of their floral finds when exploring participating businesses. Snap your photo and post it with the hashtag #PetalPushers for a chance to win local prizes.
Particularly photo-worthy are the craft cocktails local businesses are concocting. Farmer's Daughter, a local award winning vineyard and tasting room located on Broad Street, will offer "garden party," a purple-hued cocktail, and rosé sangria, served with rose buds. Liam's will be serving up their signature Rose City Special, a rose and champagne cocktail that was created five years ago as a homage to the city.
While this is TDMA's first spring-centric event, they have worked diligently since 2020 to promote the support of downtown businesses and foster community connection through events. They hosted the first downtown Thomasville Halloween Trick or Treat and revised the Victorian Christmas through the campaign, The Show Must Go On.
These efforts and events helped businesses continue to thrive throughout the pandemic while allowing residents and visitors to safely participate. The city is equipped with hand washing and sanitizing stations and plenty of outdoor spaces to explore.
With temporary closures last March and April due to the pandemic, businesses are back a year later and ready to provide experiences that will help make memories.
"We have had a fantastic survival rate because of the support of people in the Thomasville community, but also from surrounding areas like Monticello, Albany and Tallahassee," said Foster. "TDMA wants to emphasize the community business efforts to lift each other up and put on a month-long display of pride in our city."