Sharks and Mackerel and More
The 74-year-old Destin Fishing Rodeo keeps traditions alive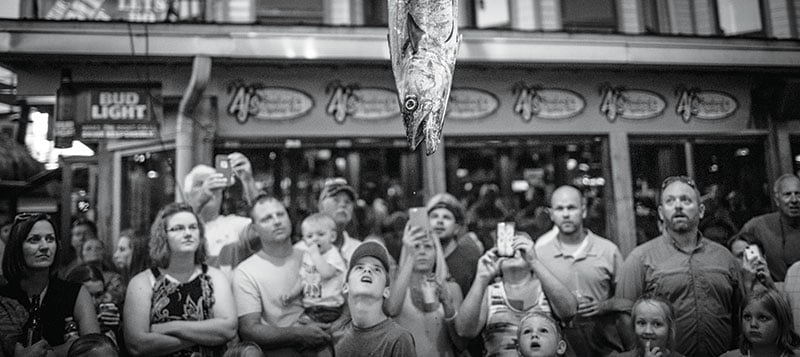 It had been a slow day on the docks.
Helen Donaldson, seated at AJ's Seafood & Oyster Bar on a deck overlooking the Destin Fishing Rodeo leaderboard, could have counted on her fingers the number of spectators milling about below. Such lulls in activity are not unusual at the tournament, which is like all things fishing.
News of big catches travels fast, however, and crowds can regenerate in a flash like they did when an 11-foot, 844-pound shark was brought to the scales in 2007.
"Within about 10 minutes, there were probably 1,500 people standing around the dock looking at this mako shark," said Donaldson, the Destin Fishing Rodeo's longtime executive director. "Something like that happens generally every rodeo. Everything will be quiet and moving along like a normal day, then a big fish is weighed in, and people just come out of the woodwork."
The massive mako captivated both onlookers and rodeo recordkeepers — the shark bested the tournament's previous mako record by more than 300 pounds.
John Brashears, who has been involved with the rodeo as a photographer or board member since 2008, put the record-shattering catch into perspective.
"We call Rodeo a T-shirt tournament," Brashears said. "It's bragging rights. It's camaraderie. It's not a big money tournament; it's a fun family tournament."
Begun in 1948, the Destin Fishing Rodeo is the longest-running fishing tournament on the Gulf coast. Brashears calls it "living history."
Each October, the Destin Harbor Boardwalk welcomes about 35,000 anglers who participate in divisions based on age, gender, where you fish and what you fish for. Participation in the tournament is free to the public, but private vessels must be registered for a fee — $50 for a kayak or paddleboard, $200 for boats under 25 feet and 11 inches, and $300 for larger boats. Charter boat and party boat captains stay busy, hauling hopeful anglers out on big water.
King mackerel figure in a tournament within the tournament, the Big Mac Classic, which pays a $10,000 prize to the angler reeling in the biggest "smoker" and benefits the Ronald McDonald House of Northwest Florida. And the tournament helps see to the next generation of anglers by giving away some 1,500 rod-and-reel combinations to junior anglers.
Even so, Donaldson said, it's not all about the fishing.
"It really is a spectator sport," Donaldson said. "We have a fabulous storyteller. Our weighmaster Bruce Cheves has been with the rodeo longer than I have. We have people who stay the entire month of October, and they do not fish, but they come to that rodeo every day just to listen to him tell stories, and of course, watch the fish be weighed in.
"That's one of the things that is so cool about Bruce," Brashears added. "He has been here so long that he knows the history. He's a storytelling machine, and he can tell you about things way back when. I always say he's a lot smarter than he looks because he looks like a crusty old fisherman."
When Brashears and his family moved from Louisiana to Destin in 1986, the coastal village was still a quiet fisherman's paradise unlike the "little Disney World" Destin has become. The Destin Fishing Rodeo is a lasting reminder of more relaxed times.
Years ago, Brashears' son Jake met the "love of his life" at the rodeo. She was a charter boat captain's daughter and the reigning Miss Destin, and he was smitten. This year, the couple, fittingly, is planning an October wedding.
A favorite among locals, the Destin Fishing Rodeo also draws in crowds from some 37 states and several countries, according to Donaldson. They come to fish, yes, but as Brashears and Donaldson will tell you, Destin's beaches, waterparks, restaurants and nightlife are all part of the draw.
"Nobody saves their money all year to go to Gary, Indiana," Brashears laughed. "October is a fantastic month here. It never rains. It's 80 degrees during the day, 65 at night. People come down, and they happen upon the rodeo and give it a try. Once they give it a try, they are coming back."
---
Rodeo Awards for 1950
The following prizes were among those awarded at the third annual Destin Fishing Rodeo.
LARGEST EDIBLE FISH
One lot in Destin, donated by Tyler Calhoun. Value: $500
Abstract, title and insurance donated by Okaloosa Abstract Co. Value: $100
LARGEST TARPON
Johnson outboard motor donated by Destin Community Center. Value: $128
LARGEST GROUPER
Electric stainless-steel dishwashing machine, donated by Fort Walton Gas Co. Value: $49.50
Gas heater donated by Fowler Butane Gas Co., Pensacola. Value: $24.50
Deck chair donated by Danley Furniture Co., DeFuniak Springs. Value: $14.50
LARGEST REDFISH
6.00 x 16 automobile tire donated by Pure Oil Products, Crestview. Value: $15
Coupon donated by Dreamland Motel, DeFuniak Springs. Value: $10
Dozen cans of beer donated by Ben Thyson Distributing, Pensacola. Value: $2.50
LARGEST TRIGGERFISH
Cash donated by C.L. Kelly, Destin. Value: $25
Windshield wiper donated by Douglas Creel, DeFuniak Springs. Value: $6.25
Dozen cans of beer donated by Cook's Beer Co., Pensacola. Value: $2.50
---