Troubled Waters
Powerful film documents collapse of oyster fishery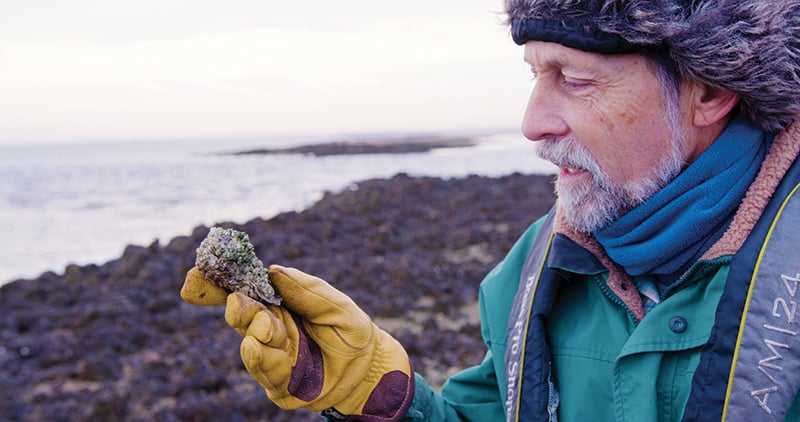 In 1959, Truman Capote happened upon a brief article in The New York Times that reported the murders of four members of a Kansas family at their farmhouse outside the tiny town of Holcomb. Capote immediately sensed that there was a larger story to be told, one of a sort that he had been looking for.
Six years later, In Cold Blood, one of the foremost examples of the nonfiction novel, was published.
It is quaint to think about an author paging through a printed newspaper and landing on an item that would occasion a hugely consequential work. Sixty years later, however, much the same thing may have happened.
Chucha Barber, a documentary filmmaker, was turning the pages of the Tallahassee Democrat when an article about the Florida State University Marine Lab caught her eye.
Triumph Gulf Coast, the nonprofit responsible for making grant awards from damages paid by BP owing to the Deepwater Horizon disaster, had approved the lab's application for
$8 million to fund a study, the Apalachicola Bay System Initiative.
The aim of the study would be to develop and implement strategies for restoring a sustainable oyster fishery in the bay.
Barber thought there might be a larger story there. She called Josh McLawhorn of Level Up Digital Media with whom she had done projects in the past. The pair checked in with Gary Ostrander, then the vice president for research at FSU, who turned them on to a 2007 book by Mark Kurlansky, The Big Oyster: History on the Half Shell. They then visited the marine lab, where a shark study was nearing completion and where the oyster research would be conducted.
Barber and McLawhorn would soon gain an appreciation for the global extent of the oyster collapse problem. Worldwide, some 90 percent of the planet's oyster reefs have been lost, Barber said.
"At every turn, we learned something more about oysters, and the subject became more and more intriguing," Barber said.
As plans for a documentary about oysters came into focus, producer Barber and director McLawhorn envisioned traveling to Chesapeake Bay as an example of successful restoration and also New York, which historically had been a leading oyster producer.
"If we have a regret about the project, it is that COVID clipped our wings," Barber said. "People weren't excited about a film crew flying in from Florida — especially Florida — and conducting interviews. And, equally, we weren't thrilled about getting on a plane."
As a result, Unfiltered: The Truth About Oysters is concerned primarily with Apalachicola Bay — and that's not necessarily a bad result. The narrow focus made for a project that was manageable in scope and is more highly personal than it might otherwise have been.
The film's title, itself, is layered with meaning. Oysters are filter feeders, which serve to remove impurities from water, making it cleaner and clearer. Waters without oysters may be said to be unfiltered. Documentarians, meanwhile, endeavor to present unfiltered truths.
To do so, the Unfiltered team, which includes McLawhorn's wife, Gaby Rodeiro, who served as an editor, and Kurlansky, a consultant to the film, permits sources to tell their own stories and offer assessments of problems and solutions. They include government officials, members of the scientific community and displaced oyster harvesters. Apalachicola Bay, per state mandate, is currently closed to the harvest of wild oysters.
The film is at turns maddening and saddening and is illuminating throughout. Barber hopes that even as it refrains from specific calls to action, it results in pressure on government agencies and elected officials to do more to protect marine habitats and marine life.
While former oyster habitat in New York may be impossible to restore given all the PCBs and heavy metals present in waters there, and Chesapeake Bay has substantially been brought back. Apalachicola Bay, McLawhorn said, is an example of a bay that might go either way.
"Oyster reef restoration has been made necessary by human activity," McLawhorn said. "We have to own the negative and change those actions. If we are doing a little restoration and a lot of destruction, it's still a negative."
The Apalachicola Bay wild oyster harvest moratorium will be revisited in 2025. Nobody can say for sure what will happen then.
"The state may conclude that we need to keep the bay closed longer," Barber said. "Harvests may be limited to prescribed areas. But you can't let wild harvesting levels come back to what they once were. The days are gone when you crossed the Eastpoint bridge and you saw so many oyster boats that it looked like you could walk across the water."
Is tonging, the means by which wild oysters are collected from bay bottoms, a thing of the past in Apalachicola Bay?
"I hate to say yes, but I think so," Barber said. "For a lot of reasons. You can't wait out a five-year closure doing nothing. People move away. And Apalachicola is changing. It's the Florida Gulf Coast. Property values are rising and the cost of living along with them. At some point, the economics won't work for the shucker or the oysterman."
Barber said the experience of making the film was emotional.
"We met an older man who talks about how he can't do what his pappy and grandpappy did," she said. "He can barely talk because his lip is quivering and his eyes are tearing up. It was a powerful thing. How are you going to give a way of life back to the people? When you are at the bottom of the pipeline, you are at a serious disadvantage."
Barber is from South Florida, worked for the Miami Herald for a time and lived aboard a wooden boat. She did the never-ending work of teak maintenance and showered in a swimsuit beneath a hose. She never knew if the kerosene was going to run out before her coffee was ready.
She enjoyed success as a fundraiser for the Miami Science Museum. When Japanese exhibitors brought mechanical dinosaurs to town, she was inspired to make her first film about the giant lizards that once roamed the earth.
Told that she belongs in a Carl Hiaasen novel, she replied, "Yes, I do."
McLawhorn and Rodeiro both majored in biochemistry at the University of Florida, where they met. Each at one point had plans to become a medical doctor. She was born in Cuba and grew up in Canada and Florida. After college, he bicycled across the country as an advocate for Bike & Build, a nonprofit whose cause is affordable housing. When he came off the road, he reclaimed an old job at a pet food and supplies store in Gainesville. He embarked on his current path upon landing a job with a Tallahassee video production company. There, he met Barber.
All agree that there has been no single cause of the collapse of the Apalachicola Bay oyster reefs.
Before launching the Unfiltered project, Barber believed that the collapse resulted from the diminished flow of freshwater from the Apalachicola-Chattahoochee-Flint rivers system to the bay. She would find out later that oysters can tolerate increased salinity levels. The problem is that amped up salinity also invites predators such as the oyster drill. Septic system runoff and the channelization of rivers have played roles. And, in 2010, when the state believed the bay was going to be fouled by oil and dispersant from the Deepwater Horizon blowout, it allowed an unlimited oyster harvest.
"One of the themes in the documentary is that if you leave things alone, nature will take care of itself," McLawhorn said. "To me that implies that there is a certain inertia in nature. Things are the way they are and developed the way they did because the rivers want to flow to the sea. We humans have expended significant effort and capital to fight against natural processes, but nature seems to come out on top time after time."
"It's not all gloom and doom," Barber added. "I believe that Florida could become a global leader for restoration and become the model for how to do it. It's just going to take political will."
---
Chucha Barber
As an employee of a science museum in Miami, Chucha Barber was inspired 30 years ago by a dinosaur display to produce her first documentary film.
In years since, she has developed numerous Emmy-award winning television programs and educational videos. She has been the executive producer of more than 25 documentaries produced in partnership with stations affiliated with networks including NBC, CBS, ABC, Univision and Telemundo. She has earned awards including "Marketer of the Year" from the American Marketing Association, "Innovator of the Year" from the Florida Museums Association and a regional "Tommy" award for promoting tourism as economic development.
Her community involvements have included service as commissioner for Volunteer Florida, chair of the Volunteer Florida Foundation, chair of the Community Cultural Plan Advisory Board, and co-chair of the 2017 Heart Ball for the National Heart Association.
---
Oysters on the Big Screen
Unfiltered: The Truth About Oysters was screened at the Sarasota Film Festival in March and will be included in the Fort Lauderdale International Film Festival in November. An application has been made for acceptance by the Redfish Film Festival, which will take place in Panama City in spring 2024.
In addition, the film will be shown at the Tallahassee Film Festival, slated for Sept. 2–3 at venues in the city's Gaines Street and Railroad Square district.
"I am honored to spotlight this captivating film on an important topic that unfortunately lies just below the surface for most people, but has overarching environmental and economic impacts," said Chris Faupel, the creative director for the Tallahassee Film Festival. "Chucha Barber and her team have created a masterful and expertly sourced documentary about the work being done and the work still ahead to restore and protect precious Florida habitat."
---
Mark Kurlansky's The Big Oyster: History on the Half Shell traces the rise of New York City and the parallel ascendancy of the lowly oyster, beginning with the discovery of middens by 17th century Dutch settlers.
---