2023 Walton County Artist Of The Year: Bradley Copeland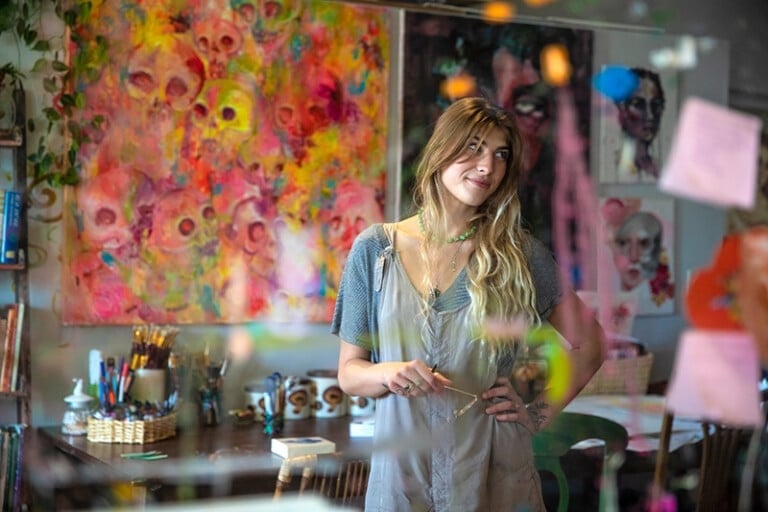 Bradley Copeland is passionate about having a passion — and for her, it's art. Not just the creative process, but how art can be used to express feelings and ideas, give purpose and heal us, physically and spiritually.
For Copeland, painting is a way to navigate life. When she began to open herself to the clues and symbols that paint presented to her, magical things began to happen. But that was a discovery that she didn't make easily.
Painting had been the 25-year-old artist's favorite activity and escape since childhood. Still, she didn't consider it a calling, but rather something she did on the side while trying to figure out her life's purpose.
She was excited to work on her first solo show, even taking a month off work to prepare. Two days before the show was to open, however, Bradley spilled a pot of boiling water, badly burning her legs and hands. For weeks, she would require painful, daily treatments.
"I was close to losing everything," Copeland said. "I couldn't go back to work, but I had some commissions lined up, and then COVID happened. I couldn't show, so my only option was to paint."
Copeland began promoting her work online and got so busy painting she didn't go back to her retail job. At last, she had realized that art was her purpose.
"I think everyone has gifts and abilities and things we love, and we are supposed to listen to clues in life. The universe forced me to listen, and I'm so thankful," Copeland said.

"Art is all over the place," she added. "Everything I see in life I translate in as many different ways as I can."
Once, Copeland had become discouraged about her tendency toward detailed, hyper-realistic imagery and was frustrated in her attempts to share personal experiences through art.
So, she changed things up, giving herself randomly chosen subjects to paint. She gave herself permission to arrive at ugly results and sought to depict subjects in as many different forms as possible.
Something amazing began to happen — Bradley started having fun with her art.
She painted drag queens and gave them bold, bright lips. That experience led to a series of lips paintings that made their way to the local art scene.
"The lips are a symbol of femininity in raw form, so much strength and ugliness in a beautiful way, and for drag queens to put on women's clothing is a huge sign of strength," Copeland said.
Copeland said it is amazing to have been chosen Walton County's 2023 Artist of the Year. When interviewed as a candidate for the honor, she took care to be honest in telling her story.
"The reason I paint is to process or sort out my feelings or to make other people feel something, and all of that has to do with my story. It's behind every piece that I make," Copeland said.
The artist, who resides in Santa Rosa Beach, has more than 600 pieces in her collection. Many of her works are to be found in galleries across the Southeast and at her own studio. She has exhibited work in several group and solo shows. She draws inspiration from the surrounding arts community, filled with friends, business owners and creatives with whom she's bonded.
Bradley's passion for art is exceeded only by her desire to share how it has the power to heal others and herself.
She teaches art classes weekly at the Walton Correctional Institution in DeFuniak Springs. She encourages residents to experiment with the same messy process she uses, allowing the paint to dictate where it goes, and then finding the beauty the paint brings out.
---
Walton County Tourism Department
Learn more about the Artist of the Year program at VisitSouthWalton.com