Enriching People's Lives
Growing arts center is creating memories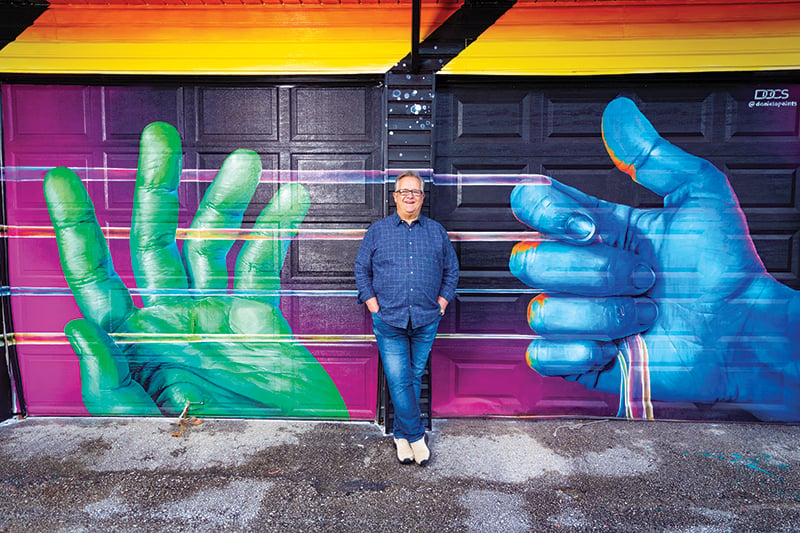 Bart Hudson can't help but laugh when he recalls his first spin on the potter's wheel at First City Art Center (FCAC) in Pensacola.
"There was clay on the ceiling by the time I was done," he said. "I'm not an artist. I dream about being an artist. And I try a lot, but I'm more of an administrator."
In fact, Hudson recently marked his first year as FCAC's executive director. It's a role he didn't see coming but one he has enjoyed taking on.
"Everybody who is here wants to be here," he said of the center, which opened at 1060 N. Guillemard St. in 2012. "And I'm fascinated by what drives them to do it. Everyone has busy lives, so what made you take time out of that busy life to come sink your hands in clay or blow glass or draw or paint?"
Before landing at FCAC, Hudson ran Florida House, a nonprofit that functions like an embassy for Floridians in Washington, D.C. A few years ago, he and his husband, architect Dean DuBois, planned to move to Pensacola. When DuBois died unexpectedly in August 2019, Hudson carried on with the move, even building the house that DuBois had designed for the two of them.
For Hudson, who was born in Pensacola at the old Sacred Heart Hospital on 12th Avenue and raised in Fort Walton Beach, the opportunity to lead FCAC has turned into a delightful way to reconnect with the city as well as his lifelong love of art.
"Dean and I were art collectors," he said. "One of the things we focused on years ago was glass art. And now I've got these glassblowers here who make the stuff, and just to watch them do that is spellbinding."
Hudson, who is color blind, has experienced a spectrum of a different sort, even trying his hand at blowing glass. "Six months ago, the idea that I could blow glass — I would have told you that you were crazy."
But using art to engage people's imagination and expose them to new experiences is FCAC's specialty. "We believe that art informs every aspect of a person's life," Hudson said, "whether they're sitting at that (potter's) wheel or enjoying a sunset. Every time we unlock that gate, it's our goal for somebody to come through it and have an experience they're going to remember."
Just as the center stretches people, he adds, visitors stretch the center. "If there are enough people who want to experience an art form, we'll give a try. If you want to do it and it makes sense, we'll try to invite an instructor and create a curriculum."
The center offers classes in painting and drawing, hot glass, pottery on the wheel and off, sculpture, sewing, stained glass and more. Its youth program brings about 1,200 children through the center each year. The staff is small but is creative in its fundraising as well as its media, operating on grants, donations, annual fundraisers and revenue generated from classes and camps.
"Anytime you are doing something like this and on this scale, it's a challenge to raise the funding," Hudson acknowledged. "But we have generous folks. We just received a grant for a new kiln … There are folks who believe, like we do, that art is fundamental."
One of FCAC's most popular fundraisers is its annual pumpkin patch at the Blue Wahoos Stadium, where roughly 6,000 ceramic and glass pumpkins, crafted by dozens of local artists, are sold in just five hours.
"This was our 16th year and my first," Hudson said, "and, boy, was that an eye-opener. It was something else to watch the excitement of the people."
Another popular event is the Hot Glass Cold Brew.
"Our ceramics department and our glass department make vessels — cups, glasses, anything that will hold a beverage — and three times a year you come onto campus, purchase a ticket to the event and you get to pick out your vessel. We fill it twice with beer, and there are food trucks. And we average between 600 and 700 people at each of those."
Hudson is excited about the year ahead, which will include a new ceramics studio, a small plaza and more, made possible by a local couple's "campus-changing" contribution.
"There's a lot on our plate for 2023," he said.
---
CHECK IT OUT
Learn more about First City Art Center at FirstCityArt.org.
---