Angelic Alabama Astronaut
Abe Partridge sweetens songwriters fest with SOAL music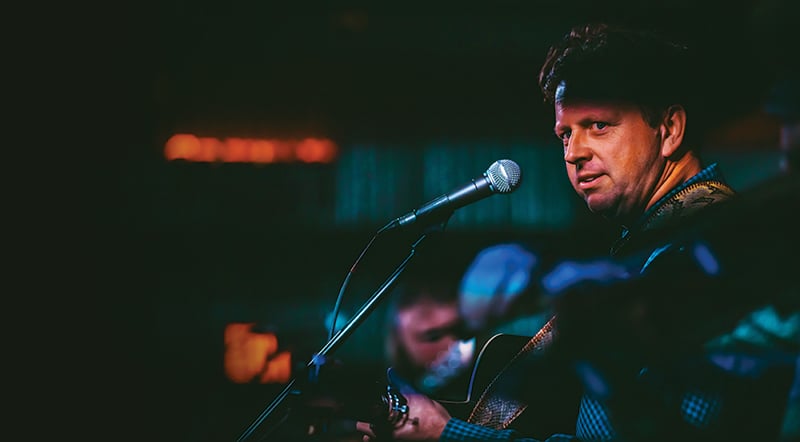 A singer-songwriter, visual artist and podcaster, Partridge attended Bible colleges in Tennessee after graduating high school in Mobile, Alabama, and went on to preach for a few years, serving small congregations in Appalachia.
A "religious experience" led him to pursue preaching, he told me, and he remains a man of faith, but he isn't much for organized, wishing-well religion anymore.
"Now, the only churches I go to are serpent-handling churches," Partridge said. There is a selflessness and authenticity about them that he admires.
"The thing about Western Christianity is it's presented in a way that benefits you in the end," Partridge said. "You don't want to go to hell, so Jesus will help you not go to hell. You don't want to be unhappy, so Jesus will help you be happy. You want to be rich, or whatever. It's like a means-to-an-end kind of gospel. With serpent handlers, it's the complete opposite of that. I found that to be very powerful and meaningful. It's faith not as a benefit, but faith at a possible cost. It's Jesus as an end instead of just the means. I share that faith now. I don't handle snakes, but I understand."
For Partridge, music and art have been ends. He doesn't think in terms of goals or aspirations.
"I just try to live one day to the next, doin' what I love," he said. "Fortunately, I am able to do that. I am always creating. I quit my job in 2019, and that was a big moment, buddy."
Partridge had been supporting his family — he and his wife Cathy have three kids — as a civilian avionics technician servicing C-130Js for the U.S. Air Force. Leaving that steady paycheck behind was a "huge leap of faith," he said.
"When I did that and we didn't file bankruptcy, that was a success. I always said that if I could ever get to a point in my life where I was creating art and music and telling stories for a living, then I would have made it. Now, every bit it grows from here is icing on the cake."
His outlook is one of humility and genuineness, qualities that come through when Partridge greets an audience with his unrestrained drawl. He ain't pretendin' up there. Taking the stage at the Rosemary Town Hall for an exclusive 30A Songwriters Festival performance reserved for VIPs, he gawks at the building's cathedral ceilings. He's lived much of his life in trailers. To this day, he wears base-model Levi jeans. No flair, no flare. He appears never to have gained complete command over his rangy body. He's real. Sometimes, he forgets the words.
To get to know Partridge even a little bit is to wonder how he could ever manage to quiet and focus his mind sufficiently to work on military transport aircraft. His Town Hall set included a song, Abe Partridge's 403rd Freakout, which he intends as a window on his inner workings and in which he sings, "Turn off your mind, because an active mind is a devil's playground."
In that playground, so the song goes, he ponders how the world might have been different had Albert Einstein met Paul McCartney while John Lennon was studying the world's great wonders. He ponders if, then, "a little boy from Nagasaki coulda married a young girl from Hiroshima and they coulda sang Ob-La-Di, Ob-La-Da together, their favorite song by the Beatles."
The 403rd is a little bit butterfly effect, a little bit time machine, and it makes it clear that Partridge's thinking isn't the least bit linear. But devil's playground? Nah. Partridge is far more angelic than demonic.
His voice is a little less ashtray, but Partridge brings Tom Waits to mind. In Hope I Don't Fall in Love, Waits sings about the inevitability of love late at night in a barroom. In White Trash Lipstick, Partridge sings about a tomgirl's power over a boy whose truck she comes off her porch to revive. Both visit life's underbelly, but Partridge does so with adoration.
Partridge just might be an amalgam of Randy Newman, John Prine, David Allen Coe and comedian Steven Wright. And Woody Guthrie — Partridge listens to a lot of Woody Guthrie.
But it is Bob Dylan who saved Partridge from the depths of despair. That, and the arrival in 2007 of high-speed internet in rural Middlesboro, Kentucky, where he was preaching.
Partridge was a college student in Chattanooga when he was first exposed to bluegrass music. He bought a banjo and taught himself to play. He carried his newfound obsession to Knoxville, home to his second college and where, on Tuesday nights, he would report to a record store to hear a "bunch of old men pick old bluegrass songs." He became aware of the music of Roscoe Holcomb and Dock Boggs and wanted to play the banjo just like them.
When the internet arrived in Middlesboro, Partridge, who was stuck outside of Mobile with the Kentucky blues again, discovered decades-old Holcomb videos on YouTube, including one in which the banjo man appeared on stage with a young Bob Dylan.
"I had heard of Dylan, but I had never listened to him," Partridge said. "I was like 'Who is this?' I was going through the darkest time in my life, and Dylan's lyrics spoke to me. Then, through Dylan, I found John Prine, Townes Van Zandt and Guy Clark and other songwriters, and that's when I started to try to write my own songs." He was 26.
"Music pulled me out of depression. It got me here today. Some people it hits, buddy."
---
I will confess that I had secured a media pass for the Songwriters Festival mostly because I wanted to see Lyle Lovett, a man whose music always has hit me. I remember well the night — it must have been in 1987 — when a man named Ron, who used to manage the waterfront No Name Lounge just east of the Hathaway Bridge in Panama City, turned me on to the novels of Carl Hiaasen and to Lovett, who sang about riding a pony on a boat and about that "stop-and-do-it girl."
You can stop by in the morning
You can stop by late at night
You can stop by if you're ugly friend
Or if you look all right.
From the festival's grand stage at Grand Boulevard, Lovett performed That's Right (You're Not from Texas). He recorded the song about his home state's capacity to welcome wannabe Texans in 1996. Today, it kinda depends. You might wind up in Martha's Vineyard.
The festival crowd was in for a treat.
It had been a while since Lovett had toured, and he was glad to be back on the road. He smiled his crooked smile through a chilly January afternoon and made his old songs new.
And if I had a boat
I'd go out on the ocean
And if I had a pony
I'd ride him on my boat
And we could all together
Go out on the ocean
I said me upon my pony on my boat
Lovett, a la Abe Partridge, acknowledged his great good fortune in being able to do what he most loves to do, now some 36 years after his debut album. As he played his double encore, his audience picked up its lawn chairs and bunched up near the stage to get a better look, sure, and to huddle for warmth.
Lovett, in response, grinned as broadly as he can.
---
It's been a big day for Partridge. The VIP concert, performed with sisters Amanda Donald (mandolin) and Katrina Kolb (the most animated upright bass player you're ever gonna see), has gone well. Shows of Partridge's art are newly underway — watercolors at the University of South Alabama and acrylic on roofing cement at the Alabama Contemporary Art Center in Mobile. And Partridge's latest single, Alabama Astronauts, has dropped.
The spoken song and its accompanying video and comic book lovingly prey upon an Alabama mobile home community, the Back 40 Trailer Park, that is visited by aliens.
I was feeling alright
Mixin' whiskey with my Sprite
And toasting all those ghosts
Of the lost Southern pines
When I heard a lurkin'
In the night and I knew
Somethin' wasn't right
And I was covered in the white
Of an otherworldly light.
The aliens abduct neighbor lady Wanda, but Abe and Bubba, a heavily tattooed big fella, strike back. With a shotgun and an AR-15, they dispatch the invaders, commandeer their flying saucer (and paint it in camo) and locate Wanda whose only regret is that the green men had seen her with "her hair still in rollers, her nightie bustin' at the seams."
It may be that Partridge is defining his own genre. Call it South Alabama Camp. Better yet, call it SOAL Music.
"I have never met an alien that I know of," Partridge said. "But I may have met some angels."
Me, too, Partridge among them. Alabama peach of a guy, really. The kind of guy you pull for, buddy.