15 Years of Fast Cars & Mason Jars
Tree House Tallahassee's annual fundraiser achieves a safe success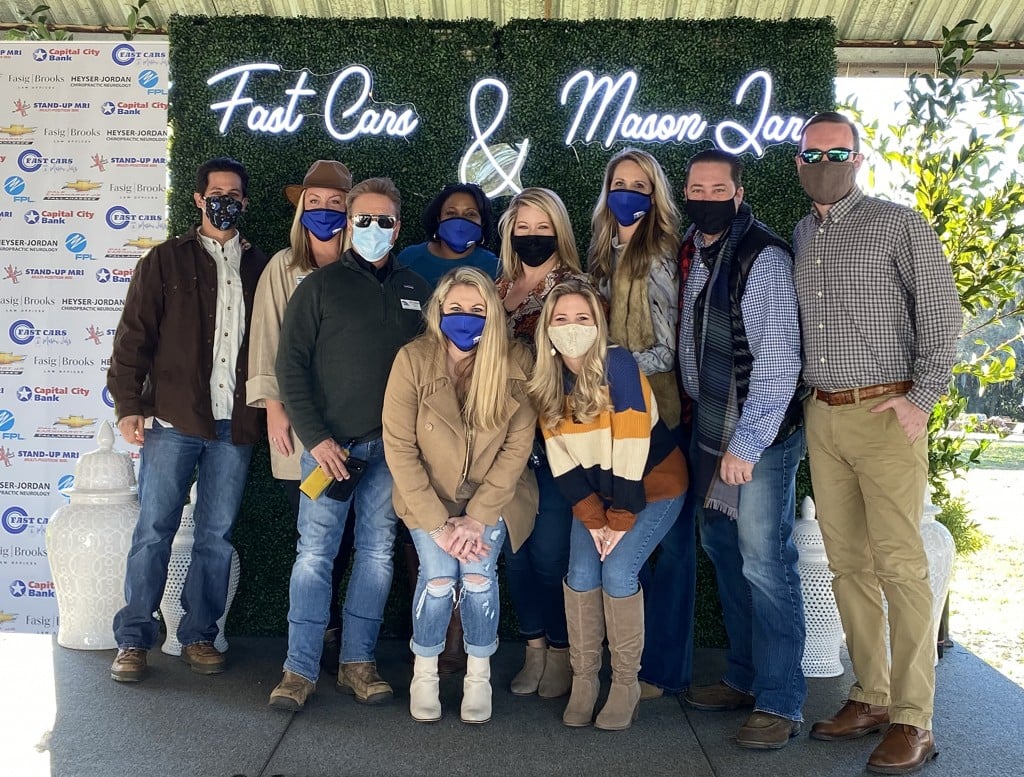 While a lot has looked different over the past year, the Tallahassee community's desire to give and raise funds for causes has remained steady. Tree House Tallahassee was able to host their 15th annual Fast Cars and Mason Jars event in large part because of the overwhelming support for this cherished, once-a-year fundraising opportunity for the nonprofit. 
The event was held on February 20 at Phipps Farm. It was important to Tree House and all involved that the event provided beloved aspects while also adhering to pandemic guidelines. The events intended purpose remained the same with adjustments following CDC guidelines including a decreased capacity of 36% compared to previous years, a socially distanced space, face masks when not seated, and hand sanitizing and washing stations throughout. 
"It was the same fun event that everyone looks forward to, just on a smaller, more intimate scale while being safe — but just as successful as past events," said Laura Wittenberg, event chair for Fast Cars and Mason Jars. "We were lucky to have this event in person since it is our only fundraiser of the year, and we were able to raise the funds needed this year for the kids."
During times of crisis and emergency, Tree House has provided safe homes for children in Leon and surrounding counties for over 30 years. As a result of children spending anywhere from 24 hours to 24 months with Tree House, they specialize in being a safe haven when young ones need it most. They are one of a kind in the Big Bend area, being an emergency shelter that ensures siblings can stay together, causing less disruption.  
To be able to provide a home-like environment and a sense of normalcy to these children, Tree House depends on the donations gathered from Fast Cars and Mason Jars. Through the support of purchasing a table, making a donation or participating in the live and silent auction, donors are ensuring children receive food, clothing, bedding, school supplies, holiday gifts and more. 
With limited tickets, the event sold out quickly. Attendees were able to enjoy delicious food and tasty cocktails from Social Catering while listening to live music from their socially distanced tables. The outdoor space was beautifully and tastefully decorated to coordinate with the theme by John Gandy Events. For those unable to attend in person, mobile bidding was an option during the live and silent auctions. 
The Tupelo Afterparty was adapted to include 10 firepits from which guests could enjoy the live band instead of gathering on a dance floor. Being outside, the guests were able to safely socialize while enjoying the evening. 
The event was made possible by presenting sponsor Fasig Brooks Law Offices and these premier sponsors: Dale Earnhardt Jr. Chevrolet, Stand-Up MRI, Florida Power and Light, Capital City Bank and Heyser-Jordan Chiropractic Neurology. 
"We are proud of our organization but also the Tallahassee community for allowing us to host a safe event that will impact so many children's lives," said Wittenberg. "We are already looking forward to what next year holds."
Tickets for the 2022 spring event will be on sale in the fall. To learn more, visit TreehouseTallahassee.org.