TLH Creative Core Envisions New Prospects for Tallahassee
Aiming to revitalize the downtown area starting with Kleman Plaza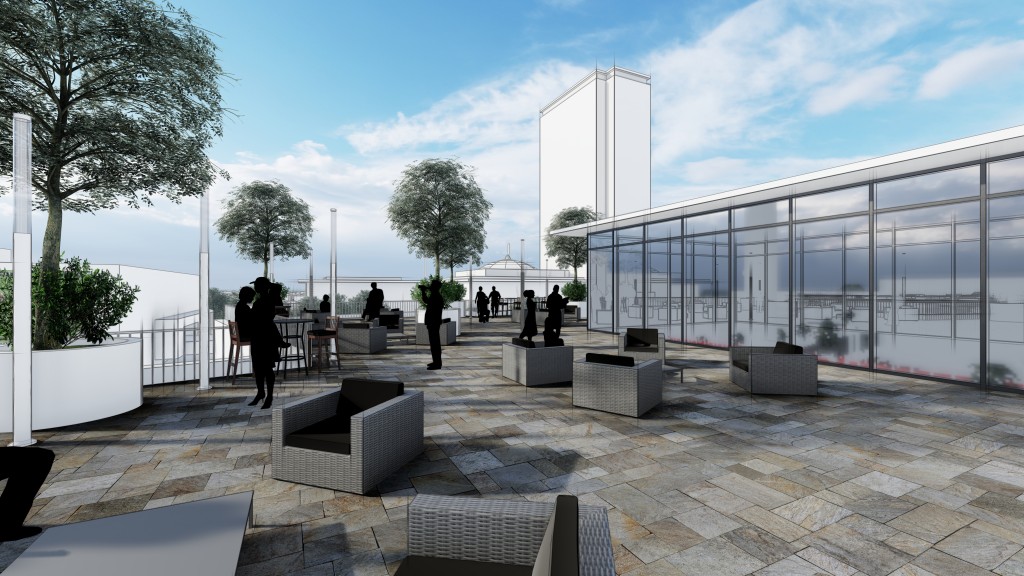 As the state capitol, important decisions about Florida's future are constantly being made in Tallahassee. In turn, Tallahassee is making important decisions for its own future. That includes revitalizing the space surrounding the capitol to promote tenants the city thrives on — collaboration, education and innovation.
TLH Creative Core at Kleman will center around Kleman Plaza, adjacent to the state capitol, as a mixed-use campus catered towards the creative class. The campus will merge existing and new additions to offer a blend of business offices, creative endeavors, higher education, retail, student housing, residences, hotels, dining, coworking spaces and locations for meetings and gatherings.
At the forefront of the idea is Scott Balog, executive director of the Tallahassee Community College Center for Innovation, who is backed by a group of steadfast visionaries. Balog, inspired by similar concepts throughout the United States, saw Kleman Plaza as a city center that had the assets to become the most active spot in downtown.
Across from the capitol and a 10-minute walk from some of the most sought-after Tallahassee attractions, Kleman Plaza is anchored by the Center for Innovation and The Challenger Learning Center, providing 76,000 square feet of mixed use space, 300,000 square feet of commercial office space, 300 residences, an amphitheater, a 2-acre park, a 950-space parking garage and more. In addition, the Creative Core contains multiple forms of fiber-optic Internet service accessible throughout the campus.
"No one had really taken the time to look at all of the possibilities we already have here," said Balog. "I started by thinking about how we can best leverage the current space, and then how do we further contribute to it becoming the 18-hour city that cultivates a downtown community that we've been clamoring for for years."
In November of 2019, inspired by meetings with the mayor and other local stakeholders, Balog began conceptualizing this bold vision through renderings demonstrating the potential of the plaza. The vision encompasses a revived entertainment venue, splash pads, a water feature, local art, a bridge, a projection screen and more.
In the future, they envision enhancements to the Steve Meisburg amphitheater attracting even more performing arts programs and events that allow the downtown to have creative endeavors on display throughout the week with the help of organizations such as Tallahassee Downtown Improvement Authority, Visit Tallahassee, Tallahassee-Leon County Council on Culture and the Arts, the City of Tallahassee and Leon County.
In February, a coffee and wine bar called La Florida Coffee & Wine will open in the former Starbucks location. They are also working with Impact Foods, a local startup that will place food kiosks throughout downtown that offer affordable and fresh options.
Two prominent meeting spaces already are in the works. One side will be completed in six months, with the other following in nine months. The Center for Innovation is ideal for hosting lectures, meetings, receptions and events — all with a scenic, panoramic view of the capitol and downtown skyline.
Beyond amenities and enjoyment, The Creative Core is contributing to economic development by making important connections and collaborations with statewide technology organizations, such as Synapse Florida and the Florida Technology Council and Consortium.
In partnering with Synapse Florida and the Florida Technology Council and Consortium, Tallahassee is now engaged in networks that include Tampa, Orlando, Miami and Jacksonville, all sharing ideas that will lead to statewide growth in technology, innovation and entrepreneurship. These statewide networks will aid in assisting entrepreneurs and students in launching their own businesses by connecting them to key resources and partners in others parts of Florida.
Collectively, these efforts will contribute to retaining and recruiting talent in Tallahassee. Future events that will hone in on networking — especially within the business, technology and entrepreneurship realms — are High Tech Connect, Hire Up Florida and Tech and Beer meetings.