Liberty Bar is Taking More Than a Few Liberties
A bar that eschews a big sign, chicken wings and real good drinks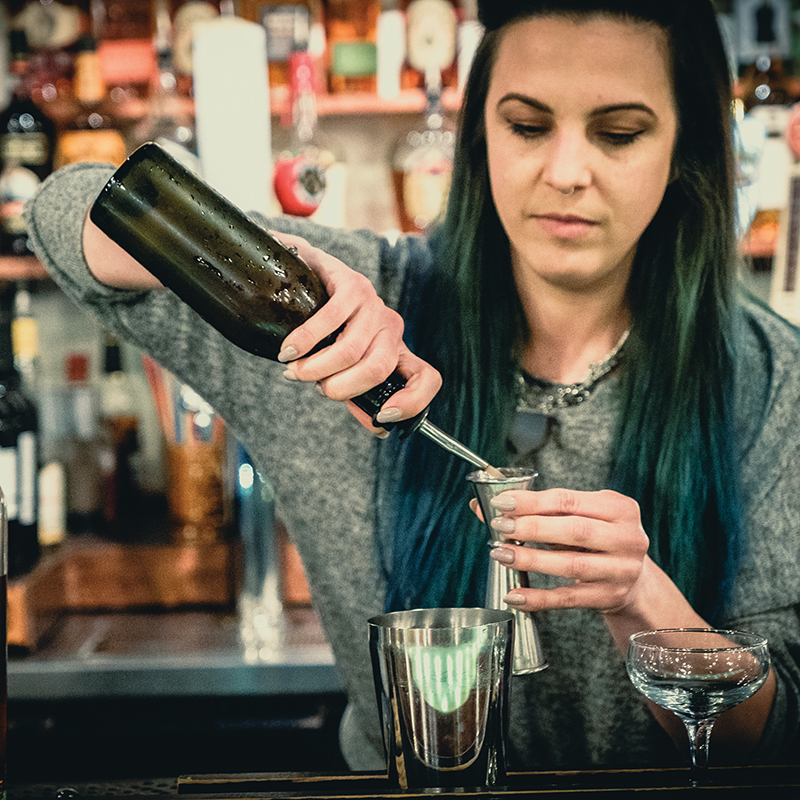 Bartender Dana DeToro holds court at a gleaming, copper-top bar. With the deftness of a magician, she measures, pours, adds dashes and splashes, shakes, conveys her creation to a glass, adds garnish, slides the libation forward and smiles.Garnished with a wedge of grapefruit, the concoction is a Brown Derby, one of the classic cocktails featured in Liberty Bar's winter menu.
Gone is the berry-infused summertime cocktail menu with its cucumber and watermelon juice. Winter offerings feature bourbon and flavors of the season: cranberry, chestnut, ginger, cinnamon, coconut, nutmeg and amaro, a bittersweet Italian liqueur."I think you'll love this," she says. "The grapefruit is fresh from Florida, and the honey is smoked wildflower honey from Full Moon Apiary (in Monticello) that we smoked here." The bourbon is Florida Double Cask, distilled in St. Augustine, evidence of Liberty Bar's preference for local and regional artisanal ingredients.
Each season's menu results from careful consideration.
"We have three meetings before we put the menus out," DeToro said. "The bartenders get together and talk about the ingredients and flavors. They each have various interests (rum drinks, garnishes, Mexican flavors, Caribbean flavors) and they have returning customers who come in just for them."
Liberty ingredients include syrups, tinctures and infusions made in-house. The food menu includes select dishes, modestly priced, for brunch, lunch and dinner. Burgers, yes. Wings, no. Grouper tacos and duck confit mac 'n' cheese? Yes.
Attention to detail wins customers over.
DeToro's sociology degree comes in handy, too. She puts it to good use with her customers and the Liberty Bar team and, of late, in establishing a Tallahassee chapter of the U.S. Bartenders Guild whose meetings give bartenders opportunities to learn about brands and trends and to brainstorm together. A transplant from Fort Lauderdale, DeToro and her colleague Richard deMontmollin applaud Tallahassee's culture of collaboration.
"At first, we didn't know if we'd be supported, really," deMontmollin said. "People thought we were crazy — no chicken wings, no Bud Light, no giant sign …"
Four years later, with a partner restaurant The Hawthorn newly open next door, they like the way the ingredients are coming together.
"It lets us think bigger and put our hearts into it, express ourselves," DeToro said.
Cheers to that.
Classic Brown Derby
1.5 oz. Florida Double Cask bourbon
1 oz. fresh Florida grapefruit juice
Half-ounce of smoked honey syrup (half honey, half water)
Shake ingredients with ice to chill. Strain into a chilled cocktail glass. Garnish with a dehydrated wedge or fresh twist of grapefruit.
Liberty Bar & Restaurant
1307 N. Monroe Street, in Midtown; LibertyTLH.com, 284-7966; open daily 5 p.m. – 2 a.m.; 11 a.m.–2 p.m., 5 p.m.–2 a.m. on weekends