On Down the Road
If you have Georgia on your mind, head to Thomasville!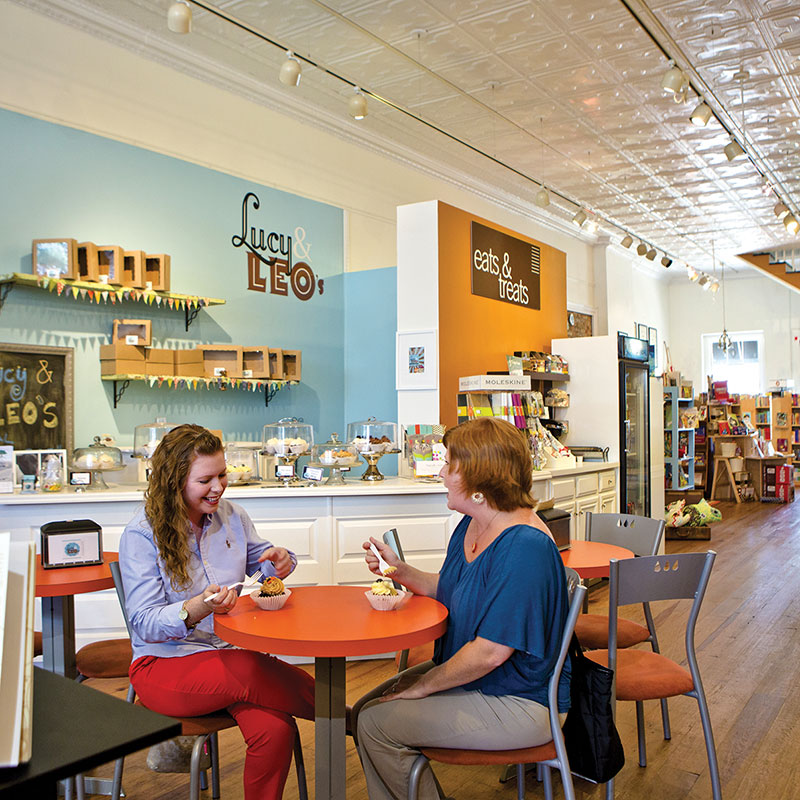 Tallahassee has the privilege and luxury of being a city that lies near the Georgia state line. You can drive through charming towns in two states in the time it takes you to drive down Capital Circle during rush hour. Thomasville, our fellow "T"-named cousin to the northeast, is a small city whose genetic makeup is similar to Tallahassee, with live oaks, rolling hills and southern comforts. But the community also presents unique dining and shopping and a history worth taking a day-trip to experience.
---
Your tour can begin before your arrival in downtown Thomasville; the drive up boasts the stunning Pebble Hill Plantation. The home stands regally, even after more than 100 years. For a $5 entrance fee, you can tour the meridional home, peruse the flourishing gardens, pet horses in the barn and picnic on the dogwood-lined grounds. If nature is still calling your name, head to the corner of Crawford and Monroe streets in downtown Thomasville and check out Big Oak — a live oak tree with a limb-span of 165 feet.
Most shopping and dining destinations are centrally located on the historic brick streets of downtown, and many of the buildings have corresponding rusty-red brick fronts. There are a handful of local boutiques, which ring up handmade jewelry, unique clothing pieces and beautiful trinkets. Shops worth stopping in include Broad Street Clothing Company, Ally B, Firefly, Hicks Clothing, Relish and Water Lily.
Bookworms will want to inch toward The Bookshelf, a pleasantly furnished bookseller streaming with light and offering books that are hard to find in chain stores. Grab a new tome and stroll down the street to Grass Roots Coffee. Grass Roots is rather spacious for a coffee shop, but its exposed brick walls, cozy seating and warm seasonal lattes greet you hospitably.
If you prefer grapes instead of coffee beans and stemware to mugs, Farmer's Daughter Vineyards Tasting Room pours their four handcrafted, local wines for tasting in a lounge-style space.
Southern towns tend to attract old souls and lovers of nostalgia, which means antique shops are abundant. Upon entering Relics, you feel as if you've stepped into someone's elaborately and lovingly decorated home. The store is an organized and beautiful chaos: There are piles of records, a twinkling chandelier, vintage books lining wooden crates, cut-glass doorknobs in all shapes and sizes, a crushed red velvet couch and what used to be someone's front door.
Shopping of the actual or window variety can cultivate an appetite. Hopefully, you're a fan of southern fare. For a lighter, but fulfilling, lunch option, Sweet Grass Cheese Shop fits the bill. They specialize in — you guessed it — cheese. Dine on locally made cheese boards, gourmet grilled cheeses or take a block home as a souvenir. The Thomasville Tomme will appear in your sweetest of dreams.
For an evening of celebration (every day calls for one), Chop House on the Bricks or Liam's Restaurant start the palette party. Both are known for their hearty meats presented in creative ways — all Southern-inspired and leaning toward local ingredients. Neither will disappoint in their libation menus or hospitable ambience.
After dinner, a show, art gallery or literary event might be awaiting you as Thomasville has an increasingly active arts scene, nourished by the Thomasville Center for the Arts.
For a slight change in backdrop, Thomasville is quaint and quiet — the quintessential Southern town that is picking up pace to become more than just a town that you pass on through. Stop, dine, shop, sit and stay awhile.
---
Upcoming Events
Taste of Thomasville Food Tour
Every weekend in January and February
Sample the flavors of Thomasville on a three-hour stroll that offers award-winning foods from the area's finest restaurants.
Fuse 2017
Late January
The South Georgia Ballet presents a lively evening that fuses dance, music and art into one spellbinding performance.
Thomasville Antiques Show and Sale
Feb. 23–26
The 28th annual Thomasville Antiques Show and Sale hosts renowned speakers, events and dealers and is a place to share your passion for pieces from yesteryear.