It's Not Too Much To Mask to Keep Everyone Safe
Thousands of face coverings available at all county library locations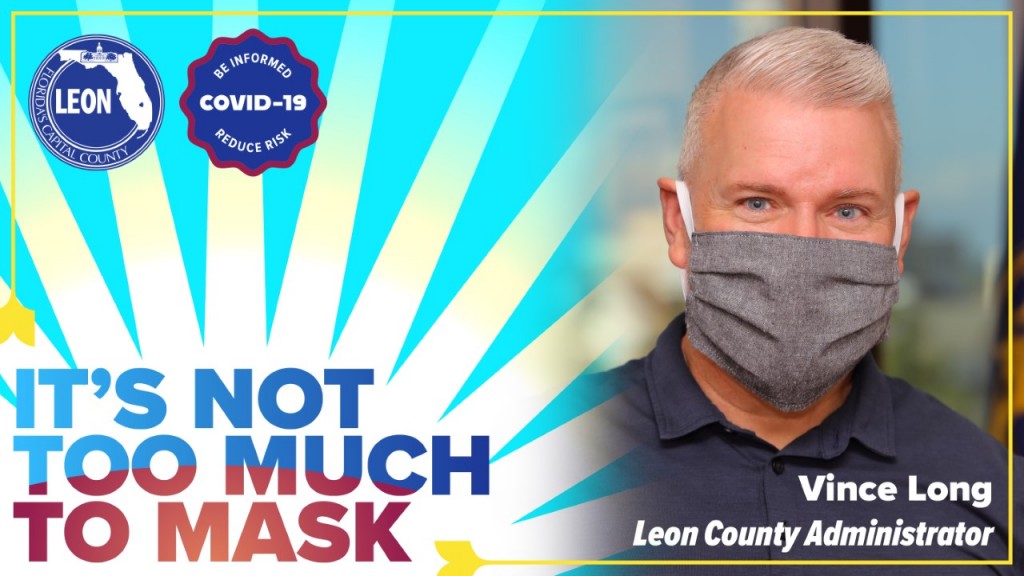 Leon County Government has been working around the clock to protect public health during the coronavirus pandemic. Public health officials agree masks are one of the most effective ways to stop the spread — and they can even express your own personal style or cover up some blemishes. For the safety of our community, It's Not Too Much to Mask. To encourage mask usage and protect public health, Leon County has distributed more than 300,000 face coverings to people and businesses. Our teams have made thousands of face coverings, which are available at all county library locations:
Main Library (200 West Park Ave.
B.L. Perry, JR. Branch Library (2817 S. Adams St.)
Eastside Branch Library (1583 Pedrick Road)
Jane G. Sauls Fort Braden Branch Library (16327 Blountstown Highway)
Lake Jackson Branch Library (3840 N. Monroe St.)
Northeast Branch Library (5513 Thomasville Road)
Woodville Branch Library (8000 Old Woodville Road)
Picking up a cloth face mask is quick and easy — and free to everyone. Keisha, the recipient of the 10,000th face mask from the library, says, "I think it's a really great thing that libraries are giving these away, especially for people who can't find or afford them anywhere else."
Help protect yourself, your friends and your neighbors by picking up your package of free masks at one of the county branch library locations, which are open from 10 a.m. to 6 p.m., Tuesday through Sunday. The county's main library is open 10 a.m. to 6 p.m., Monday through Saturday, and 1 p.m. to 6 p.m. on Sunday.
We've Got Businesses Covered
Through the Tallahassee-Leon County Office of Economic Vitality (OEV), cloth face masks have also been made available to local businesses as part of the County's It's Not Too Much to Mask initiative. So far, more than 100,000 free face masks have been distributed to more than 500 local businesses through the Chambers of Commerce, and more masks are available for businesses in need. Businesses with one location are eligible for up to 100 face coverings. Local businesses with multiple locations are eligible for up to 200 face coverings.
"We are so appreciative to OEV for the free face coverings. This has enabled us to provide masks to all of our employees, helping to keep our workplace safe. Thank you for supporting local businesses." — Adam Bardhi, Village Pizza & Pasta
Businesses can pick up face coverings at the Tallahassee-Leon County Office of Economic Vitality (315 S. Calhoun Street, Suite 110, Tallahassee, FL 32301) Monday through Friday from 9 a.m. to 5 p.m.
Experts agree that if everyone wore a cloth face mask consistently and correctly, we can save lives. Remember, It's Not Too Much to Mask. #MaskOnLeon