Four Educators Reflect on Teachers Who Inspired Them
The most memorable instructors deliver more than curriculum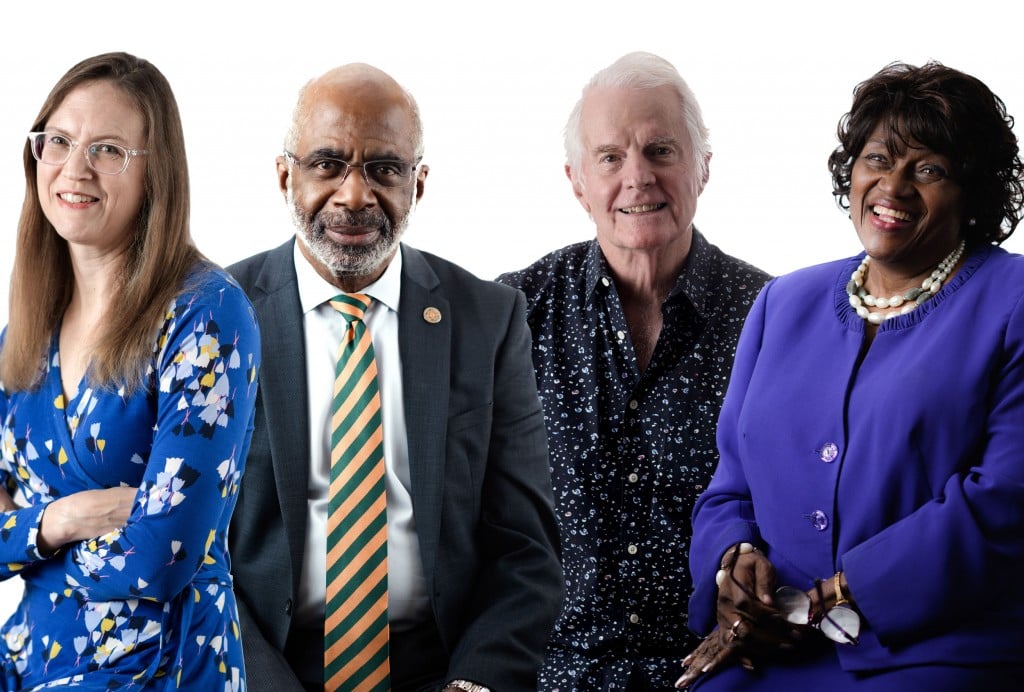 Last spring, Teacher Appreciation Day was celebrated across the United States. Each of the country's 3.7 million teachers, elementary through secondary, as well as the 1.5 million professors in colleges and universities, received notes, little gifts and pats on the back. Educators, whose contributions are often taken for granted, surely appreciated the well-deserved recognition.
Tallahassee, home to 34,000 Leon County public school students, two major universities and a respected community college, is filled with educators — people steeped in what it takes to stimulate a mind and change a life.
The educators who figure in this article jointly account for almost 100 years of education. Tallahassee Magazine asked them to name one educator who had changed their lives. But none could stop at only one. They spoke about knowledge gained, yes, but also how educators had served them as role models for living.
The longtime chair of the Leon County School Board, Georgia "Joy" Bowen, is an educator and a reluctant "politician" whose father warned her that elected officials are not trustworthy. But Bowen has demonstrated that it is possible to simultaneously assume the roles of educator, administrator and now 22-year elected official, and to demonstrate trustworthiness along the way.
"My mother, grandmother and great-grandmother were my first teachers," she said. "They taught me the strength found in women and the roles they play."
They also taught her to "be kind, keep your word, hug a lot and tell the truth." At a one-room schoolhouse with a potbelly stove and no running water, Bowen would work to meet the expectations set by teachers who were striving to fulfill them themselves. Her mother, by the light of a kerosene lamp, helped Bowen master multiplication tables.
Today, after a career as an elementary and middle school teacher, service as the dean of women at Morris College in North Carolina and dean of students in the Division of Student Affairs at Florida State University, Bowen looks back to one pivotal moment that changed her trajectory.
"On Saturdays, I would accompany my grandmother who worked as a maid for a white man," Bowen said. "He wouldn't let me come in the house, and so for the whole time I would sit in a corner of a local store where there were books. I read them — stories of white girls for sure — but I learned that they went to college, that they had careers, and I thought, well, I can do that, too. I want that, too."
For Bowen, outstanding role models have included FAMU's Victoria Warner under whom she learned how to lead a community project, FSU President "Sandy" D'Alemberte, who was "filled with wit and paid wonderful attention to details," and Barack Obama, "a man with character, who stands for the right thing." "That is my ultimate goal of course — these people have truly educated me on doing the right thing," Bowen said.
Dr. Larry Robinson is the 12th president of Florida A&M University, a home he found when he made the decision to focus on championing young, talented African Americans in their quests for academic excellence and achievement.
Prior to FAMU, Robinson's professional career as a nuclear chemist had included research at the Oakridge National Laboratory. He was the director of the National Oceanic and Atmospheric Administration's Environmental Cooperative Science Center and director of NOAA's Center for Coastal and Marine Ecosystems. And in most every circumstance, Robinson was the only scientist
of color.
"My parents were a postal worker and a baker," he said. He and his five siblings grew up in Memphis in a fraught time of desegregation when the disparities in educational opportunities were becoming clearer. "In elementary and middle school, there was never a white student in my class," he said, recalling the worn-out books Black children had to use. Yet his teachers always had the highest expectations of their students. "They cared about us and what we learned," he said.
Young Robinson had learned to play piano at church, and under Dr. Paul Meachum, his middle school music teacher, he became a percussionist, too. "He exposed us to every genre of music — from the 'William Tell Overture' to Souza." Robinson's confidence grew when he was chosen for a select band contest, despite his inferior instruments.
Responding to Dr. Martin Luther King's death, Robinson was angry. He saw whites holding all the power and good jobs. Though he was talented in math and science, his white high school teacher was dismissive. Robinson reacted and was sent to the principal more than once.
"Principal Johnson sat me down and explained, 'You've got the tools for success.' He made me believe I could be anything I wanted to be." Robinson took that man-to-man conversation to heart.
From a junior college, he transferred to the University of Memphis where he graduated with a degree in chemistry and went on to Washington University in St. Louis for his graduate work, always pursuing his interest in atoms and matter, and the peaceful uses of nuclear energy.
Robinson would meet Dr. Arthur Wahl, the discoverer of plutonium, under whom he did post-doctoral research, and who "accepted" Robinson as an elite scientist. Wahl shared his own work and ideas with Robinson and made it possible for him to conduct research using the Los Alamos nuclear accelerator.
"Even later, Wahl was a mentor — an educator, in a way — in how to navigate professional life — in how to be patient," Robinson said.
Robinson acknowledges there were hurtful "slights."
He recalls reporting for a job interview where the potential boss ignored him but rose to shake the hand of a white man who just happened to wander into the room. At Oakridge National Laboratory, a white scientist discussed a project with a white technician, never imagining that Robinson, standing next to him, was the leader of the project. Even African American lab cleaners assumed Robinson must be from a foreign country because they'd never seen an American Black man in a leading scientific role.
"This is why I am in education," he said. "Because I know there are more Larry Robinsons out there who can contribute to the world."
Dr. David Kirby is the Robert O. Lawton Distinguished Professor of English at Florida State University where he has taught for the last 51 years. With dozens of awards for both his poetry and his teaching, Kirby is beloved for his humor, dynamism and accessibility. Curating carefully, Kirby settled on four men who shaped the educator he would become.
First was Walter Darring whom Kirby encountered when he was a freshman at Springhill College in Mobile, Alabama.
"He showed me that you could be yourself in more than one dimension," Kirby said. "Walt was a good husband and father and teacher, but he was also a beatnik."
Kirby was headed for a law degree and traditional propriety at the time, but through Walter Darring he discovered it was possible to "love something for its own sake … poetry."
At Louisiana State University, after switching majors to history, Kirby met Dr. Matthew Downey.
"Charismatic! He was a rock star who entranced an audience," Kirby said about him. Formerly in a band, Downey showed students how to "perform, how to truly connect with an audience." Students today appear equally beguiled by Kirby's lectures and recitations.
In graduate school at Johns Hopkins, Kirby, now focusing on English, met Dr. Charles Roberts Anderson, who, he said, "treated me as an equal; he admitted me to the club."
"I was able to see him in his home, living his life," Kirby said. "And just as when you see your father warmly hug your mother and learn that that is how to treat a woman, I was able to see in him how to live a valuable life. It was the container versus the content that I learned."
Kirby's last memorable educator was not even his own teacher.
"Dr. Richard Macksey, professor of humanities at Johns Hopkins, taught me generosity," Kirby said. "One day he asked me formally, 'Would you like to drop by, Mr. Kirby?'"
Macksey's legendary private library held more than 20,000 books. There, every subject was open to discussion. "You would never leave without him giving you a book to keep," Kirby said.
Dr. Anne Barrett is the director of the Claude Pepper Institute on Aging and Public Policy and a professor of sociology at Florida State University. Unlike Kirby, whose effusive personality easily morphs into performance mode, Barrett's professorial style appears more traditional, more comfortable with the nuance of detail, the discoveries of "why," and the explanations of how societal attitudes have evolved or devolved.
Barrett is an intellectual, a soft-spoken educator and more. She has mastered Italian to assist her with research on the elderly of Italy. She is an avid bicyclist. And she is a practitioner of Capoeira, an Afro-Brazilian martial art that combines dance, acrobatics and music.
Barrett sees herself as a "continual student," fascinated by learning, new experiences and ideas. And this love of exploration and discovery, she said, began with educators who introduced her to the world and its underpinnings.
She describes a woman whose name she has forgotten.
"I was in pre-school," Barrett says. "I had trouble with word pronunciation, and my mother took me to a speech therapist. This woman, really my first teacher, had confidence that I could learn to speak correctly, and she helped me gain confidence in myself. I could hardly wait to do the assignments she gave me."
Later, Barrett would find that diagraming sentences and conjugating Latin verbs were things she loved to do. "And positive reinforcement didn't hurt," she said.
At a small community college, Dr. Terry Whisnet, a sociologist, opened Barrett's eyes to "a new way of thinking about the underlying structure of society and a vocabulary that I could use to understand the norms, the values and the inequities around us." Barrett planned on a career in law like her father, but as she entered the College of William and Mary, her horizon expanded.
"I took a course from Dr. Elaine Themo about the changing of gender roles in society from a very feminist perspective. It was like when Toto pulls back the curtain in The Wizard of Oz! I suddenly could see how the world works in terms of gender, class and race."
Barrett's graduate work at Duke University under Dr. Linda George, filled with the research and analyses she loved, led to an understanding of the relevance of aging and gender to people's behavior.
"My educators have truly inspired me, not only through personal relationships but mostly with the ideas they brought," Barrett said. "I never actually set out to be an educator, but it has been the perfect way for me to continue to study, to investigate, to learn. And I get to bring the students on the journey with me — and hopefully start them out on their own."