Dr. Larry Robinson On The Science of a University
FAMU's president, a nuclear chemist, suggests an art to running one as well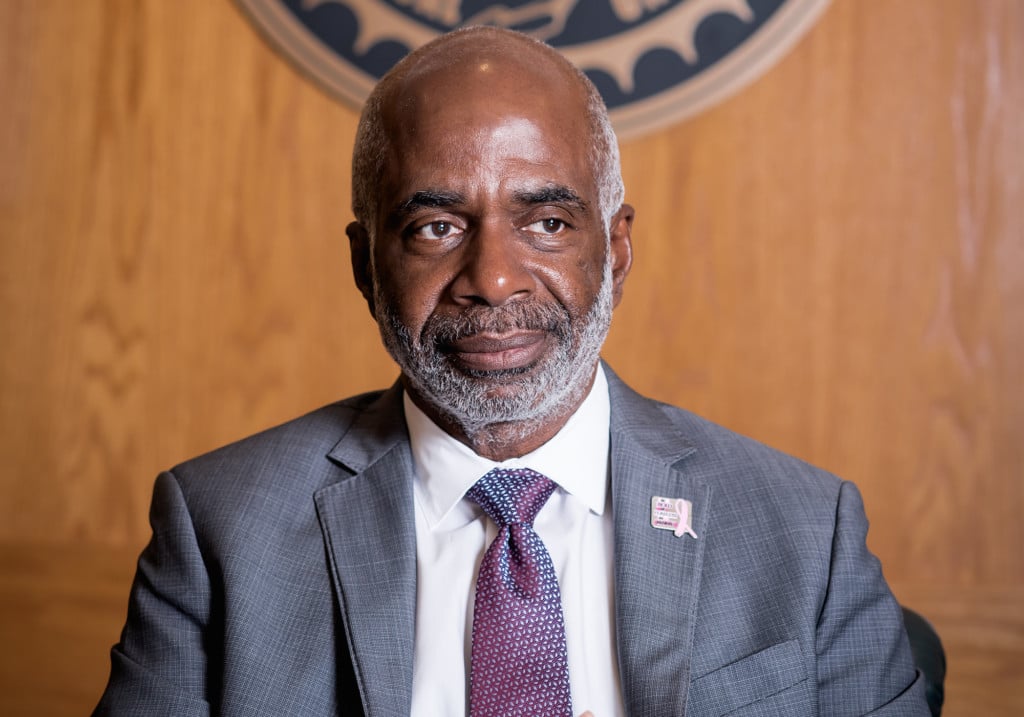 Long before he became the 12th president of Florida A&M University, Dr. Larry Robinson got up close and personal with the 12th president of the United States.
In the early 1990s, Robinson served as a research scientist at Oak Ridge National Laboratory. He worked on a team that, through analysis of hair and fingernail samples, looked into the question of arsenic in the death of President Zachary Taylor.
Robinson said he and his colleagues were told not to discuss it — yet word got out to the media.
"We had people outside of our homes trying to get us to tell them … 'What was the deal?'" Robinson recalled to Tallahassee Magazine with a laugh. "Long story short, we did not find arsenic in Zachary Taylor's hair that would have suggested poisoning."
Robinson indeed holds an interesting background.
He earned a doctorate in nuclear chemistry from Washington University in St. Louis. He served as assistant secretary of commerce for conservation and management at the National Oceanic and Atmospheric Administration and as a group leader of a neutron activation analysis facility at Oak Ridge.
In 2018, he received an appointment to serve on the national STEM Education Advisory Panel.
He says he's focusing on enriching the lives of FAMU students, turning out highly skilled professionals and helping to keep the U.S. globally competitive in science and technology.
After one year as interim president and various key roles at FAMU dating to 1997, Dr. Robinson began his third year as FAMU's president in November.
Tallahassee Magazine sat down with him recently to discuss his vision for the university and its students.

We edited for length and context.
Q: You mentioned your 2017 strategic plan. Can you underscore some of the highlights in that?
A: The plan is called "FAMU Rising." The No. 1 priority is student success.
The primary mission here is to ensure our students are successful not only in just graduating in a timely fashion, but leaving here with the skills that are necessary for them to go on and do whatever it is that they want to do next.
So, you know, beyond going on to graduate school — working to be a doctor or a teacher or a lawyer, and carrying with them sort of a sense of responsibility.
Our motto is "Excellence with Caring." "Excellence" is how we challenge them in the classrooms and in the laboratories — in their fields of endeavor.
The caring part is … that if they leave here with all of those skills that are necessary to be a good reporter or a good writer, but they don't have a passion, they don't care about people and communities … I don't think we've done our job as effectively as we should.
Q: We see that you're active on social media, and we noticed a reference to "our FAMUly." Is that expression yours?
A: I didn't come up with that. But, that's what our students feel — the family.
The one that I came up with was "FAMUniverse."
No one really caught up to that one.
Q: You have a top-ranking HBCU institute, and you are climbing the rankings among public universities. How significant do you see those rankings and that recognition?
A: I think the story behind the rankings is an even more important point.
We are ranked, in terms of national public institutions, No. 123 (by U.S. News & World Report) out of thousands of institutions in the nation.
What I'm really more pleased about is the FAMU social mobility index (a No. 45 ranking), where you look at where the students start in terms of the social economic status.
That speaks volumes to me because it reflects the fact that we have the largest percentage of Pell-eligible students in the state university system of Florida … And then they leave us, and they are out earning their current household income as individuals.
That's sort of the turnaround and impact of what's happening to the students at FAMU.
Embedded in the rankings is the fact that the important thing here is the lives of our students.
I don't wake up every morning going to see where we are ranked. I wake up every morning just trying to figure out how can I find monies to support the students at Florida A&M University.
Q: You seem to love being president of FAMU. Do you see yourself doing this until you retire?

A: I'm going to do this, to the best of my ability, as long as I have the opportunity to do it. I didn't come to FAMU 22 years ago to be president. The minute I've been deemed ineffective at it, then it is time for me to do something else.
It's an honor, but it's also an awesome responsibility when you think about how you have the lives, really the future, of 10,000 or so young people and then you look at the multiplier effect around that frame … I feel particularly honored to be in that role here at FAMU.
I didn't get to pick myself to be president, and as long as someone thinks that I'm doing a good job at it, I'll continue to do it.
Q: How about the FAMU/FSU College of Engineering? Do you feel as though it has lived up to its promise?
A: Yes. That's really an exceptional model. In this case, one of the white institutions and a historical black college/university partnered together in an academic program of that importance and of that scale — there's nothing like that anywhere in the nation. And so we have to cherish it … I've always been an advocate of the program.
When you think about it, the reason that we are Florida A&M, agricultural and mechanical, is because in our beginnings of the founding days, African Americans weren't considered capable of the so-called "liberal arts."
So, we've had this mechanical technology component from the beginning.
The engineering school was sort of a natural for us … And it's one of the most critical areas, I believe, for the state of Florida and for the nation.
We just can't seem to get enough engineers — so many opportunities out there for us to be competitive globally.
Q: Please discuss the significance of development in areas near FAMU such as Railroad Square, South Monroe and CollegeTown.
A: It's obviously significant.
We make sure that there is that investment, along or within the South side of town.
I had two students who said that they had been in a discussion about development on the South Side versus other parts of town. And they wanted to know from me, how did that happen?
I said, "Okay guys, I need about an hour or so to walk you through this."
You know, we have a generation of students who don't entirely get why things aren't the same everywhere. But I've had meetings with the mayor and counseling about South Side development.
They are receptive, and I don't think that they are short of ideas of their own.
So we're looking forward to partnering with the city more.
We see a lot of potential along FAMU Way. Some retail along there would be beneficial to our students.
Q: Where do you see FAMU in the next 10 or 20 years?
A: What I see is FAMU continuing to rise well within the top 100 institutions, and students will continue to have an impact in their communities.
As much as I am a proponent of accountability … I tell people that, "Perhaps, the best measure of an institution is what the graduates do, not the first year or the second year, but over their lifetime. What types of things did they do?"
But beyond that, the advances in science, medicine and engineering will be done largely by students that are here now.
Q: Do you see FAMU possibly playing FSU in basketball and football in the next 10 or 20 years?
A: I think we can manage through all of those kinds of things.
Those young men and young women, 18- to 22-year-olds, are passionate about this.
Everybody wants to win. I think there's a possibility, and let's see what happens.
I think the most important thing is recognizing that you have, in this town, three very fine institutions: Tallahassee Community College, FSU and FAMU.
Now, I sat down with an editorial board a year or two ago and said, "Wouldn't it be remarkable if the first thing that came through people's minds when they thought about Tallahassee was our outstanding educational institutions — that they have wonderful academic programs — as opposed to the status of football right now?"