Claude Pepper Institute Assesses Impacts of Aging Population
The concept, conceived in 1978, focuses on issues related to the social aspects of aging and their implications for public policy.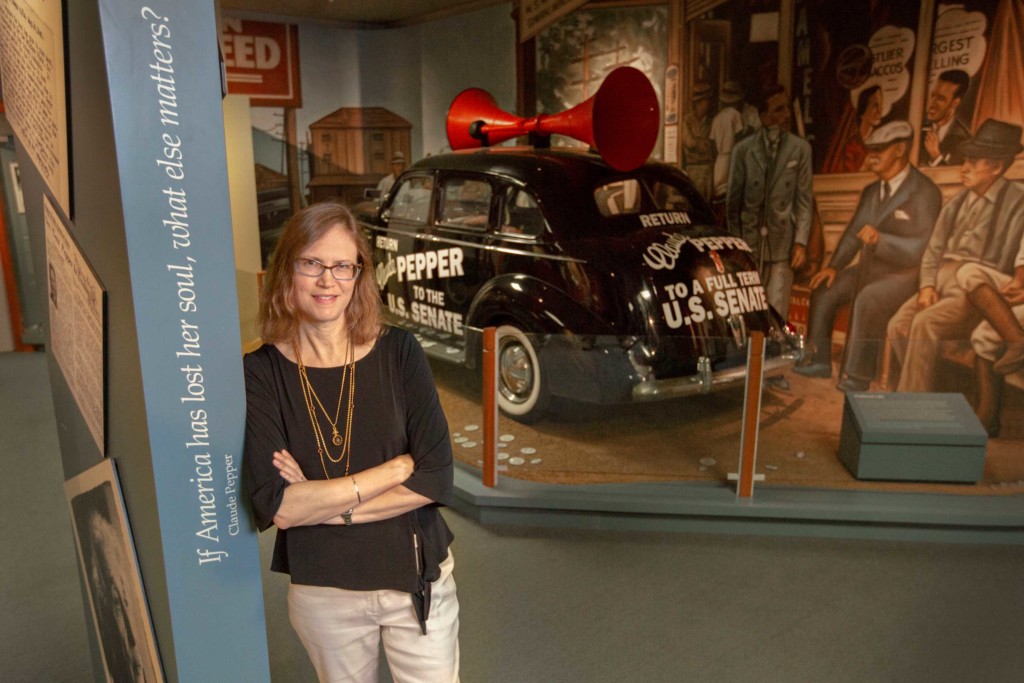 At age 65, many can look forward to another 30 or more years of life. Better nutrition and health practices, as well as increased exercise, cognitive stimulation and increased standards of living have changed the arc of what constitutes a lifespan.
Our society will have to adapt to a large and growing segment of Americans with greater buying power, significant political weight — and inevitable health issues. That is where FSU's Claude Pepper Institute on Aging and Public Policy comes in.
Originally conceived to be a part of the College of Social Sciences called the Multidisciplinary Institutes on Aging, Sen. Claude Pepper and his wife, Mildred, endowed the concept in 1978, creating the Claude Pepper Foundation, Center and Institute. It focuses on issues related to the social aspects of aging and their implications for public policy.
For Institute director Dr. Anne Barrett, a recent recipient of a Fulbright Scholarship to study aging populations and their caregivers in Italy, the scope of the institute is exhilarating. "With 13 faculty associates, we additionally collaborate with 17 affiliate researchers across various fields of study at FSU," she pointed out. From urban planning to psychology to medicine and economics, there isn't a field of academic interest that doesn't in some way intersect with issues regarding an aging population.
Looking at the statistics can be staggering: At the end of World War II, the world population of those over 65 was 9 million. Today, it is 617 million. In the United States in the 1950s, less than 10 percent of the population had reached "retirement" age; by 2050, that percentage will have doubled. Barrett examines seniors' changing cognitive abilities, driving habits, health disparities, living arrangements and social assistance, and she is also interested in the impact of ethnicity, gender and religion on how we age.
Older women, for example, are twice as likely to give up or limit their driving than are men. Other studies show that volunteering twice a week or more improves the transitions after widowhood; that military experience earlier in life affects older adults' mental health; and the impact of involvement in religious communities affects physical health. "We actively partner with other organizations to emphasize what are healthy practices of aging," said Barrett.
For example, the Institute collaborates with the Florida Department of Transportations' Safe Mobility for Life Program and the Bernard Osher Lifelong Learning Institute (OLLI). The FDOT partnership supplies seniors with small cards with big letters that address basic and new driving procedures. Self-assessment exercises help seniors determine when it may be time to leave the driving to someone else. OLLI, at the Claude Pepper Institute on the FSU campus, has grown and expanded its offerings to include anyone over 50 who cherishes lifelong learning.
With nearly 100 classes annually and membership of 1,000, OLLI at FSU explores topics ranging from Foods of the Iberian Peninsula and Mardi Gras Mambo to How to Edit a Genome. Most of the classes are taught by FSU professors or other experts in their fields. Barrett agrees that the years after 65 can be challenging, while rewarding.
Planning is required to enable that ever-growing segment of the population to deal with challenges. And care must be taken to ensure that government and social services agencies are not overwhelmed. "The Claude Pepper Institute does the research upon which intelligent decisions can be made," Barrett said. "Living longer is less important than a good quality of life — social connections, active engagement and independent living. We strive to understand how that can be done successfully."