The Foundation for Leon County Schools Puts Money Directly in the Hands of Teachers and Mentors
Laying a Good Foundation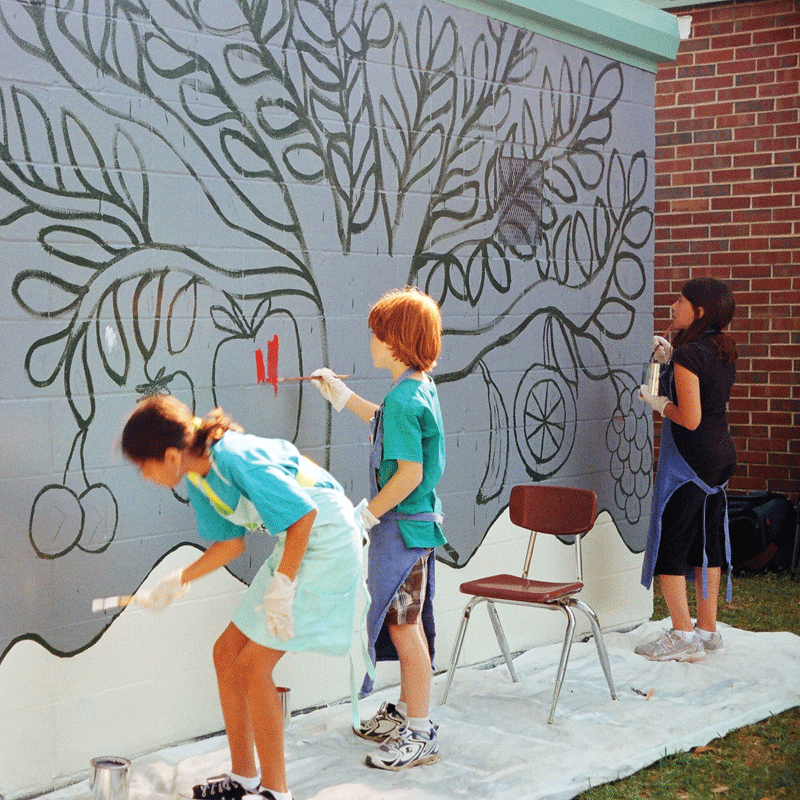 Courtesy of The Foundation for Leon County Schools
Among the projects funded by the Foundation for Leon County Schools were art (above) and garden (below) programs at Ruediger Elementary School as well as a robotics group at SAIL High School.
In case you came in late or haven't noticed, over the past five years the Leon County School District has had to reduce its operating budget by $145 million in tax dollars. Cuts are tough to manage and are especially painful to classroom teachers, who are expected to do more with less.
That's where the Foundation for Leon County Schools comes in. The Foundation is a nonprofit volunteer organization focused on four goals: retain teachers through professional development, increase graduation rates, help students with career and professional education, and promote awareness of childhood obesity.
Executive Director Sheila Costigan said the Foundation was set up in 1989 by a group of concerned community leaders, many with children in public schools, or who employed public school graduates. The purpose was simple: provide a fundraising mechanism to help make up the shortfall and make sure the money and resources went straight to teachers and classrooms.
"These were all volunteers, and it remains a volunteer board of directors," said Costigan, a former school board member and public school advocate. "They became a 501(c)(3) to raise dollars and direct support for programs and resources for our public schools that are not funded by tax dollars."
What makes the Foundation different from parent-teacher organizations and booster clubs is its affiliation with the Consortium of Florida Education Foundations, which was founded in 2000 and is comprised of fundraising foundations in 62 of Florida's 67 counties. Costigan said the state Legislature grants the Consortium a certain amount of money every year — $6.5 million during the 2013–2014 school year — which is then split up among the counties according to their full-time enrollment figures. Leon County's portion this year came to $53,000, Costigan said. But that piece of the pie is just the beginning. It's a matching grant, and the local Foundation has to raise money to meet the match. Since 2000, those state grants have been a major funding source, but since 1989 the Leon County Foundation has raised more than $1.6 million for Leon County Schools overall, she said.
But the state money given to the Consortium isn't guaranteed. The local foundation has to lobby for it every year so it doesn't get cut. However, once it's granted, the foundations in the Consortium make the most of it. This year they were able to take that $6.5 million, raise the matching funds and then, through additional fundraising, turn it into $153 million.
"I don't think you will find a better rate of return," Costigan said. "Through matching grants, fundraisers and personal donations, that's the return from all the foundations in just this one year. That's how mighty these nonprofits are and how crucial they are to the public schools."
On the local level, the Foundation is able to spread the wealth around throughout the Leon County School District.
"We give equally to programs in the district," she said. "We're not a one-school organization. We distribute our dollars equitably among all the district schools and work sites."
The flagship funding program of the Foundation is the "Teacher Mini-Grant," which enhances student achievement and teacher productivity. These grants are awarded for classroom projects that will give students the biggest bang for the buck. In Leon County, these mini-grants have impacted 160 teachers and 7,400 students.
"This year we gave $64,000 in classroom grants, but we request that the teachers collaborate and impact as many students as possible," she said. "So we sent $64,000 into the classrooms, but teachers — through their own private fundraising and through in-kind services to help them with their mini-grants — generated another $40,000. So our mini-grant program is worth easily $100,000 a year to the district for classroom enhancement. Innovative instruction is what it's called."
One of the ways the Foundation helps the school district is by providing much-needed resources to STEM programs like the Octo-PiRates, a high-school robotics team that began at SAIL High School, a school noted for its emphasis on arts and innovation. This year, between assorted grants and help from the Foundation, the robotics program raised $7,000.
"It was a huge boost in our fundraising," said Jasun Burdick, robotics mentor for the student members.
Burdick said that more than the money, Costigan has proven to be a true ally in their endeavors. 
"Sheila's a cheerleader, a motivator, she likes to network and get things done. She's got the contacts. We do a 'build' program that runs for six weeks, and at the end of it she helps get the word out with the media," he said.
Foundation Chairman David Vincent, whose architectural firm has handled educational construction projects for Leon County, said the Foundation's fundraising power has grown well enough that it could help kids beyond high school.
"We have grown from a smaller organization to a fairly large organization, and our fundraising capability has grown tremendously," he said. "I would like to see us hand out more scholarships for post-secondary education. The Foundation helps kids who are in school now, but it'd be nice to offer scholarships to help several kids out when they graduate."
Vincent's long-time business ties with Leon County schools, and the fact that his kids are products of the Leon County schools, make him another valuable cheerleader for the Foundation. He said it gives him a chance to give back to the school district and teachers in a meaningful, substantial manner.
"One of the reasons I like the Foundation is it augments and supplements the money given to it by the state," he said. "Instead of sitting around and whining about where the money will come from, the people involved go out and get the money for teachers in the classrooms. We try to put the money directly into the classrooms, because school systems are so bogged down with other issues. Not only did I have two kids in the system, I deal with a lot of graduates — and the better educated the workforce, the better it is for business."