Best of Tallahassee 2017 Recap
Event unites community in celebration of top businesses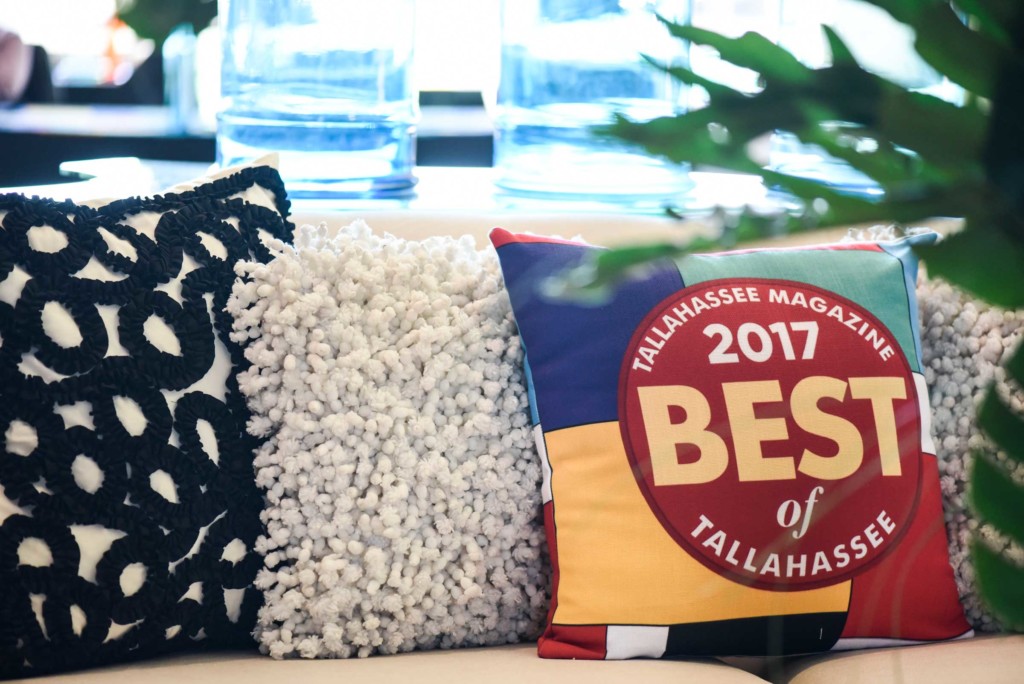 Tallahassee Magazine's 19th annual celebration of excellence, The Best of Tallahassee, brought together winners ranging from plumbers and pizzerias to caterers and child care providers and haberdashers and hair stylists.
The top two finishers in each of the Best of Tallahassee competition's 128 categories, joined by members of the community who love to share in a good time, arrived on Nov. 1 at Hangar 40 at Million Air FBO. There, overall winners would soon be revealed, based on the tabulation by the accounting firm of Thomas Howell Ferguson of votes cast by Tallahassee magazine readers.
Arrivals walked a red carpet to the hangar, ran a friendly media gauntlet of personalities from "Live in Tallahassee" and "AM Break" and inspected magnificent rides supplied by Capital Eurocars — even as a setting sun painted the sky with pinks and purples. Inside, the setting was no less spectacular thanks to the efforts of venue design sponsor John Gandy Events, who bedecked the space with gorgeous area rugs and high-tops, larger tables and lounge furniture.
"Our customers are so important to us. It's amazing to be recognized at the Best of Tallahassee event. It is such an honor to win." –
Juli Downs,
Buyer/manager at Narcissus
Music vendor Tom and the Cats made feet happy and bartenders supplied by beverage sponsor GVO (Good Vibes Only) helped relax nerves while food sponsor The Edison restaurant sated appetites for more substantial fare.
"Boy, what a great event," enthused Ed Canup, executive vice president and co-chief operating officer with presenting sponsor Capital City Bank. "There must be 800 people here!"
Canup, quoting Godfrey Smith, who served Capital City Bank as its president for decades beginning in 1940, commented, "A strong community makes for a strong bank," then added, "businesses and community are of paramount importance to us. Capital City Bank is proud to sponsor Best of Tallahassee for a third year. The event gives us a chance to celebrate the many great businesses we have here in Tallahassee. I offer our congratulations to all the finalists."
Winners in the Services categories were the first to be announced via a video played on jumbo screens supplied by American Audio Visual. This was no sedate awards banquet where honorees come forward to receive plaques to polite applause. At B.O.T., winner reveals prompted hugs, cheers, screams and tears. Later came announcements of winners in the Food/Beverage, Shopping, Entertainment and Online Voting categories.
Winners included Narcissus, who won in three categories: Women's Accessories, Women's Clothing and Women's Shoes.
"We love what we do at Narcissus," said buyer/manager Juli Downs. "Our customers are so important to us. It's amazing to be recognized at the Best of Tallahassee event. It is such an honor to win."
Lena Shields, the manager at Pure Barre, the winner in the Fitness Studio category, offered similar sentiments: "Best of Tallahassee is an event we look forward to every year. Being among the best of the best is always inspiring and we love celebrating everyone's hard work and success. Tom and the Cats really bring the party. We can't wait for next year."
Representatives of the Florida Lottery, an event sponsor, were on hand and were pleased to find that a high percentage of winners have connections to the Bright Futures scholarship program that the lottery supports.
Additional sponsors included Comcast Business and the Demont Insurance Agency, whose president, Graham Demont, commented, "Best of Tallahassee recognizes stellar performance in the Tallahassee business community. These businesses comprise both our current and future clients, which makes our support of the event an investment in growing our business."
Prominent Tallahasseans who stopped by B.O.T. included Marsha Doll of Marsha Doll Models. She summed up the evening as well as anybody when she said, "Tallahassee Magazine does such a marvelous job bringing our community together by celebrating all the fabulous businesses that make our community so special. Tallahassee Magazine is like family."
Click here to see the list of winners and runner ups