A Little Rain Was Fitting for a Garden Party
July/August Pop Up Party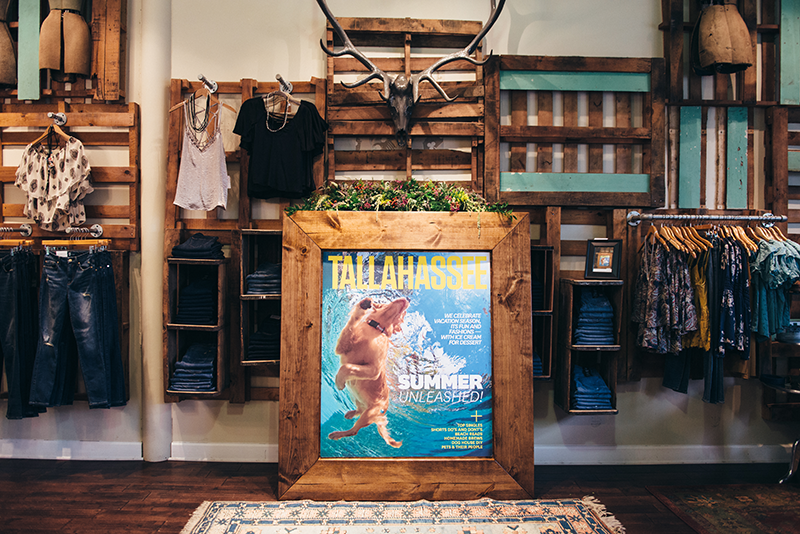 Women in floral dresses and men sporting brightly colored shorts arrived at the Table 23 restaurant, undeterred by intermittent rain. They had come, after all, to celebrate growth, something that a little precipitation often promotes.
Tallahassee Magazine hosted its first in a planned series of pop-up events on Aug. 9, using the occasion in part as a coming out party for the magazine's new design and editorial features. The event also focused attention on the 10th birthday of sophisticated local boutique Cole Couture and the recent opening of Table 23, whose Southern cuisine already is proving popular. 
Guests checked in across the street from the restaurant at Cole Couture where they received gift cards and beautiful bracelets by the popular bangle line, Bourbon and Boweties. Carly Ochs, the founder of the brand, chatted with bangle lovers and captured their pictures. With raspberry champagne in hand, guests perused the latest styles offered by Cole Couture and posed for photos taken by Alicia Osborne. 
Meanwhile, the party got started at the corner of 6th Avenue and Thomasville Road in Table 23's upstairs event room.  Guests mixed and mingled as guitarist and vocalist Zan Frett kept the mood upbeat with an impressive acoustic performance. The perfect summertime drink, Mason Punch, consisting of champagne, macerated peaches and house-pickled cherries, added to the festivities. 
Table 23 served delectable specialties including Red Hills gumbo, shrimp and grits, fried oysters and their soon-to-be-famous Southern Rueben. Guests flipped through copies of the July/August issue of Tallahassee Magazine, whose editorial buffet included stories on summer fashions, the Southern Craft Creamery, line workers, Seminole Indians, the Top Singles event and much more. 
As a thank you to all who contributed to making the evening a success for the three businesses involved, Steve Bornhoft, who serves as editor of Tallahassee Magazine; Table 23 owner Mandy Lemons and Carrie McNeil, the owner of Cole Couture, expressed their gratitude for the community's support and encouragement. If one were to have looked out the window while they were speaking, he would have found that the sun had once again begun to shine.