100 Years of Experience Anchors One of the Largest Independent Garden Centers
Accessibility to expert gardening advice has been a cornerstone of the business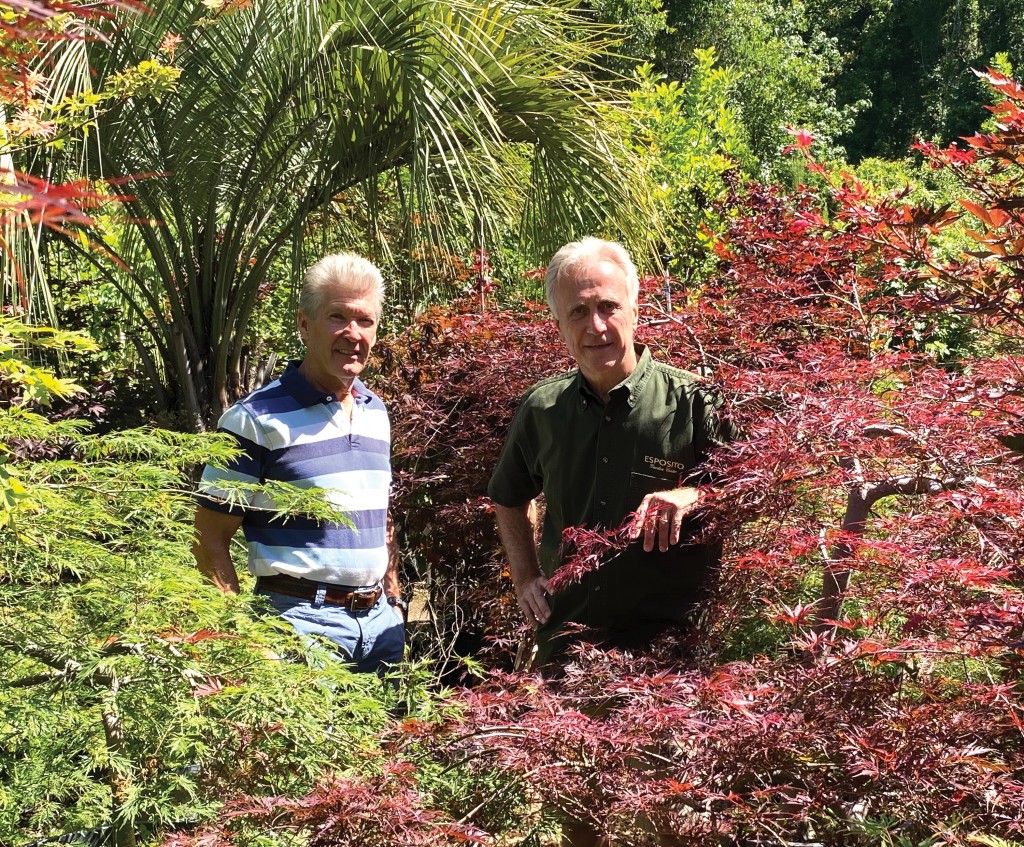 Ralph Esposito has been running Esposito Grden Center since 1977, but he has been gardening practically since birth. The company — founded in 1969 by his parents, Dominic and Mary Esposito — started out as a small store with several greenhouses. Ralph assisted his parents in the original shop, created his own landscape designs and eventually built it into one of the largest independent garden centers in Florida.
From the beginning, accessibility to expert gardening advice has been a cornerstone of the business.
"I really enjoy the one-on-one with customers, even though I don't have as much time to do it these days," Ralph said, "and I still have a sense of amazement as I look around this place and see all the new plants. No matter how long you've been gardening, you learn something new every day."
In 2013, Ralph hired David Marshall to do landscape consulting. David had just retired after 36 years with the University of Florida Extension Service, 33 as Horticulture Agent in Leon County. He has written several books on gardening in the South, as well as the monthly Florida garden checklist for State-by-State Gardening Magazine.
During his time with the Extension Service, David oversaw work in the demonstration garden. This provided him with the chance to test new, exciting varieties of plants and become intimately acquainted with their care and culture. He trained hundreds of Florida Master Gardeners over the years, and he brings his wealth of experience to Esposito's clientele.
Ralph was thrilled to add David's decades of experience to the team back in 2013, and he's done it again this year with the addition of Audrey Post.
Audrey, too, is a lifelong gardener. Her "city" grandparents had fruit trees, strawberries and ornamentals. Her "country" grandparents had chickens, hogs and a huge vegetable garden. She's also one of David's protégés, having completed her Master Gardener training in 2004 and renewing her certification every year since.
Some of you may recognize her from the many workshops and seminars she has conducted over the past 10 years, at Esposito's and elsewhere, or from her gardening column. "Ms. Grow-It-All®" answered gardeners' questions in the Tallahassee Democrat from 2005 to 2011; since then, she has continued to share gardening tips in Tallahassee Magazine. Now, she's available to help Esposito's customers plan their planting beds and gardens, or simply select the right plant for the right place.
"Gardening has always been my passion, and I'm so happy to join this great team," Audrey said. "So many staff members have been here for many, many years, and they willingly share their knowledge with customers and colleagues alike. As Ralph said, we learn something new every day."
While Ralph, David and Audrey have more than 100 years of gardening experience among them, others on the team also bring years of expertise, including Wayne DeMent, the go-to guy at the now-closed Gramling's, John Jupin, Matt Vichich, Maryanne Calloway, Colleen Schafer, Laura Moller and fellow Master Gardener Mark Warren, who joined the Esposito's team a dozen years ago after retiring from the U.S. Forest Service.
In recent weeks, Ralph has been taking to Facebook Live to educate his customers about common citrus pests or planting their first tomatoes.
"Each successful gardening experience is capable of creating a lifelong gardener; having gardening experts on staff to answer questions enhances the experience," Ralph said. "We're also fortunate to have Native Nurseries and Tallahassee Nurseries in town, because each of us makes the other better.
"You're only as good as the last plant you sold."
Esposito Lawn & Garden Center | 2743 Capital Circle NE, Tallahassee | (850) 386-2114 | EspositoGardenCenter.com