Vet & Pet Profiles: Bevis Vet Hospital
Practice forges close connections with pet owners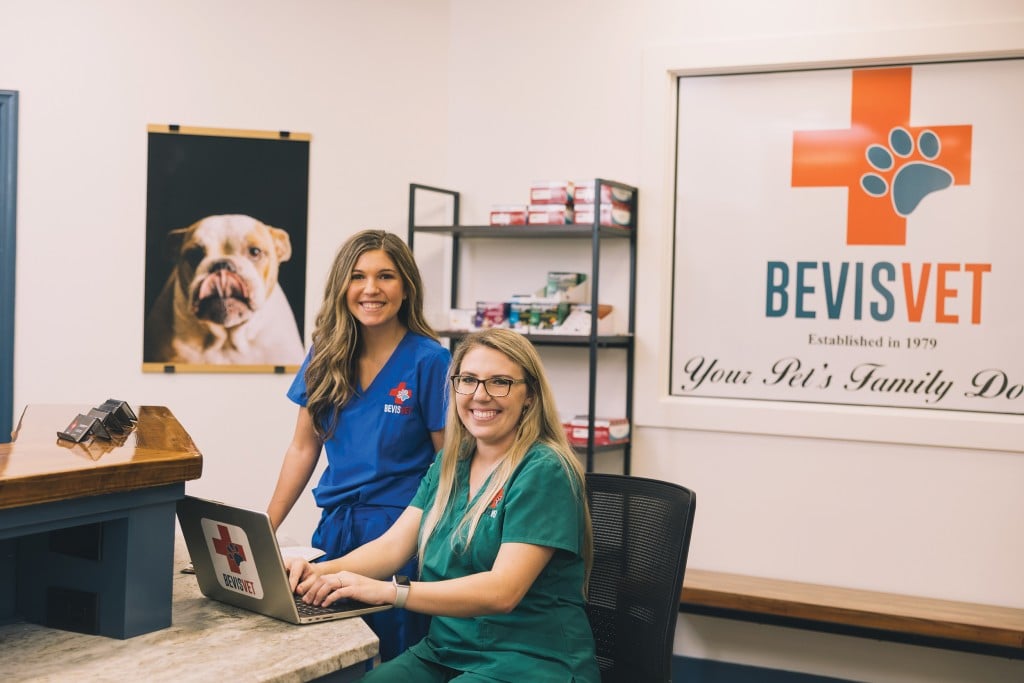 Dr. Luke Bevis was born into the veterinary industry. His father opened Bevis Vet Hospital in 1979. As a child, Bevis saw his father helping animals, but as he grew older, he realized the people were also being helped. This merging of caring for pet and person is what ultimately led him to pursue a degree in veterinary medicine and purchase his father's business in 2020.
With new ownership came a new Midtown location offering wellness exams, vaccines, dentistry, radiology, ultrasound, general surgeries, microchipping, lab services, preventive medicine, chiropractic services and more.
"We instill the traditional philosophies that my father started — compassion, quality time and customer service," Bevis said. "We are family owned, making it all the more important to have a business that makes everyone who walks through the door feel like family."
Bevis works alongside associate veterinarians Dr. Shaughnessy Tuten and
Dr. Mary Carson Gwynn. They make it a point to allow ample time not only for medical assessments, but also to listen to the client.
"As vets, we are solving the health mysteries of patients who can't speak, and the best way to gain clues is by listening to the client," Bevis said. "We learn the most by hearing those who know their animal best."
Bevis equates the client/vet relationship to that of the client and his primary care physician — you want to feel known, understood and comfortable that the right decision will be made. During a visit to Bevis Vet Hospital, you and your pet will have the vet's undivided attention.
As an owner of a yellow lab named George and an English cocker spaniel named Howler, Bevis knows that it was his love for animals that led him to veterinary medicine. His connection to helping humans came later and continues to deepen.
1919 Miccosukee Road | (850) 878-1800 | bevisvetcare.com