A Big-Hearted Passion For People
In and out of white coats, Michael and Jana Forsthoefel treat Tallahasseeans with respect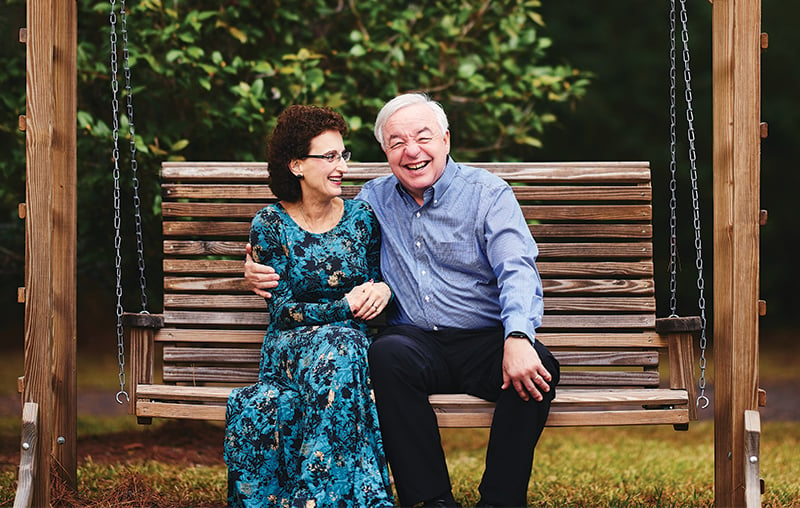 Drs. Michael and Jana Forsthoefel have been serving the Tallahassee community for almost 40 years, each earning a stellar reputation over that time.
He works in internal medicine and she in gynecology and obstetrics, both striving tirelessly to keep people healthy and happy. They teach at Florida State, helping to usher in the next generation of doctors. They have raised eight children, several of whom have obtained medical degrees. Their philanthropic efforts in support of military veterans are remarkable. Together, the Forsthoefels make Tallahassee a better place to live.
Michael was an undergraduate at the University of Louisville when he met his future wife. Both majored in biology. He intended to become a research scientist, but Jana was dead set on medicine at a time when women had scarcely been encouraged or even allowed to go to medical school.
Michael was so inspired by Jana's determination that he decided to join her in applying to medical schools. Both were accepted at their top choice, the Emory School of Medicine in Atlanta.
The couple moved to Tallahassee in 1983 and built a new home in Myer's Park where they would reside for 20 years.
"When we moved here, Killearn wasn't much more than a road in the middle of nowhere," Jana said.
Since arriving in Tallahassee, the Forsthoefels have scarcely thought about leaving for anywhere else. "It felt like home very quickly," Jana said. "Neither of us ever wanted to leave."
Jana was the first woman ever to have a private OB-GYN practice in Tallahassee.
"There's nothing more rewarding than delivering a healthy baby early in your career, then 25 years later delivering the baby of that baby!" she said.
Both Michael and Jana teach at the Florida State University College of Medicine. One of Michael's former students joined his practice recently.
As veteran doctors, the Forsthoefels have witnessed the arrival of technological advancements they never could have imagined early in their careers.
Jana started performing surgeries using robots about 12 years ago, right when they first became available. At the time, she was the first female doctor certified to use them.
About telemedicine, the Forsthoefels have mixed feelings.
"More people can get seen by their doctors more often," Michael said. "Now, none of my patients will have to put off an appointment if they can't find someone to drive them." On the flip side, Jana emphasizes the importance of in-person interaction versus video chats.
"You aren't just a collection of data points, you're a person," she said. "And we treat people."
Service to veterans
About 10 years ago, Michael and his longtime friend Mac Kemp got together to find ways to give back to veterans.
Honor Flight Tallahassee was founded to celebrate contributions made by veterans and provide them with an unforgettable experience. Divisions of Honor Flight exist across the country; all fly veterans to Washington, D.C, where they visit memorials. The trip lasts only one day, and the charity covers all costs.
Every veteran on the trip can bring another person, called a guardian, on the trip. Michael encourages especially children and grandchildren of veterans to go with them.
"Honor Flight can become one of the best teaching tools for these kids," Forsthoefel said. "They learn about the armed forces in a hands-on way, and they gain a brand-new respect for the veterans in their lives."
On Honor Flight days, it's wheels up at 5 a.m. When they land in Washington, veterans are immediately off on a busy schedule. They begin their tour at a memorial to the soldiers of World War II, then continue on to the Lincoln Memorial. They view the Marine Corps Iwo Jima statue, the Air Force memorial, and memorials to the veterans of Vietnam and Korean wars. They travel on chartered buses with a police escort throughout the entire day, ultimately visiting every major veteran's memorial in the city. The trip culminates in a visit to the Tomb of the Unknown Soldier. Following this final paying of respects, the group heads to the airport and arrives back in Tallahassee by 10 p.m.
Michael has been the flight physician for every Honor Flight originating in Tallahassee. He has had the privilege of seeing the positive impact that the flights have on veterans and their guardians.
"We are changing lives every trip," he said.
Vietnam veterans in particular get a lot out of the trip.
"When those boys got back to the States, a lot of them weren't treated the best," Michael said. "They didn't get the same respect that some of the older vets got, even though a lot of them were drafted. We're working to change that."
Michael continues to practice with the Southern Medical Group. Jana is with Gynecology & Obstetrics Associates of Tallahassee.
---