Uncommon Scents
Perfume is the finishing flourish.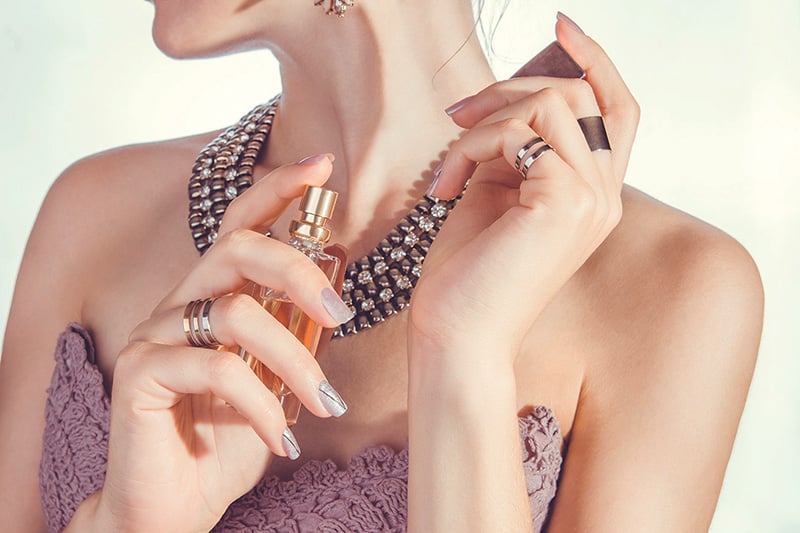 Whether its scent is fruity or earthy, perfume serves a deep purpose in any woman's beauty routine. After she puts on her attire for the day, steps into her shoes and fastens the clasp of her necklace, a spritz of perfume on the wrist wraps a bow around her morning.
The Tocca line at Narcissus includes both perfume and less concentrated eau de parfum, all bottled beautifully. "The bottle is Italian-made and has an embossed, gold-colored cap," says Rosser. "It was inspired by vintage Cognac bottles and the whimsical shape of Cinderella's pumpkin carriage."
Liliana — the Garden Party Reveler — is one example of a Tocca perfume. "The scent is charming and full of life. (It) conjures up the mood of the Jazz Age garden party reveler," says Rosser. With so many perfumes on store shelves, scents and brands go above and beyond to stand out as unique. For example, Tocca brand perfumes ("Tocca" means "Touch," in Italian), which can be found at Narcissus in the Market Square shopping center, "all have women's names and a back story for that particular name," says Narcissus Manager Zoee Rosser.
Another example is the Simone scent — a fearless beach beauty. "The scent is breezy, sparkling and radiant. A young woman with sun-kissed air and bronzed skin, adventurous and loves the beach."
Ever considered layering your perfume scents? Hearth and Soul Business Manager Brittani Revell recommends Bond No. 9 perfumes for this effect. "It specializes in a concentrated formula, with scents inspired by the areas of New York City," she says. "Bond No. 9 uses a high concentration of oils — 18–22 (different oils) in most of their fragrances. This allows for a longer lasting and more dimensional scent. Every person has their own chemistry, and will wear scents differently; so layering, blending and mixing give you a way to create your own personal scent."
Remember NYC's famous train track, the High Line? Hearth and Soul offers a Bond No. 9 women's perfume that bears the elevated track as its namesake. No longer in use, the track is now a public, park-like space. Appropriately, High Line perfume has a fresh floral scent with grassy undertones.
"Another Bond No. 9 perfume, 'The Scent of Peace,' starts with a citrus, berry blend as the top note, a lily of the valley floral softens the middle, and it is grounded in a cedar wood and musk undertones," says Revell.
During your next shopping spree at the mall, visit the Dillard's fragrance collection, which includes perfumes by Jimmy Choo, Tory Burch, Viktor and Rolf, Lancome, Dior and, bien sûr, Chanel. You can never have too many of these bottles sitting pretty on your vanity.
---
Prepare to swoon
The language of describing perfumes can be as intoxicating as the scents themselves. Tocca declares its Eau de Parfum Stella to be tempestuous and moody as a rebellious young Italian beauty, a formula with top notes of bitter orange, blood orange and watery accord, middle notes of white freesia, wild diamond orchids and spicy lily, and bottom notes of sandalwood and, oh my, sheer musk. The Bond No. 9 line describes its Scent of Peace as the sparkling-fresh scent of our civic dreams, a mélange of sparkling florals and citruses, with notes of grapefruit, black currant, lily of the valley, cedarwood and, yes, for the sake of peace, musk.