Grateful Runners Prep for Thanksgiving Turkey Trot
Preparations for Thanksgiving Day include new running shoes and practice 5Ks as thousands of runners get ready to trot.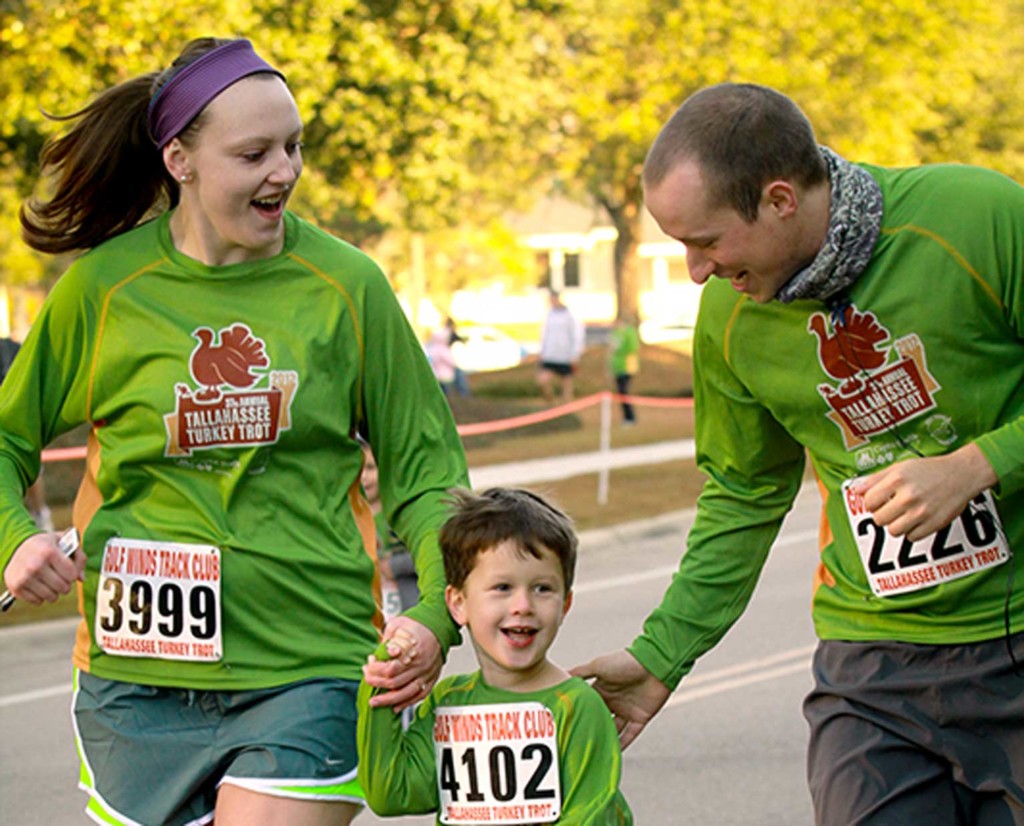 If you're a live turkey at Thanksgiving, you better run.
If you plan to eat a lot of turkey at Thanksgiving, you had better run, too, lest the calories gain on you and overtake you upon the scales.
That's one of the big motivations — and there are many — for running in the Tallahassee Turkey Trot, a Thanksgiving Day morning ritual hosted by Gulf Winds Track Club for which thousands of area runners are grateful.
"One of the reasons people run in the Turkey Trot is to burn those calories so they can enjoy a Thanksgiving feast without guilt," said David Yon, long-time race organizer, Tallahassee attorney and running enthusiast.
The course, at SouthWood State Office Complex, comes in four varieties, from 1 mile to 9.3 miles — so you can run just enough to offset turkey and dressing, or you can trot until you've made enough caloric room for pumpkin pie topped with whipped cream and after-dinner drinks.
For Yon, that's the practical reason to be a Trotter, but it's not his favorite reason.
"It's just so fun to see the community come together," he said, reflecting on more than 20 years of co-directing the Turkey Trot with his wife, Mary Jean Yon. "People enjoy participating. Whole families run together. People are glad to see each other. It's a neat experience. You wish all of life could be that way."
The gravy on top is that the Trot's registration fees and donations from runners benefit local charities, including Boys & Girls Clubs of the Big Bend, Refuge House, the Kearney Center and Second Harvest.
The top runners clocked in at 52:41 (15k, top male), 57.41 (15k, top female), 35:01 (10k, top male), 38.40 (10k, top female), 14:53 (5k, top male) and 18:33 (5k, top female). Truly, they burned a bonfire of calories — enough to help themselves to seconds on that pumpkin pie.Close to 7,000 people registered for the Turkey Trot last year.  The mix of runners is typically part avid, part amateur, part beginner, including many children, and a few fleet elite. More than 6,200 finished their course, including some who simply walked the whole way. All had their time precisely recorded from the instant they crossed the starting line to the instant they finished.
Some aspired simply to enjoy the gathering and complete their goal by mid-morning.
Yon invites novices to start training for the race by walking or running at least four times a week — which is good health advice, Trot or not. Register online to plug in to news and tips on training, to participate in organized training sessions, and to join informal groups that welcome newcomers to get out and run with them.
Mark your November calendars for the Turkey Trot Festival on Nov. 19 and the Festival Kickoff Nov. 5.
"We're trying to turn it into a whole-month-of-November thing," said Yon, for whom running is a rest-of-his-life thing.
The Festival Kickoff features an easy, breezy "Magic Mile" run named in memory of Gulf Winds Track Club Hall of Famer Rex Cleveland. The magic mile, mostly downhill, starts in Myers Park, proceeds through Cascades Park and across the pedestrian bridge, finishing on FAMU Way at Railroad Square, followed by a social hour for all ages.
The festival proper on Sunday prior to Thanksgiving is an elaborate packet pick-up event featuring live music in the Capital City Amphitheater by two local bands that donated their talent and a bevy of health and fitness events, screenings and information booths.
Volunteer opportunities before and on race day are many, including handing out water to passing runners and cheering them on.
Says Yon, "Thanksgiving is the best holiday, the one not requiring gift exchanges and intensive decorating, and the ideal one for the Turkey Trot, when people can run together, enjoy the outdoors, anticipate the feast and be grateful."
Event Information
Turkey Trot Races
Thanksgiving Day, Nov. 23
SouthWood State Office Complex
8 a.m. – start 1 mile race
8:30 a.m. – start 5K (3.1 miles),
10K (6.2 miles), 15K (9.3 miles)
10:30 a.m. – All complete
Turkey Trot Festival
Sunday, Nov. 19
1:30 – 4:30 p.m.
Cascades Park
Packet pick-up, live music, fitness events
Festival Kickoff
Sunday, Nov. 5
4:30 p.m. start
Rex Cleveland Magic Mile
Myers Park to Railroad Square
Gulf Winds Track Club
Race information and calendar at GulfWinds.org
FOR MORE INFORMATION
Training groups on Facebook
at GWTC – Training Groups
tally.runsonawesome.net
(850) 425-6671