Top Singles 2014 Benefits 18 Area Charities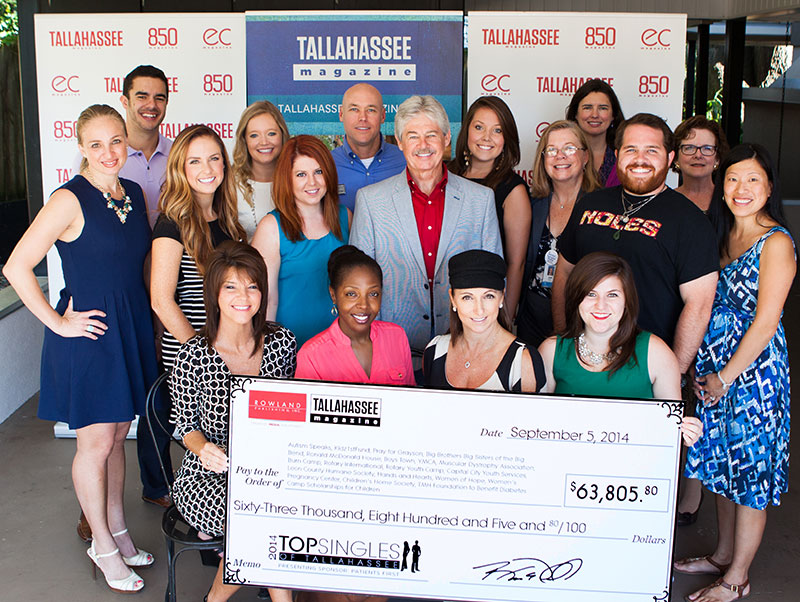 The 2014 Top Singles event, billed as one of the summer's biggest charity events, certainly lived up to the hype, as this year's class of Singles raised $63,805.80 to benefit 18 different charities. This is an increase of just over $10,000 from last year and is the highest amount raised since the event's inception.
This year's Singles celebration was held Saturday, Aug. 23 at Hotel Duval, where 18 brave singles took the stage in an authentic bidding process, a departure from the show's format in years past. Each Single raised funds for his or her chosen charity during the pre-event promotional period with a fun smattering of individual ventures, from party bowling to guest bartending. They were then paired with a date package the night of the event before being authentically bid in front of a capacity crowd. Each package had a unique flair, ranging from a basket full of gift certificates for downtown Thomasville to a shopping spree around Midtown to flight lessons for two. Bids for the Singles ranged from $200 to the night's highest bid of $1,700.
Chucha Barber and Charles Belvin of Impact Visual Media co-hosted the event. Top Singles 2014 sponsors included presenting sponsor Patients First, and additional sponsors The Gem Collection, Fuel A Salon + Store, JS Hair Lounge, Cole Couture, Nic's Toggery, Hotel Duval, ResortQuest by Wyndham, Miller's Ale House and Live in Tallahassee.
The 18 singles and their chosen charities include: Ashleigh Amburn (Hands and Hearts), Greg Bacon (Rotary Youth Camp), Lauren Bacon (Rotary International), Melissa Cleveland (YMCA), Courtney Dunham (Pray for Grayson), Nicole Hoskens (Autism Speaks), Sarah Kelly (Women of Hope), Eric Kemp (Ronald McDonald House), Anna King (Women's Pregnancy Center), Drew Longenecker (Kidz1stFund), Dedra Mitchell (TMH Foundation to Benefit Diabetes Camp), Antonio Rainey (Capital City Youth Services), Monica Rodriguez (Children's Home Society), Amy Schwartz (Boys Town), Marc Schwartz (Burn Camp), Shep Sheppard (Muscular Dystrophy Association), Ryan Smith (Big Brothers Big Sisters of the Big Bend) and Winnie Wright (Leon County Humane Society).