Top Single Profile: Katie Juckett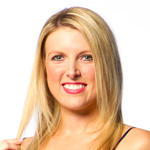 Photo by Scott Holstein
Navy blue sheer panel dress: Cole Couture; Rebecca Glam Film Bronze Cuff, A & D Gem 18kt White Gold 5.61ct Oval Tanzanite & 1.10tdw Ring: Gem Collection; Hair and Makeup: Fuel A Salon
Katie Juckett, 29
Charity: American Heart Association
Katie flits effortlessly from various community-oriented commitments to the hallowed halls of Florida's capitol to continue to hone her skills on the legislative scene. That inner toughness is channeled into massive creativity, however, outside of the workplace. This is when Katie focuses her attentions on her creative outlet:
a budding floral design endeavor.
Katie Juckett is the assistant director for Legislative Services Government Law & Policy Practice Group at Greenberg Traurig, P.A. In addition to her budding career in the political realm, Katie is a talented floral designer. She runs a small business providing her floral design services to private functions and events around the city. She is the co-president of the Alpha Delta Pi Tallahassee Alumnae Association and a member of the Junior League of Tallahassee.
From the nomination: "Katie has proven to be a standout in the political arena for her professionalism, knowledge of Florida's political landscape and ability to cultivate a wide array of supporters and fans among Florida's elected officials and governmental consultants. She is a bright star around the Florida Capitol and on Tallahassee's social scene, but she also is an enterprising young woman who in her "free time" runs a floral business. Through both her spirit and her professional endeavors, Katie is making Tallahassee a more beautiful, delightful place to live."
Katie's charity of choice is the American Heart Association. The American Heart Association (AHA), a nonprofit, voluntary health agency funded by private contributions, is dedicated to the reduction of death and disability from cardiovascular diseases, including heart diseases and stroke. The AHA is one of the world's largest voluntary health organizations with about 2,200 community organizations in all States, the District of Columbia and Puerto Rico. More than 3.7 million persons volunteer with the AHA to fight cardiovascular diseases, the nation's No. 1 killer and a leading cause of disability. Preventing heart disease and stroke is the first priority of the American Heart Association.
For more information: www.heart.org
---