Timeless Threads
Kathryn Stewart lives her love for vintage clothing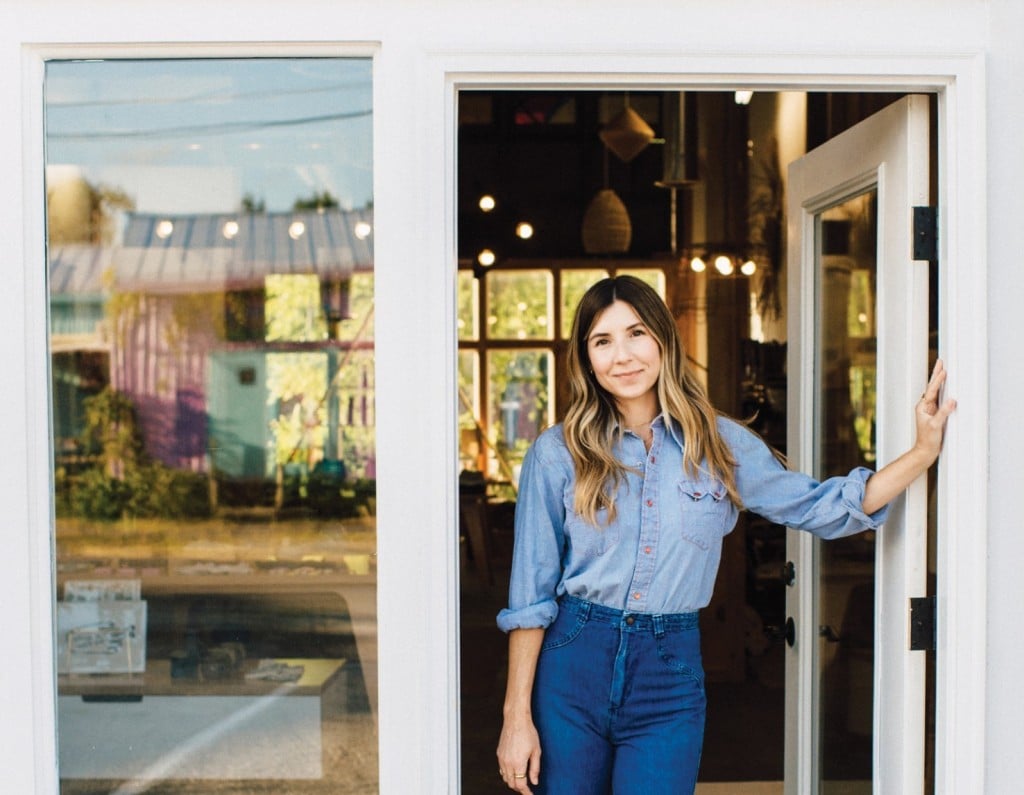 Tallahassee native Kathryn Stewart has always loved three things: vintage clothing, the funky vibe at the Railroad Square Art District and the music of John Lennon. The natural result of this combination: Wonsaponatime Vintage clothing store.
"I grew up watching old movies with my parents and loving the clothes," she said. "I started out shopping for vintage clothing at thrift stores, primarily things I wanted to wear, but there were other things I just couldn't leave behind even though they weren't suitable for me."
Online marketplace Etsy had just started up, so she began selling her collection through it as Wonsaponatime Vintage in 2010; she moved into a spot at Railroad Square not long afterward.
The name was inspired by an anthology of songs by the late John Lennon that was curated by his widow, Yoko Ono, and released as a four-disc set in 1998, more than 25 years after
he was gunned down in front of their New York home. Part live, part studio outtakes and part home recordings, the tracks were recorded between 1969 and 1980. The album Wonsaponatime is a one-disc compilation of the anthology, sort of a "best of" option.
College students are her demographic, and she pays close attention to what they're wearing when they come into the store so as to stay fresh in blending current trends with vintage pieces. But she realizes she needs more local residents as customers for those times when the students aren't in town. She added new accessories and gift items several months ago.
"I don't know if they don't know how to wear vintage clothing and how to mix it with what they have, but if we can get them in the door with gift items and new accessories, we can show them," Stewart said. "That is the hope."
Comments on the store's social media sites are overwhelmingly positive. "Super cute shop with the most unique gifts! Love coming here when I visit Tally to see what gems I can find." "Just got some amazing finds!!!" "Beautiful shop with absolutely reasonable prices."
She usually has two employees and several interns each semester, with interns coming from all over Florida State University, her alma mater. She was a studio art major who dabbled in everything from painting to print-making, but she's had interns from the retail merchandising, entrepreneurship, marketing and photography programs.
"I really like styling and taking pictures," Stewart said. "Collaborating with the college students and their young minds is such a creative outlet."
Roxanne Parker, an internship coordinator with FSU's Jim Moran College of Entrepreneurship, said Stewart has been a great local partner and teaches students about much more than vintage clothing and styling.
"She teaches the students about the reality of being an entrepreneur and what is involved in being a small business owner," Parker said.
The coronavirus pandemic forced her to move back online when non-essential businesses were ordered to close. Fortunately, she had been collecting vintage clothing for more than a decade, much of it from travels throughout the Southeast, so she had plenty of clothing to market on Etsy.
Her favorite vintage outfit? A really good-fitting pair of Levi's, a soft, almost paper-thin T-shirt and a pair of Converse sneakers. How does she dress up? "I'd probably wear the same thing, just swap the sneakers for heels and add gold jewelry."