Three Weddings: 2009
Three Local Couples Find Love in Unexpected Places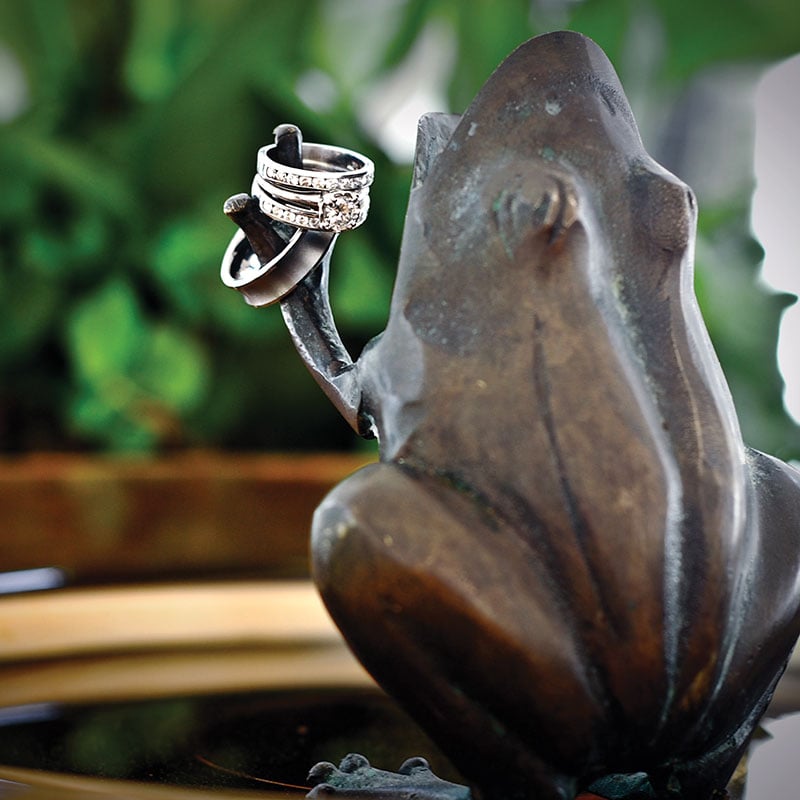 Lauren Safley wasn't looking for love when she met Chris Barnard one day at a friend's house. Likewise, Dan Wilcox never expected he'd go to the University of Florida and fall for a high school classmate from Tallahassee. And Robert Parrish didn't think he'd end up marrying a business associate's daughter. But one way or another, these couples found their way to love, and before they knew it, they were standing in front of the altar together. Here, they recount their love stories and the details that made their weddings special.
Blue Skies for a Perfect Wedding Day
By: Tabitha Yang
What ended in a perfect, Southern plantation-style wedding started out, for Lauren Safley Barnard and Chris Barnard, as non-interest. Four years ago, they met through mutual friends while attending Florida State University, but it wasn't exactly love at first sight.
"We were both just not looking for a relationship," Lauren recalls.
But after running into each other a few more times at social events, Chris decided to pursue the lovely blonde.
"He kept calling me a few times to go out," Lauren says. "We met at Café Cabernet. And we've been together ever since."
The two were at FSU together for the rest of their college days and graduated in December 2006.
Lauren was attracted to Brian's dark and handsome good looks and enjoyed his outgoing personality. Brian thought she was beautiful and found that they understood each other well.
Their families get along well too, which is a plus. In fact, Chris knew Lauren's brother before he met her and had gone fishing and hunting with him a few times. But Lauren was never mentioned in any of their conversations.
"I was amazed that he actually had a sister," Chris says.
The two love spending time outdoors, especially by the water, and spent much of their courtship at the beach or out on the water on their boat. And they're big Seminole football fans.
"We bleed garnet and gold," Lauren says.
"We go to all the games," Chris adds.
Around December 2007, Chris decided he was going to ask Lauren to marry him. They both knew there was something different about their relationship from previous relationships they'd been in.
"I think we both think that God made us for one another," Lauren says.
"Your friends said I was the only boyfriend of yours that they ever liked, so it had to be good," Chris reminds Lauren with a smile.
Chris had earned a trip to Maui, Hawaii, based on his excellent job performance at Flooring America, so he decided to take Lauren with him and propose there in May 2008. It was their first time going to Hawaii, and both were excited. He bought her engagement ring and hid it in a shoe in his carry-on bag.
When they arrived in Maui, Chris arranged for them to have a private dinner in a cabana on the beach at sunset.
Chris had the ring placed under a covered hors d'oeuvres platter. When the ring was uncovered, he got down on one knee and asked, "Lauren Elizabeth Safley, will you marry me?"
Lauren was surprised but said "yes" happily. She spent the rest of the week on cloud nine, driving around the island with Chris in a rented convertible and spending time by the resort pool. They even took a helicopter ride around the island.
When they returned home, Lauren's dad surprised them with a new Labrador puppy named Maui May, purchased at a charitable auction.
The rehearsal dinner was held at the Governors Club, with seafood hors d'oeuvres and champagne served on the balcony.
They planned a 4 p.m. outdoor wedding on April 4 at SouthWood Plantation and Cottages but were concerned, because it had rained hard most of the week leading up to the ceremony. But the weather cleared up, and the day of the wedding dawned sunny and warm.
A string trio serenaded 175 guests as they sat on white chairs on the lawn behind the Plantation house. The 2-year-old ring bearers, who were Lauren and Chris's nephews, made everyone laugh when they tossed the pillows they were carrying up in the air and tried to catch them.
Lauren's 11 bridesmaids were picture-perfect in chocolate brown, strapless dresses with ivory sashes, and Lauren looked radiant in her white strapless gown, which had just a hint of pink. She came down the aisle on her father's arm, smiling and carrying a bouquet of white roses. Meanwhile, Chris and his 10 groomsmen looked sharp in khaki-colored suits from Nic's Toggery.
Pastor Ron Miller of Every Nation Tallahassee officiated, and Chris's cousin, Morgan McCall, sang "My Heart Will Go On" from the Oscar-winning film "Titanic."
Miller had done some marriage counseling for the couple, and both said the experience was life-changing.
He told them, "Make God the center of your marriage. That was probably the most important thing," says Chris. "And to have a good foundation. A lot of marriages fail because they don't have a good foundation."
After the ceremony, guests gathered on the front lawn of the plantation home for dinner and dancing. They enjoyed a sumptuous buffet of roast beef, croissant sandwiches and other delicacies, catered by Paula Kendrick of Paula's Goodwood Café. Lauren and Chris cut the cake, a four-tiered concoction from The Cake Shop, decorated with white icing and green ribbons, and danced their first dance to Brad Paisley's song "Waiting on a Woman."
Lauren, who dreamed of what her wedding would be like when she was a girl, said her special day was everything she imagined and more.
"The word of the day was 'perfect,'" Chris says.
Of course, it also helped that the couple hired a very competent wedding planner, Tricia Willis.
"Our wedding planner was the best," Lauren says. "We had no worry in the world."
"It would have been impossible to do it without her," Chris adds.
After the wedding, the couple jetted off to the Dominican Republic to spend a week at the Paradisus Palma Real Resort in Punta Cana. There, they spent time kayaking and sailing and learned to ride Segways.
Married life so far has been a smashing success, according to the couple, though not much different from when they were dating.
"We've just got rings on our fingers," Chris says. "It's been great."
Lauren agrees. "It's been perfect."
SAFLEY-BARNARD Vendors
Ceremony and Reception Location: SouthWood Plantation and Cottages
Band: The Recliners
Bridal Gown: Anne Barge – Malindy Elene Couture for the Bride (St. Petersburg)
Wedding Planner: Tricia Willis
Photographer: Terri Smith
Wedding Cake: The Cake Shop
Videographer: Krishna Singh – Unique Video Creations
Caterer: Paula Kendrick – Paula's Café
Capital Romance
By: Jennifer Ewing
When Dan Wilcox graduated from Leon High School and packed his bags for the University of Florida, he hardly expected that a Tallahassee girl would steal his heart only two weeks later. Likewise, Genna Cox never anticipated that a jaunt to Gainesville would leave her smitten with a former biology classmate from her hometown.
"I was visiting my friend Trey in Gainesville and Dan was his roommate," Genna says of the chance reunion. She and Dan had never really gotten to know each other well in high school but hit it off right away during their second meeting. "I caught him immediately," Genna recalls with a smile. "He was shy."
The two continued to date long distance while Genna finished her senior year at Leon and started classes at FSU. However, driving the 148-mile stretch of highway in a gas-guzzling Ford Bronco finally became too much for the couple, and Dan decided to get reacquainted with another Tallahassee find: Florida State University.
"I had always been a Seminole fan," he says, and has now earned two degrees through the university's College of Business.
Genna also earned a multinational business degree at FSU, and Dan recently finished the master's program.
"I'm proud of him for getting his master's degree," says Ginger Lee Cox, mother of the bride. "He always said he would wait until he was through with that before he would marry, and he did. I thought that was nice and responsible."
It was actually two months before graduation when Dan popped the question.
"He got a ribbon and tied the ring to our chocolate Lab, Autumn," Genna says. "I burst into tears. It was so sweet." The proposal surprised Genna but was no secret to her family.
"I had to ask her parents for permission and ask her aunt for the ring," Dan explains. Fortunately, Genna, her aunt and her parents all said yes, and Genna now happily wears the engagement ring — a family heirloom with a story of its own.
The ring once belonged to Genna's great-aunt, Dorothy B. Oven, a beloved family member best known for the prized camellia park she left to the city of Tallahassee in 1985. The namesake park is a testament to Oven's generosity and has kept her memory alive within the community for decades. However, for the Oven family descendants, the park has even greater significance.
"My sisters and I spent our childhood enjoying many Christmases, Easters, luncheons, birthdays, etc., on these grounds, as Dorothy B. Oven was our aunt," Ginger says. "She was just one of those doting aunts on all of us. We were very close to her."
Even today, the park is a treasured meeting place for Oven family descendants, who gather in the house every year for Christmas dinners and cocktail parties. The grounds are also a hub for the people of Tallahassee, the city that has shaped so much of Genna and Dan's lives and relationship. Clearly, Dorothy B. Oven Park was the perfect place to hold their wedding.
"My Aunt Dorothy got married there too, so to be married at the park and wear her ring meant a lot," Genna says.
She and Dan made their vows in front of the park's gazebo in a ceremony brimming with family traditions and personal sentiments. In fact, a number of the close friends and relatives in attendance had contributed their talents to the wedding and reception in various ways.
The photographer, Linley Paske, and officiant, Brandon Wilson, were personal friends of the bride and groom. Dan's brother, Sean, stood beside him as best man. Also, Genna's aunt, Tricia Lee, a professional florist, put together all of the arrangements and bouquets.
"Genna wanted it to be like a movie where friends get together and put on the wedding," says Ginger, who served as official wedding coordinator. "The people we chose to do the catering and everything, we felt like we wanted to know them and them be a part of the community."
The mother-daughter team had worked alongside one another for months to plan out all of the details, from ordering invitations to booking vendors.
"My mom is a trouper," Genna says. "She helped me plan everything. I've never seen a woman work so hard."
Despite the energy that went into preparation and planning, the wedding day was decidedly relaxed.
"We're very laid-back people," Genna says of her new husband and herself. "We just wanted it to be fun."
The reception took place at the Brokaw McDougal House, where guests feasted on a spread offering everything from beef tenderloin sandwiches to sushi rolls. The band Southern Satisfaction got everyone on the dance floor with their renditions of classic rock favorites and an impromptu version of the Electric Slide.
A great time was had by all, but no smiles could have outshone those of the bride and groom.
"They truly are that happy. They were both just grinning from ear to ear all day," Ginger says.
The newlyweds spent their honeymoon at the Sandals Halcyon resort in St. Lucia and now are easing into married life. After dating for seven years, they are adapting quickly.
"I like it this way," Genna says. "No surprises."
There are a few small adjustments, though — one being the new rings around their fingers.
"I don't wear jewelry," Dan says. "It's a work in progress."
Another big change?
"We just bought a new house!" beams Genna. She and Dan say they're excited to renovate and redecorate their new home together.
COX-WILCOX Vendors
Flowers: Tricia Lee
Catering: LeGran Saunders, Ben Baldwin, Sibley Richerson and Kitcho Japanese Restaurant
Photography: Linley Paske
Wedding Music: Jeremy Lyons, Classical Guitarist
Reception Music: Southern Satisfaction
Wedding and Groom's Cakes: Leslie Jacobs
Hair: Matt Santora, Splash Salon
Nails: Royal Nail Spa
Wedding Rings: Gem Collection (engagement ring is a family heirloom)
Bridal Gown: Bridals by Lori, Atlanta
Bridesmaids' Dresses: Bella Bridesmaid, Atlanta
Enjoying Enchanted Evenings Near and Far
By: Candice Montgomery
On a fateful evening in April 2007, Tallahassee native Julie Miller was having dinner with her father, Wilton, at the local Bonefish Grill when a surprise guest stopped by to say hello.
It was Robert Parrish, president of Parrish Group, one of the largest developers of commercial office building and residential communities in Tallahassee, and he was smitten.
"Her dad and I had done some business in the past in real estate. I didn't even know he had a daughter," Parrish admits. "I was absolutely captured by everything she had to say. The more the evening went on, the more I didn't want it to end. She was very beautiful and very intelligent."
Sparks flew between the two when Julie joined Robert for a day of golf, his favorite hobby. Much to his amazement, Julie was a natural.
"I hit the ball brilliantly that day, and I haven't hit it like that since," she laughs.
"I was out there to show her how to hit balls, and within five or 10 minutes she was … knocking the balls out of there," Robert says. "And she looked like she was enjoying it, so I was very excited."
It took only a few months before Julie knew she wanted to be with Robert for the rest of her life.
"It just hit me," Julie says. "I thought, 'Wow, I want to marry this man someday.' My mom always told me that when you meet 'the one,' you will know, and I really did feel that with Robert."
Robert was also marriage-minded and had been planning a special proposal for a while.
"I got the ring (a stunning solitaire) from Tiffany's," he says. "I had a feel for what she liked already from the times we went shopping together. She would say what she liked and didn't like. I had my idea of what she wanted."
In December 2007, the couple traveled to the "city of love," Paris, for a New Year's vacation. While Julie only envisioned a memorable trip to France, Robert had something else up his sleeve — or, should we say, in his pocket.
The couple stayed at the enchanting Hotel de Crillon, in the heart of Paris overlooking the Place de la Concorde. From there, it took Robert a bit of time to work up the courage to pop the question.
"I was a nervous wreck," he says. "For a day or so after we got to Paris, I was trying to capture the right feeling to do it."
Paris' evening lights, large fountains and the world-renowned Eiffel Tower set the scene for a romantic proposal.
"I walked her outside in front of the hotel," Robert says. "I lost all ability to talk because I was so nervous. When she said yes, all the anxiety and tension went away instantly."
Julie says the special night will stay with her forever.
"I will never forget Paris. It was like a romantic movie," she reflects.
Both Robert and Julie admit that marriage was what they both wanted even before the trip.
"We were both going in that direction," Robert says. "We were very comfortable in knowing that."
Originally the couple had planned to be married in Tallahassee in November 2008, but when the guest list grew to 300 people, they ended up rethinking things.
"We decided that we wanted something more intimate," Julie says. She had once lived in New York and remembered how much she loved the city, so they agreed that it would be the perfect location for the wedding.
"My aunt who lives in Manhattan had just done my cousin's wedding, so we decided to have the wedding in New York," Julie says.
With an intimate guest list of 75, Julie Miller and Robert Parrish exchanged vows on Sept. 27, 2008, at Christ United Methodist Church. Julie wore an elegant gown by Anjolique and Robert wore a classic tuxedo.
Immediately after the wedding, the couple headed to the River Club for a formal reception, where guests enjoyed exquisite seafood at the trendy Manhattan restaurant.
In October, the couple journeyed back to Paris for a week-and-a-half-long honeymoon.
But the celebration of a lifetime would be waiting for Mr. and Mrs. Parrish right here in Tallahassee. The couple wanted to have what they dubbed a "hometown celebration" for all of the family and friends who couldn't come to New York. The party was held at Shiloh Farms on Benjamin Chaires Road and included 300 guests.
The couple made a charmingly Southern entrance as a large horse named Suzie pulled a lovely white carriage to the reception site.
"We rode through the meadow, along the winding drive by the beautiful chapel, and under the extravagant oaks that grace the 65 acres of Shiloh Farms," Julie says.
On a large screen in the Shiloh barn, the couple showed their New York wedding video, filmed by Atlanta videographer Kathy Delgado. Guests enjoyed sultry live music from Jimmy Wells and the Pure Platinum Band.
"The music was incredible," Julie says. "The lead singer, Lisa, made us feel like we were in a concert." The couple and guests packed the dance floor as the band played classic tunes.
Along with the Southern-themed reception, Bruette Davis and her staff served up a delicious dinner that included Southern fried chicken, fresh collard greens, cheese grits and sweet potato casserole. Guests also enjoyed delicious fried shrimp, oysters and lemon butter chicken provided by Cowboy Grill catering in Tallahassee. And to top it all off, Davis provided a filling dessert of homemade peach and blackberry cobblers.
"The food was outstanding," Julie says.
"The power went out for about 30 minutes during the celebration, but it came back on," Robert says. "The party was still really fun. It truly was another unforgettable night."
MILLER–PARRISH Vendors
Photography: Scott Evans Photography
Videography: Kathy Delgado
Wedding Gown: Designed by Anjolique — Wedding Angels
Bridesmaids' Dresses: Wedding Angels
Formal Wear: Sacino's Formalwear
Invitations: My Favorite Things
Entertainment: Jimmy Wells, Pure Platinum Band
Catering: Bruette Davis John Thomas & Cowboy Catering
Bar Service: Jake Cox Bartending
Guest Accommodations: The Rose Cottage at Shiloh Farm
Horse and Carriage: Conner Carriages