Thomasville For The Holidays
Downtown Thomasville Merchants Alliance plans six weeks of holiday happenings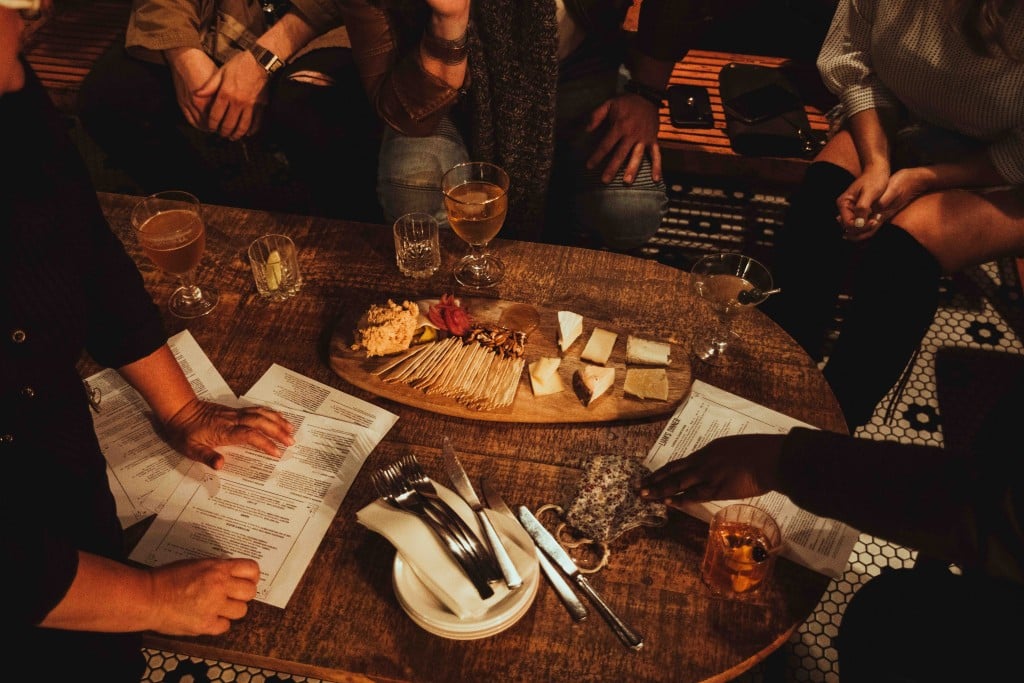 Twinkling string lights and store windows brimming with holiday merriment reflect onto brick-lined streets. Christmas classics fill the air, brought forth by the voices of carolers donning Victorian-era clothing. Downtown Thomasville, Georgia, during the holidays causes visitors to ponder if they have stepped onto the set of a Hallmark Christmas movie. They are delighted to pinch themselves and know such a town is, in fact, a reality.
Thomasville has long held the annual event Victorian Christmas, a weekend showcasing the cheer and charm of the city, but the business owners of downtown Thomasville — working together as the Downtown Thomasville Merchants Alliance — decided why limit the celebration to a singular weekend when such magic can be shared and sustained throughout a six-week span?
The extended celebration began last year amidst COVID-19 precautions, allowing guests to experience the shopping, dining and holiday-themed activities from November until January. This provided guests the freedom of space and time to explore at their leisure and comfort level. What business owners found was the cheerful faces of customers who came back multiple weekends.
"The downtown establishments will be decked out, decorated, and the magical vibe will be ever-present all season long," said Renee Moss, co-owner of Farmer's Daughter Vineyards. "This gives people more opportunity to experience what makes our little town unique in a manner that suits their schedules."
Inspired by the success of last year, the merchants decided the holiday season would begin on Nov. 1, 2021, and go through Jan. 1, 2022. This year's theme — Believe in Wonderland — encourages guests to indulge in the magic and unity of the holiday season.
Highlights offered throughout the two months include: visits with Santa with sightings of Mrs. Clause and the elves, Christmas carolers, gift-wrapping stations, meet-the-makers events, personal shopping/recommendations from shop owners, festive beverages, seasonal menus, live music, Sip & Shop Fridays and more.
"Throughout the year, the merchants of Thomasville intend to create unique and thoughtful experiences for customers, but during the holidays, our spirit and charm are on display to the fullest extent," said Moss. "We connect our community and visitors by showcasing the makers and minds that create our city's identity."
At Farmer's Daughters Vineyards, every Friday and Saturday the staff participates by dressing in Victorian-inspired steampunk-themed costumes and as elves on Sundays and serving up seasonal sips, including spiked cider and white Christmas sangria.
SouthLife Supply-Co, co-owned by Heather Abbott, will be hosting meet-the-makers events throughout the holidays, allowing guests to learn how their genuine leather products are handmade. Being able to share how each gift is made adds a sentimental level to Christmas shopping. The store will also feature live music made by musically inclined employees.
"We love the holidays because it's just another time when we get to share our products with familiar faces and first-time visitors," said Abbott. "You can't look around downtown and not be inspired or have a sense of emotion or nostalgia evoked by the beauty, the unique shops, and the amazing dining experiences."
One of those dining experiences is Liam's, known for its seasonally influenced and locally sourced menu. During the holidays, staff dress in old-timey uniforms serving liquor, beer, and wine to go for your festive shopping.
"Our shops and restaurants cultivate a broad selection that doesn't overlap, really catering to everyone," said Rhonda Foster, co-owner of Liam's. "The holidays are important because they create longevity, customers who want to make visiting Thomasville a recurring experience."
For small business owners, the holidays in particular are a time of increased sales and visitor traffic. Yet one visit to Thomasville will prove that the hospitality and heart experienced are present year-round. A Christmas cookie and hot cocoa only make the experience sweeter.