The Last Living Link to Ghosts of Goodwood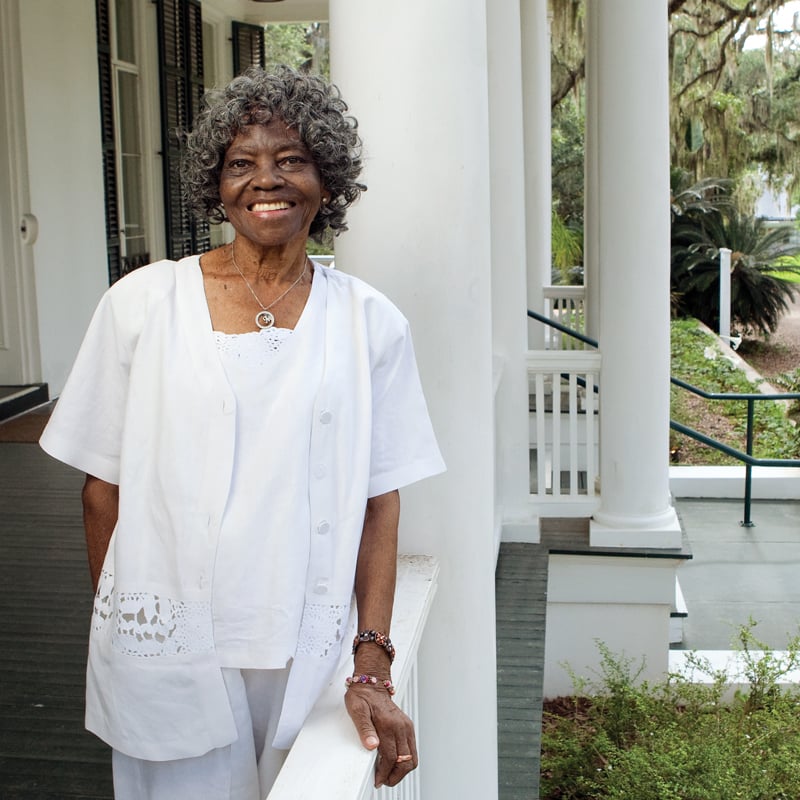 As hauntings go, the ghosts of Goodwood Museum and Gardens are a fairly benevolent lot. But as far as Mattie Grice is concerned, the only member of the dearly departed she is interested in conversing with is Margaret Hodges Hood, the last mistress of the Miccosukee Road estate.
"When she first died, I was here by myself, and I heard her callin' my name so loud, I finally stopped what I was doin' and said, 'What you need, Miss Margaret?' And then she stopped callin' me," says "Miss Mattie," as she is commonly known around Goodwood.
Hood hired Grice as a housekeeper in the early 1950s, when Grice was 27 years old and already a mother of seven. Hood was middle-aged, famously secretive about her birth date and childless. She took an immediate liking to Grice, impressed by her work ethic, and honest and frank demeanor. Over time, the relationship grew into a deeply loving friendship that transcended racial, age and class barriers. Hood treated Grice as the daughter she never had, and Grice came to think of Hood as her second mother.
"I loved that woman," Grice says. "And I believe she really loved me. And she loved my children. She was a wonderful, wonderful woman. She was my mama."
Seven days a week, Hood would send her butler, Yulee, to Havana to pick up Grice and bring her to the estate, where she would cook, clean and oftentimes just keep Hood company.
"A lot of days she would say, 'Don't worry 'bout the cleaning, Mattie, let's just take a walk and talk.' And we would walk around the gardens and talk and laugh …My Lord, that woman was so funny."
Giggling Ghosts and Grand Gatherings
Photos Courtesy goodwood museum and gardens
These snapshots show Mattie Grice during the 50-plus years she worked as housekeeper, cook and companion at Goodwood.
In those days, even the ghosts enjoyed life at the mansion.
"Many days we'd be sittin' upstairs in Miss Hood's bedroom just a-talkin', and we'd hear children runnin' and laughin' in the hallway, and she'd say, 'Did ya hear that, Mattie?' And I'd say, 'Yeah, I heard it.' I think them children was from before Hodges owned the house. I really think something happened in this house before they owned it, but that's just what I think."
Hood, then Margaret Hodges, came to Goodwood in 1925 as the young bride of state Sen. William Hodges. As the story goes, she and her husband had been guests at the estate when it was owned by a wealthy widow, Fanny Tiers. Margaret Hodges had greatly admired one of the beds in the house, so the senator discreetly inquired about the possibility of purchasing it. He was told he could indeed buy the bed, as long as he bought the rest of the estate too. Later, William Hodges would joke that it was the most expensive bed he had ever purchased.
Hood often shared stories with Grice about life at Goodwood with the senator.
"She'd tell me about the grand parties they had with governors, and lawyers and doctors and all kind of important people," Grice says. "They used the Jubilee Cottage for dancing." But after William Hodges' death in 1940, Margaret Hodges stopped entertaining and slipped into a quiet, somewhat isolated life at Goodwood.
In 1948 she married Tom Hood, a former Army officer, whom she had hired to work on the restoration of some oil paintings in the house. According to Grice, he had few friends, a foul temper, and was given to berating the help — a habit that did not sit well with the lady of the house.
"That Tom Hood was mean as the devil," Grice says. "But when he'd get on me 'bout somethin' I did, Miss Margaret would say to him, 'Don't you talk to Mattie like that! You leave her alone!' And he would, cause he knew she had the money. He didn't have nothin'. Miss Margaret wore the pants, and he knew it."
Where Grice was concerned, Tom Hood learned to hold his tongue while his wife was alive, but after her death in 1978, he refused to give Grice a considerable sum of money Margaret Hood had bequeathed her in a codicil to her will.
"He got kind of upset cause she left me a will, and he said it was 'cause she had gone damn crazy," Grice says. According to Emma Grice-Owens, Mattie's oldest daughter, the family looked into fighting for the bequest, but a lawyer for Tom Hood said it wouldn't stand up in court because Margaret Hood had not signed the codicil. Grice backed down, and Hood's demeanor toward her changed. He offered her a generous salary to stay on as the housekeeper and cook for as long as Grice wanted to remain, and she accepted.
"He got real nice to my mom after Miss Margaret died because he realized she was all he had," Grice-Owens says.
As Hood's health began to deteriorate, Grice became as much a caretaker to him as she had been to Margaret. Then one morning in 1990, Grice carried Hood's breakfast tray into his bedroom and found him dead in his bed.
Following his death, stewardship of the house and property was assumed by a foundation Tom Hood had set up in memory of his wife through the foundation's operating agent, Goodwood Museum and Gardens Inc. Eventually Grice stopped working in the big house, preferring to spend her time dusting and sweeping around the cottages on the property.
"I don't like to go in there anymore 'cause it's not like it was when Miss Margaret was alive … and I hear things when I'm in there, so I just don't go in anymore."
Where the Bodies are Buried
Today, more than half a century after she first stepped into the grand house at Goodwood, Grice is the last living link to the days when Goodwood Museum and Gardens was still the splendid domain of Margaret Hodges Hood. As the cook, housekeeper, caretaker and companion to its former occupants, Grice knows all the secrets of the antebellum home, and she also knows where the bodies are buried … literally.
"Mr. Hood is right out the front door in
the driveway," Grice says. "I know 'cause I throwed his ashes out there myself."
As Grice tells it, before Hood died, he told her he wanted to be cremated and have his ashes scattered at Goodwood.
"His ashes laid up there in the house for a long time," she says. "They had him in a big, long bag. I ain't never seen anything like it in my life! And finally I got tired of lookin' at 'em."
With permission from the former curator of the house, she took the bag out the front door, opened it, and "throwed him in the bushes."
'The Last of Her People'
Twenty years after Tom Hood's death, Grice is still on the payroll and still goes out to Goodwood three days a week.
"Miss Margaret used to say, 'You ain't got nothing to worry about, Mattie, this is your home and you can stay here as long as you want.' And I really do feel like the house is mine, I feel like I'm a part of it. I'm the last of her people, and I love it here."
Grice says that when her own time comes, and she goes to see the Lord, she'll be buried in Havana, but her spirit will still visit Goodwood.
"If you're walkin' around the grounds and you hear laughin', and no one's there, that's me and Miss Margaret," she says. "We'll be walkin' and talkin' just like we used to when we was alive."
As for Tom Hood: "He's been real quiet," Grice says. "I don't ever feel his presence since I throwed him out the door. I guess I had the last word."