Cheaper, Stronger, Faster, Greener
Standing Steel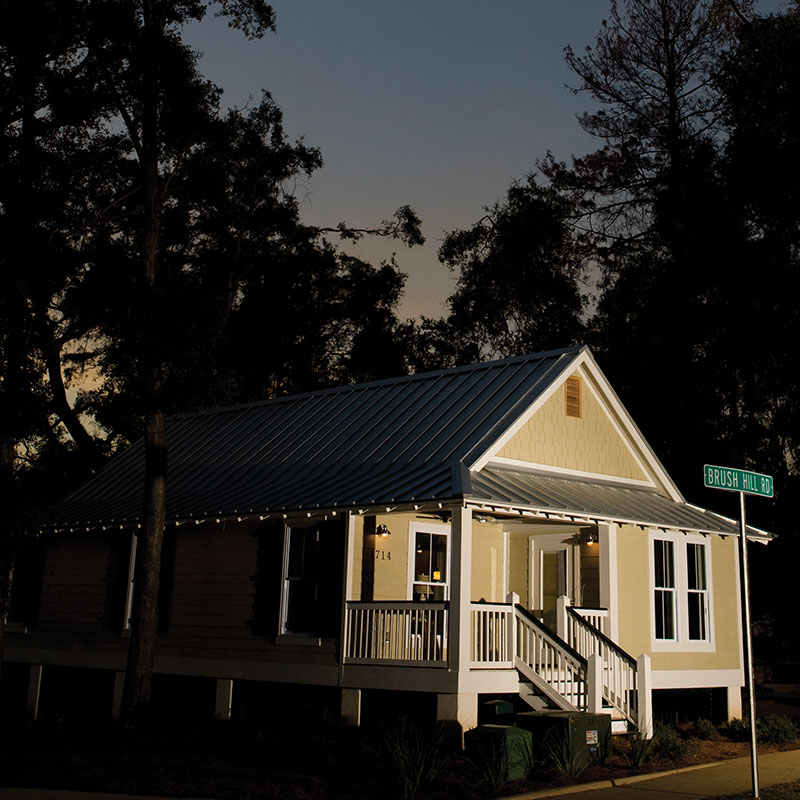 Cheaper, stronger, faster, greener – it's a house that defies all notions of conventional modular homes and could revolutionize the housing and construction industry.
Loaded onto trucks and shipped directly to the heart of K2's Evening Rose neighborhood off Capital Circle Northeast, the brand new model, named the Katrina Cottage, took little more than a month to build. An award-winning architect designed it, the U.S. Green Building Council will certify it, and GreenSteel Homes ordered it from parent company Hexaport's factory more than 3,300 miles away.
Yet no one ever would know that the 1,100-square-foot home was manufactured off site through an intricate conveyer system of patented steel-forming procedures. It is as skillfully crafted as a custom-built home, from its charming exterior accents to its fine interior finishes.
No mobile home, the Katrina Cottage features granite countertops and gleaming hardwood floors. It is hurricane-rated, environmentally sound and resistant to mildew and mold. With wiring and plumbing installed on the assembly line, it needs only to be hooked up to the electrical grid and water system upon delivery.
All this, and it costs an average of just $100 per square foot to build.
From Prefab to Fabulous
According to Lawton "Bud" Chiles, chief executive officer of GreenSteel Homes, steel has been used in commercial construction for decades, only gradually crossing over into residential applications.
"Wood has been traditional, with the exception of commercial buildings," Chiles said. "I think more of that utilization has been on the commercial side because of issues with building fortified buildings and stronger buildings with multiple floors."
The aim of GreenSteel Homes is to bring system-built, steel-framed houses to "the working man," with a vested interest in those who live in coastal regions. Dave Wamsley, chief executive officer of K2, asserts that the product and the process are entirely innovative.
"What is very, very new is the concept of using light-gauge steel to build a complete, system-built home in a factory setting," he said. "As far as we know, it's not been done."
GreenSteel Homes was born of a collaboration between Chiles, business partner Tony Attalla and architect Bruce Tolar. After Hurricane Katrina, all three men saw a need for fortified housing suitable for building in coastal areas. With a common vision to guide their efforts, Chiles, Attalla and Tolar have developed a product they hope will fill that need.
Tolar's Mississippi-based firm, Tolar LeBatard Denmark Architects, had a hand in designing the acclaimed Katrina Cottage floor plans, which were intended to provide a permanent housing solution for storm victims. Tolar now is the town architect for Evening Rose.
Wamsley recalls the day Chiles met Tolar in the K2 offices more than a year ago.
"Bud was on a mission to create GreenSteel Homes, and Bruce was one of the original designers of the Katrina Cottage Collection," Wamsley said.
Chiles knew right away the designs would be an asset to his company.
"The big issue that has always hurt the modular, system-built industry is that the design was always lacking," he said.
"If they look like trailers, they will always be trailers … If they look like homes designed by architects that are paid hundreds of thousands of dollars in fees for custom homes, that's a whole 'nother deal."
Chiles likens GreenSteel's version of the Katrina Cottage to Apple's adaptation of the MP3 player.
"It's kind of like what the iPod did with its good design, good interface and mass adoption," Chiles said. "The GreenSteel Katrina Cottage has that first, really well-designed complete package that I think is going to be pretty quickly adopted."
President of Hexaport International in New Hampshire and a veteran of the steel framing industry, Attalla showed his support of the concept by merging with Chiles to form Hexaport Building Systems of Florida.
Patents acquired over the past 25 years were modified to achieve the GreenSteel dream: an ecologically sound, structurally superior, cost-effective home with architectural integrity.
While the Evening Rose model was assembled in the original factory in New Hampshire, the cottages now are being manufactured at the new GreenSteel factory in Carrabelle, which be fully operational by January 2008.
Can I Take Your Order?
With the Carrabelle factory up and running, Wamsley and Chiles venture that a family could place an order for a house and move in 30 days later. It sounds inconceivable, but therein lies one advantage of the revolutionary system-built homes.
"I think what's very exciting about GreenSteel is that this prototype is the culmination of so many people's dreams," Chiles said. "That you could have an environmentally friendly, architecturally designed housing product that is affordable … and that could go up very quickly in the event of a storm or catastrophe."
In the case of Hurricane Katrina, some families along the Gulf Coast still are waiting for replacement housing more than two years later. GreenSteel Homes could eliminate that sort of lag time.
Essentially, a buyer places an order for one of the 10 floor plans currently offered, ranging from a 360-square-foot commercial cottage to 1,562-square foot two-story, four-bedroom home. The designs have been pre-engineered and approved by the state of Florida, thus requiring very little time in the factory.
In a more traditional modular system, panelized wall sections are built separately and shipped to the construction site for assembly.
"With GreenSteel in Carrabelle, we're going to be offering a complete product all the way down to the plumbing, the electrical, the finishes, the HVAC (heating, ventilation and air-conditioning), the windows and the doors," Chiles said.
The homes move through the 65,000-square-foot facility on an air system, allowing two men to move them from station to station. After the walls are constructed, they proceed from plumbing to electrical and ultimately to insulation, for an estimated total of two weeks in the factory.
"When it comes out the other end and the trucks pick it up, they're picking up a finished box, with the wood floors and the cabinets and everything in," Chiles said. "It's going out the door that way."
Once the box is transported to the home site, two or three days are allotted for set-up and assembly. A crane sets the boxes, depending on the size of the house; then it's time for roofing and interior finishing.
Wamsley cites K2's own Katrina Cottage as an example of the time and cost benefits of GreenSteel construction.
"If we were to stick-build this little three-bedroom cottage, the typical cycle would be about five to six months," he said.
Overhead and interest-bearing finance charges accumulate during the long construction process. Cutting the building period from six months to one could decrease the total construction cost by 12 to 15 percent, without even taking into consideration the already lower prices resulting from the factory's manufacturing efficiencies.
"It stands to reason that, apples to apples, these homes should be able to be priced at 20 to 40 percent less than doing it the traditional way, if for no other reason than finance charges and the other costs are eliminated," Wamsley said.
Save Green by Going Green
But there are other reasons to consider a GreenSteel home.
The homes get their name from the "green" movement that currently is reaching new heights worldwide. Steel is more eco-friendly than wood because it's recyclable. In fact, the material used to create the homes comes primarily from recycled cars.
According to Wamsley, the amount of construction waste and debris from wood-built construction in the United States is 3 trillion tons per year.
"I think our view is the trees, particularly in Leon County, let's leave them in the forest," he said. "We can build with steel and save money as we're building stronger structures."
GreenSteel homes are designed to withstand 150 mph winds. The UL ratings (industry ratings for strength, durability, mold and mildew) for light-gauge steel all are superior to wood, resulting in significant savings on insurance quotes.
"This may not be vital in Leon County, but within five miles of the coast, even being able to get insurance becomes a huge factor," Chiles said.
Rising energy bills are another concern potentially alleviated by the GreenSteel product. The U.S. Green Building Council recently introduced a national pilot program, the Leadership in Energy and Environmental Design (LEED) certification for homes. A LEED certification for new commercial construction already is in effect.
Wamsley is well versed in Green Building Council protocol.
"Simply put, the LEED criteria, which is all third party-verified, means that your home will be on average 30 percent more energy-efficient, with 30 percent lower utility bills," he said. "It will be built with the highest-quality materials to assure it will be one of the healthiest buildings possible, and the builder will give consideration to every aspect of building to make sure the home will last as long as physically possible."
The GreenSteel Katrina Cottage, along with all the K2 homes at Evening Rose, will be LEED-certified. Wamsley predicts that there will come a time in the near future when a LEED-certified home will command a premium in the market.
Consider it one more reason to go GreenSteel.
Modular Marvel
With all its returns in time, cost, fortification and efficiency, one has to wonder why potential homebuyers would continue to build with traditional methods.
"There are advantages, then there are existing practices that an industry has," Wamsley said. "In our business, many of the builders now were sons of builders who were sons of builders, and the same with subcontractors, to the point that there was a way of doing things."
GreenSteel Homes offers a new way of doing things. Subcontractors will still have work, whether it's in the factory or at the home site, but it's not yet a system to which they are accustomed.
"Instead of doing one house and making $9,000 as a plumber, they might do nine houses that take one-tenth of the time and make $1,000 a house," Wamsley explained. "It's a system that's got to be changed, and you do that by putting one out there and showing people that it's really not that complicated."
The Katrina Cottage model was built to demonstrate coastal applications, but GreenSteel Homes can be built anywhere. While there currently are no plans to erect more of the factory-built cottages in Evening Rose, Wamsley remains "open to new ideas."
The neighborhood itself is a "new idea" for Tallahassee, representing the city's first Traditional Neighborhood Development. According to the developer, a true TND "represents the towns and villages built prior to World War II."
The 99 home sites in Evening Rose all are within walking distance of the proposed mixed-use town center, a concept popularized by New Urbanism (the architectural movement that spawned the renowned Seaside community in the 1980s.)
Plans for K2's pedestrian-friendly neighborhood call for single and multi-family homes adjacent to a diverse group of restaurants, offices and retailers. The Katrina Cottage is the only GreenSteel Home slated for Evening Rose, but Wamsley is optimistic about the future.
"I think what Bud and Tony have done at GreenSteel will have a major impact on homebuilding over the next few years," he said.
Perhaps someday entire neighborhoods will be comprised of the groundbreaking housing product.
"It may already be happening," Wamsley said.