FSU's Film School Helps Students See Their Names in Lights
Lights! Camera! Accolades!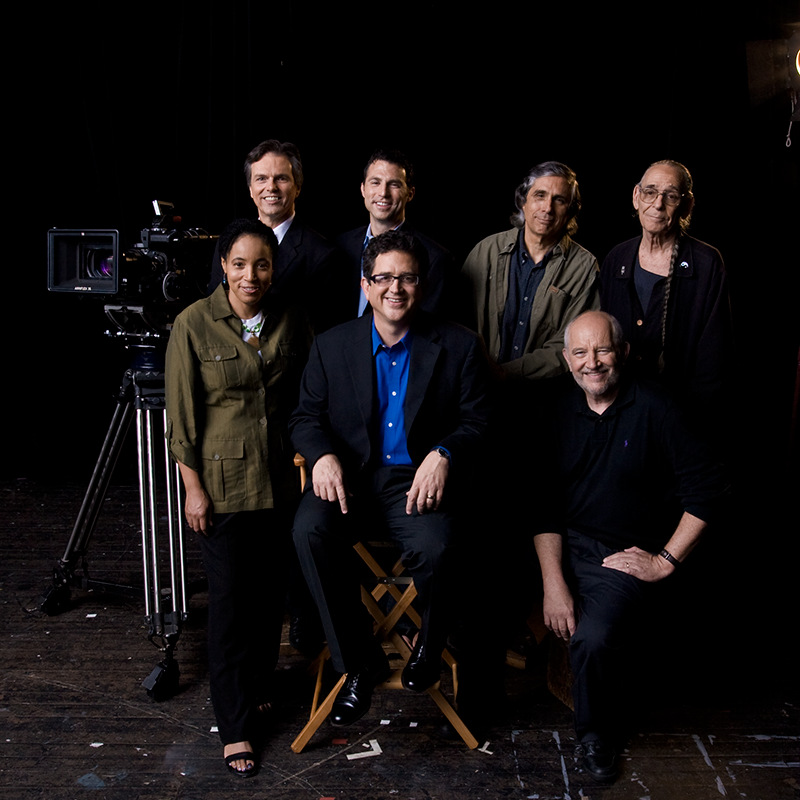 Photography by Scott Holstein & Lawrence Davidson
It looked like one of the most intense hours in Anjuli Hinds' life.
The first-year graduate student at Florida State University's College of Motion Picture, Television and Recording Arts – better known as The Film School – was laying out the vision for her first film project in a session known as "director prep."
Hinds had spent the early part of the fall semester crafting her tale of a young woman in peril, and this session was the first time associate dean and directing teacher Reb Braddock would be reviewing her plans for the shoot, which would occur four days later.
Supported by her other "above the line" collaborators – including the producer, cinematographer and production designer – Hinds stood in front of storyboards pinned onto a massive corkboard and gave a shot-by-shot summation of the story.
Braddock studied her shot list and peppered her with questions, suggestions and challenges while student producer Derek Meyer scribbled down the teacher's
comments. In a conversation that included lots of gesturing and the liberal use of film speak such as "beat change" and "two shot," as Hinds, the film's writer and director, described her vision, the most notable back-and-forth was about whether a rope that makes an appearance in the script could be considered a weapon. Weapons – along with animals and most minors – are verboten in these early films, says Braddock, because they require special permissions and accommodations that can sidetrack the novice filmmakers. (According to the project's parameters, "no stories of suicide, assassins, terrorists or tortured artists" are allowed, either.)
When the meeting was over, Braddock sat down with producer Meyer, who signed a contract laying out the shooting schedule (12 hours in one day for a film that will last about four minutes) and the penalties for overtime or late lunches.
Overtime? Late lunches? What do these mundane concerns have to do with the pursuit of Art?
Plenty, according to The Film School's faculty and administration. The school is committed to creating original, quality productions, with about 240 films created by students each year. However, unlike most of the nation's top film schools, its curriculum is firmly rooted in the practical business of filmmaking, which means dealing with issues such as budgets, schedules, bosses and union rules.
"We're trying to train them not only as artists but also as craftsmen," Braddock said. "Our fundamental philosophy is craft is the pathway to art. You don't paint a Mona Lisa by not understanding how paints and pigments are mixed together and how you create light and how you prepare a canvas. So we start with the craft."
Different from other film schools in many ways (for starters, it's the only major U.S. school that is not in the Los Angeles area or New York), FSU's film school has created a winning – quite literally – formula that gave it almost instant success. In its relatively brief history, the school has gained a worldwide reputation as its students consistently win major college filmmaking awards and quickly find jobs in the industry after graduation.
A particular draw is that all of the students' equipment and filming expenses are funded by the college, a huge advantage when you consider that a thesis film can cost up to $50,000 to make.
Melissa Carter describes the dilemma of most student filmmakers: "Do I eat this month, or do I feed my crew and pay for film?" She was lured to graduate school at FSU in the mid-1990s, her thesis film earned a nomination for a student Academy Award, and she has become a successful Hollywood screenwriter, earning writing credits for the feature film "Little Black Book," as well as several television episodes and films now in production.
Another huge variation for The Film School is its selectivity and rigor. Of the estimated 2,000 students who apply, only 60 are admitted each year in the fall – 30 undergraduates and 30 graduate students. Each student will get the chance to write and direct about two films per year and collaborate on dozens of classmates'.
PHOTOGRAPHY BY SCOTT HOLSTEIN & LAWRENCE DAVIDSON
Other prestigious film schools have considerably more students (nearly 1,500 at the University of Southern California and about 1,100 at New York University), but only a small percentage of those will go on to find careers in the movie or television industry, said Frank Patterson, dean of The Film School at FSU.
"We couldn't compete if we wanted to play the numbers game," he said. "With those kinds of numbers, what you do is you give 'em a learning environment with some equipment and stuff and you sort of let the cream rise to the top, and you take that cream and you go promote it. We don't do that.
"We pick the cream off the top, we put a lot of money behind them, and then we surround them with filmmakers – and they learn," said Patterson, who taught at the school for nine years in its early days and returned in 2003 to take the position of dean.
Rolling, Episode I: The Film School Gets Started
Florida's Legislature decided to "make a play" for the film industry and, in a "prescient moment" in 1989, funded the start-up of a film school, according to Patterson. "They (saw) it as a really smart industry for Florida to be involved in," he said. "They realized that the game was in Los Angeles, and they realized that the only way to get the game to Florida was to get Floridians in the game. So they created this film school with a clearly expressed and very important mission, which was to prepare men and women for successful careers in the film and television industry."
After some intrastate wrangling, The Film School ended up at FSU (due in no small part to the efforts of FSU grad and current occupant of the university presidency T.K. Wetherell, who was in the Legislature at the time). In the early years, undergraduates studied in Tallahassee while graduate students were based in Sarasota. The two programs consolidated in 1995, when the school moved into its newly built digs at FSU's University Center.
The now well-worn facility (it's available for use 24 hours a day) has everything students need to create professional-quality films, including a huge inventory of cameras, lights and other equipment, two soundstages, two sound-mixing theaters, a dailies viewing theater, a visual-effects lab, multiple editing suites and a film library.
Rolling, Episode II: How It Works
In addition to bucking film school norms, FSU's school doesn't operate quite like the rest of the university community. For starters, there is its mission statement, which includes terms such as "career" and "industry."
"To an educator, it sounds 'vo-techy,' like you're preparing them for jobs," Patterson said.
But the dean isn't apologizing for turning out career-ready graduates. He discusses a hypothetical student he calls "Little Timmy."
"If Little Timmy gets into (FSU's) film school, Little Timmy will likely have a career in the film industry," Patterson said. "If, for some reason, (graduates) choose not to go into this industry – and it has happened – they are very prepared for any other industry. They can't get through the program if they don't have a strong work ethic. They're incredibly responsible by the end of the program. They know how to collaborate, how to work in teams, how to think critically, how to think fast, how to work in high-pressure situations. Just think of any field where those aren't great qualities."
PHOTOGRAPHY BY SCOTT HOLSTEIN & LAWRENCE DAVIDSON
In another break from academic tradition, none of the production faculty members are tenured, and the vast majority are successful motion-picture industry veterans rather than trained educators.
A quick scan of The Internet Movie Database (IMDb) reveals a staff of instructors with scores of credits on classic, successful and highly praised films. Posters for some of them line the walls of The Film's School's conference room, including "The Godfather," "On Golden Pond," "Ghost," "The Abyss" and "Ulee's Gold."
Teachers include independent filmmaker Victor Nunez, Academy Award winner and visual-effects artist Stuart Robertson, television director Chip Chalmers, picture editor Bill Carruth, story executive Valerie Scoon, and marketing and distribution executive Paul Cohen. Also on the faculty is the Gordon Sawyer Professor of Recording Arts and Distinguished Filmmaker in Residence Richard Portman, who Patterson calls "literally, and this is not an exaggeration, the most knowledgeable living person in motion sound." Portman earned an Oscar for his work in "The Deer Hunter" and was nominated for Academy Awards 11 times.
"It's not a faculty of somebody who graduated from college to learn how to teach something," said Rexford "Rex" Metz, a cinematographer who has worked on about 80 pictures – including "Jaws" and "Indiana Jones and the Last Crusade" – in a career spanning more than 40 years.
"(Students are) amazed at the films that we've made before we came here," Metz said. "To pass on that information … it keeps me alive and on my toes at my age now, because I'm surrounded by energetic young people asking me questions. I need to field them, and my experience allows me to do that."
In yet another departure from the norm, faculty members are allowed to leave their teaching duties to work outside of the school.
"The faculty is encouraged, if jobs come along, to pursue them, because I think the students appreciate the fact that people have worked and are ongoing in the professional world," said Nunez, who taught film-related courses back in the 1970s, when the program was part of FSU's art department.
"We recognize that the industry is changing, as everything else is, and it's possible that the specialization right now might be totally different in 10 or 15 years," said Robertson, who has certainly seen many changes in his specialty – visual effects – since he won an Academy Award for "What Dreams May Come" in 1998. "We want our kids to (have) a good grounding in as much as we possibly can so they will be flexible for whatever happens to come along."
(An aside: In an unofficial film school tradition, Robertson's students get some career mojo by passing his surprisingly heavy Oscar statuette hand-to-hand among themselves during a photo op. "I think it's a nice picture for them to send back to their long-suffering parents who are paying their bills," he said.)
PHOTOGRAPHY BY SCOTT HOLSTEIN & LAWRENCE DAVIDSON
Rolling, Episode III: Collaboration, Collaboration, Collaboration
One of the enduring notions in film theory – and the career aspiration of many a film student – is that of the auteur: the multitalented director whose genius is a movie's dominant creative force. What these aspiring talents sometimes fail to realize is that even the brilliance of François Truffaut and Alfred Hitchcock was backed up by a production team.
"The manufacturing of a movie is a real collaboration of 40 or 50 people, and it's just impossible for it to be anything else," Patterson said. "Central to our education is that students are required to collaborate."
When they start in The Film School, students are required to check their egos at the door. They will have a shot at working in creative, high-profile positions – those "above the line" titles mentioned earlier. But in their two years of study, graduate students can expect to work on upwards of 40 films, many times in unglamorous roles as grips, gaffers, assistants, editors and technicians.
Because the school pays the production costs, "the sort of secret in the sauce is that it gives us the control to establishing the learning," Patterson said. "If I'm paying for the film, I'm going to tell you when you can shoot and who you have to work with."
The Film School's way of doing things also allows students to discover hidden strengths or weaknesses.
"A lot of programs … say, 'You're going to be a cinematographer, like it or not,'" Robertson said. "In ours, people can specialize in one thing or another, but they're allowed to try writing, directing, cinematography and pretty much everything else."
The collaboration crosses boundaries within the university, too. One of the assignments for first-year film graduate students is to partner with an acting student from FSU's School of Theatre, then write and create a short movie using that actor as a lead.
Acting teacher Leslie France-Patterson (she also is the wife of Dean Patterson) brings students from the School of Theatre – most of them trained for stage work – to The Film School for classes on the technical art of acting on camera.
"Part of my job is to build this bridge," she said. "It's a no-brainer … but every moment of (students') time is dedicated to something, so I had to break into those schedule issues."
The Final Chapter: The Future
The Film School has come a long way in its 18-year history, but the final chapter is far from being written, according to Patterson.
"Our oldest alums are 40 years old. They needed to get into the game. And they have," he said. "They've been very successful in L.A. and New York, and it's no surprise that they're looking to make films in Florida."
Patterson reports that the university recently agreed to enter into an affiliation agreement with a for-profit company, Torchlight
Entertainment. Certain film school faculty members have agreed to produce and distribute motion pictures in conjunction with coursework at The Film School.
"This is the next chapter of The Film School," Patterson said. "We're now in a position to leverage our relationships in the industry to bring real film industry (to the state) – real home-grown original voices from Florida."
Epilogue
Patterson was in California when he got the call to replace retiring Dean Raymond Fielding. At the time, he had the opportunity to head three other, larger film schools. His friends in Los Angeles considered FSU the least appealing choice, but Patterson has what he calls an "ethical dilemma" regarding the larger schools.
"What happens, when you have 1,600 students, to the 1,400 who really don't have a chance of working in the industry?" he recalled asking himself. Deciding he could keep the faith with the parents of "Little Timmy" at The Film School, he chose Tallahassee.
Patterson reminisces about when he realized it was the right choice:
"The first time I realized I really liked my job" was when his son, Oscar (named for an uncle, not the statuette), was 5 years old. Patterson was scheduled to visit screenwriter and film school alum Ron Friedman, one of the writers of the Disney animated feature "Brother Bear," and decided to take his son to see the movie before his trip.
"During the movie, I'm saying (to myself), 'He's getting it.' He'd become a storyteller," Patterson said of Friedman. "I was so proud."
In the story, a bear takes the life of the oldest of three brothers, and the youngest brother, Kenai, kills the bear, only to be transformed into a bear himself. When he is hunted by his vengeful middle brother, Kenai's only hope for survival is to befriend his own worst enemy, a grizzly cub named Koda who teaches him the real meaning of brotherhood.
On the drive home, "Oscar says, 'Dad, are you going to die one day?' So I said, 'Well, sure I am, yeah, and so are you.' I realized this is one of those pull-over-and talk-moments – we ended up talking for 20 minutes.
"Ron goes into the industry, makes a movie that actually impacts my son to ask me a question so I can have a father moment, that I'm sure a lot of fathers were having at the same time. This is a gift for me. I worked my a– off, and it came back 10 times."