The Junior League of Tallahassee Celebrates 'Project Daring' Mural
Collaborative artist mural brings renewed sense of community and diversity to the downtown area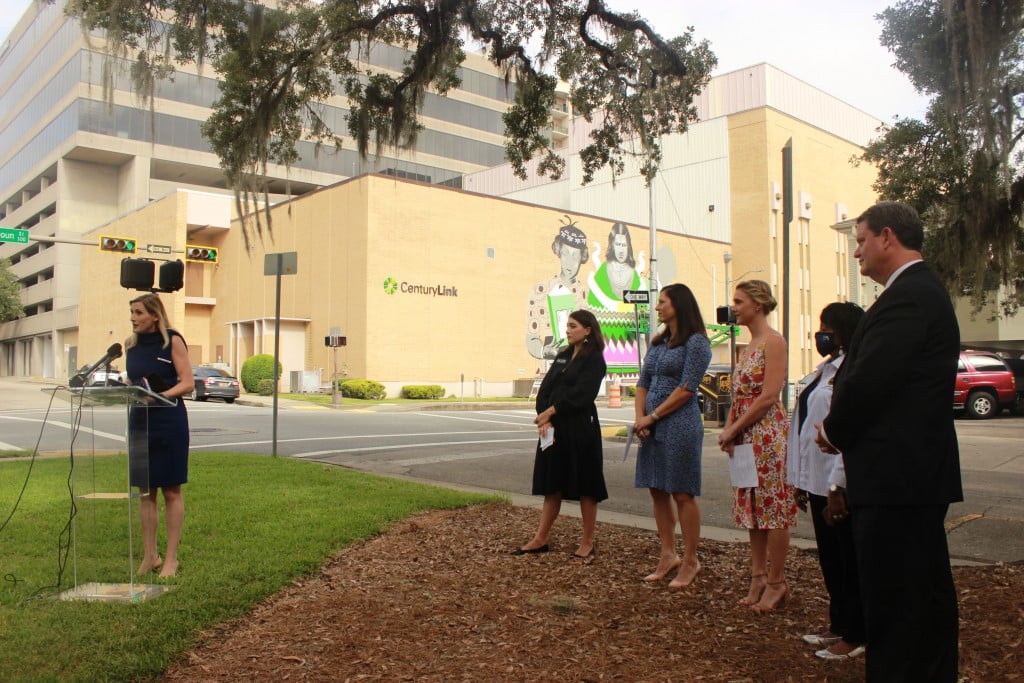 On Friday, August 27, 2021, the Junior League of Tallahassee (JLT) celebrated "Project Daring," a jointly commissioned mural with support from the Florida Department of State and Tallahassee Downtown Improvement Authority.
The "Project Daring" mural is located on the outside wall of the Lumen Technologies building at the intersection of Calhoun Street and Park Avenue.
The significant work of art by two Tallahassee-based artists, Olivia Barattini and Savannah Salinas, brings a renewed sense of community and diversity to the downtown area.
"Graffiti abatement through public art is a beautiful way to transform buildings that were vandalized into something enjoyable for our entire community. It's wonderful to see visually and through the partners in this project, the impact women have on their own communities and on our state. We hope the next generation of leaders sees themselves in this image and are inspired to cultivate change," said Elizabeth Emmanuel, CEO, Tallahassee Downtown Improvement Authority.
"The Junior League is committed to community, leadership, diversity, and service, and we believe this mural appropriately embodies those values and honors our history in the greater Tallahassee community," said Samantha Greer, immediate past president of the Junior League of Tallahassee. "Leaguers, like the women in the mural, shatter glass ceilings, significantly contribute to the state of Florida, and inspire women to boldly lead."
The mural, "Project Daring," visually celebrates three distinguished female trailblazers, all of whom have been inducted into the Florida Women's Hall of Fame:
Zora Neale Hurston — Author of "Their Eyes Were Watching God"
Betty Mae Jumper — First female chief of the Seminole Tribe
Marjorie Harris Carr — Recognized environmentalist
"Lumen is dedicated to supporting communities while building a sense of community — it's just one reason why we're so proud to be part of this unique project," said Christie Mason, director of government affairs for Lumen Technologies. "This mural is a great example of the people, passion and history that makes our community amazing."
"Project Daring is a physical representation of our commitment to serving Tallahassee through service and innovative projects. The JLT is proud to leave a positive mark in our Capital City today and further grow the League's legacy and impact in our community," said Katie Britt Williams, president of the Junior League of Tallahassee.
The Junior League of Tallahassee and its partners, The State of Florida, Department of State, Division of Arts And Culture, The Florida Council on Arts and Culture, Lumen Technologies, Tallahassee Downtown Authority, and Sunbelt Rentals welcome Tallahassee residents and visitors to take a drive downtown to embrace the local art adorning the Lumen Technologies building.
To learn more about partnering with the Junior League of Tallahassee, visit www.jltallahassee.org.