The Arts Live Here: Danny Goddard
Danny Goddard is a modern polymath — a geologist, teacher, musician, luthier and inventor.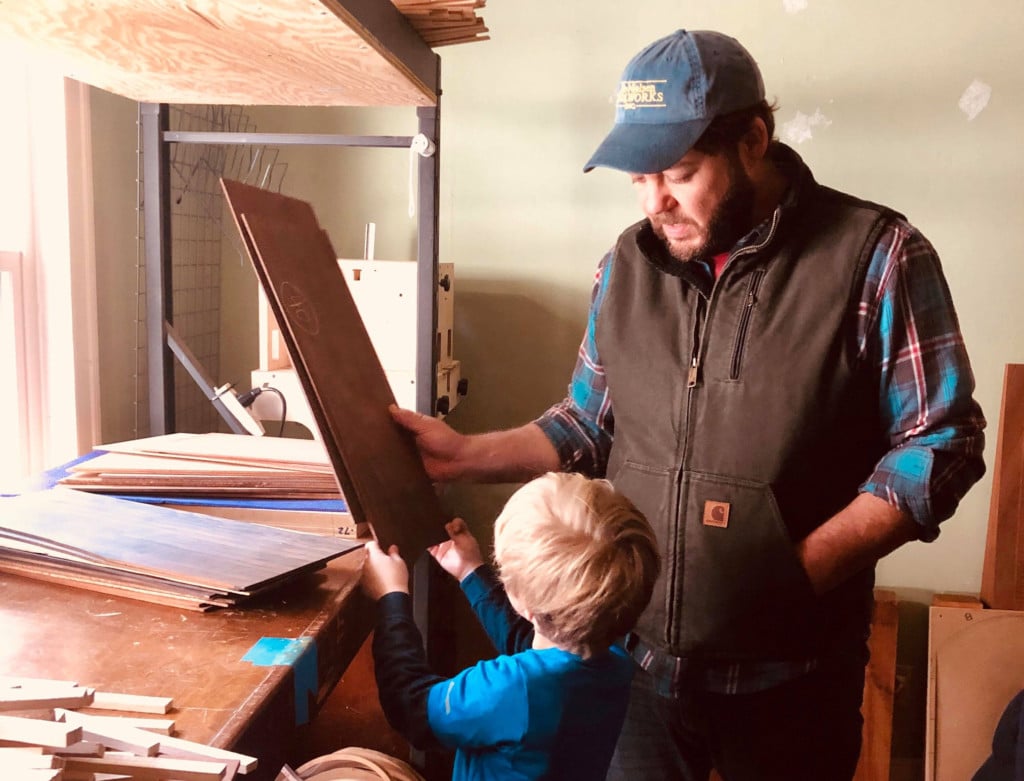 Danny has become known in multiple fields, working across platforms and in many media including wood, metal, song, shell and computer code.
He is a published scientist, a published songwriter and is currently performing and recording with the Americana group, The New 76ers.
He shares a private studio with luthier Debra Amesqua where the two build custom heirloom quality musical instruments.
What is necessary for your creative process?
Balance in the other areas of my life. I have learned that I need a very stable platform to make the big leaps. I encourage all developing artists to practice basic life skills. Make them easy, make them routine, stay healthy. Then you can use all of your power for your art. How can you be the world's greatest saxophone player if your utilities keep getting shut off?
What fictional character would you like to meet and bring to life?
My kids think it would be cool if I was friends with Po, the Kung Fu Panda.
What music is playing in your car?

I love great songs and inventive songwriters. Erin Rae (Nashville) and Hollow Bones (Tallahassee/Nashville) have been in equal rotation for a while.
What is the last book you read that had an impact on you?
Structures: Or Why Things Don't Fall Down by J. E. Gordon. Kind of a summary/overview of design and structure with some materials science mixed in. We use these concepts every day in the building process; the book gave me a hundred ideas on how to build better.
It's time for dinner; what are we going to eat?
La Tiendita, duh! We have shop lunch there every Friday. We just finished writing a song called Sweet Lupita about our favorite cook there. We haven't played it for her yet, or even met her for that matter!
If you were trapped in a TV show or movie for a month, which would it be?
It seems like Groundhog Day would be a logical choice.
What superpower would you like to have?
I teach, so I have this power. Transferring ideas, information and images into another person's mind is something so fundamentally "human" that we often forget how magical it really is.
What have you learned from failure?
I built a ukulele for a friend and well-known luthier, Ken Miller. A proud moment, for sure. Sometime later, on a visit to Tallahassee, he walked through the shop door carrying the broken instrument in a paper bag; my heart sank. We all have a choice in moments of failure. After I catch my breath, I choose to figure out how to do it better rather than beat myself up or give up. I wasn't always that way, I had to practice. Someday, ask me about the $15,000 mandolin…
What do you hope you will be remembered for?
I thought about this question too much. Is 40 too early for a midlife crisis? I think I am having a panic attack.
Want to learn more about Danny?   Visit tallahasseearts.org/artist/Danny-Goddard to learn more about Danny and over 950 artists of all creative disciplines in our Artist Directory.
Visit TallahasseeArts.org for a complete list of arts and cultural events, public art, arts education and more on the Tallahassee Arts Guide.