Tallahasseeans by the Thousands Are Checking Out Groupon's Daily Online Bargains
With Groupon, every day is a big deal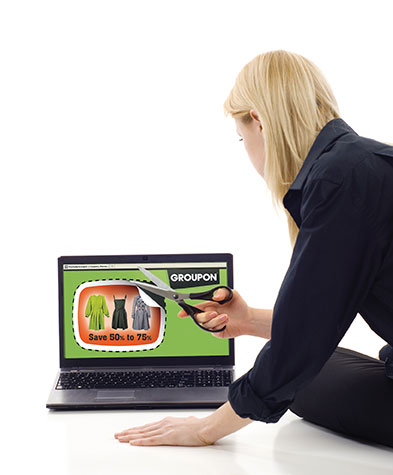 Rejoice, Tallahassee. Groupon has arrived.
Groupon is a popular website that works with local and national businesses to offer daily coupons to people living in specific cities. These aren't your ordinary 15 or 20 percent off deals. Most Groupons offer discounts from 50 to 75 percent off.
For LeRoc Bistro waitress Amber Schulteis, Groupon has helped her save money. She checks Groupon deals through her iPhone and, since joining in January, has bought several deals. One that caught her eye was $40 for a facial, manicure and pedicure at the Impressions by Trena salon that ordinarily would have cost $89.
"I wouldn't have paid for it had it been the full cost," Schulteis said. "And it inspires you to try something different." It also helps business owners bring in new customers.
The "group" part of Groupon comes from the premise that a certain number of people have to buy the coupon before it can be used. But it's rare to see a Groupon deal that falls below the required number of people because the company offers such attractive deals.
The site is structured so that users have a strict deadline — usually 24 hours — to buy the Groupon, which forces instantaneous decision-making that probably yields more sales. But, there is no immediate deadline to use the coupon, with most not expiring for months.
In Tallahassee, Groupon's rapid success is undisputed. It launched in Tallahassee last November and by mid-February had 55,000 registered users in the city.
Part of Groupon's success is its willingness to launch in cities large and small, from New York City to Billings, Mont. Founded in 2008, it has even expanded internationally into more than 300 cities.
Need more evidence the company has reached the business big leagues? Groupon recently rejected a $6 billion buyout offer from Google.
Competitors have watched Groupon's success and are following closely on its heels. LivingSocial launched its daily coupon deals in Tallahassee in February and has also amassed a large following.
Some local vendors that have already jumped on the Groupon bandwagon include Metro Deli, Tallahassee Photo, Capital City Runners and Lofty Pursuits.
In December, Grouponers were offered $24 worth of groceries for $12 at New Leaf Market. As of February, it was the best-selling Groupon deal yet.
"We are always looking to reach new customers and at that time Groupon had a local email list of 32,000 people," said Cristin Burns, the marketing manager for New Leaf Market. More than 2,400 people bought New Leaf's Groupon, which far exceeded the store's expectations.
Businesses get a 50 percent cut of what Groupon receives. "In essence, it is paying for direct advertising," Burns said. "Even people who didn't purchase it saw our name and read about it."
How it Works
1. Sign up to receive Groupon deals in your email inbox through groupon.com.
2. When you receive a Groupon deal that intrigues you, click on the link provided in the email that takes you to the online coupon.
3. Click "Buy." Of course the deal is only good if a certain number of people buy it, but that is almost never an issue. Most deals expire within 24 hours.
You pay up front and print the coupon for later use. (Some smart phones also allow you to simply show the coupon to cashiers at check out). Here's an example of how it works: If you paid $8 for $20 worth of sandwiches, present your Groupon when the cashier is ringing up your sale. If the total is $21.18, you only pay $1.18 on top of the $8 you spent buying the Groupon. You've saved $12. There's one catch. There aren't cash refunds if you spend under the amount of the Groupon, though the company offers full refunds if you are unsatisfied with your experience. So in the scenario above, if you only spend $18, you won't get any change.