Blooms, Blankies and Balloons
Buy a present, make a donation when you shop at TMH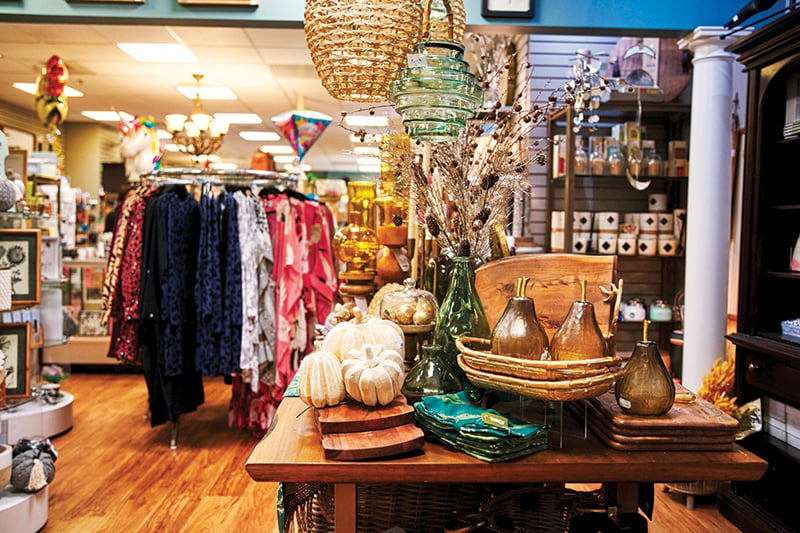 One of Tallahassee's nicest gift shops can be found in a most unlikely place — Tallahassee Memorial HealthCare.
To be sure, the Tallahassee Memorial Gift Shop has all the items one would expect to find when picking up something with which to cheer up a friend or family member in the hospital — fresh flower arrangements, mylar balloons, cards and toiletries, for example.
But with merchandising maven Maria Heil at the helm as its manager, the small shop also is jam-packed with artful displays of other delightful things to give away — or give to yourself.
Step inside the shop — strategically located in the hallway between the Dozier Atrium and patient rooms — and you'll immediately be enveloped in the fragrances of candles for sale. There's also clothing, purses, jewelry, books, spiritual gifts, seasonal items, live plants, home decor, a kids' corner, self-care galore, puzzles and the occasional unusual item Heil finds at market, such as a toss pillow with button-on motifs that can be changed for the season or on a whim. The shop's bestsellers, said Heil, are men's and women's colognes.
While commerce is the foremost purpose of the store, Heil said it has another important function — providing a "friendly face" and a serene respite for stressed family members and TMH colleagues.
"It's very inviting to come in here. And that is my goal — that the people who work here and the way the shop is displayed — that it's a welcoming place," Heil said. "Yes, we want to make money. But if there is a need, we do our best to help. And sometimes that means giving merchandise away. You do what you need to. And it always, always, always, always comes back to us."
A second shop is located in the Brickler Women's Pavilion and is awash with pastel gifts for new babies. In addition to lovies and blankies and my first teddys, the shop boasts an inventory of logo wear for the tiniest fans of Florida State University, the University of Florida, the University of Georgia and Florida A&M University. Ever practical, it also offers grab-and-go salads and sandwiches and microwaveable meals for dads and nurses who might find it hard to leave the floor and trek to the cafeteria.
Shoppers will find a variety of popular names in gifts and accessories, including Mud Pie, Spartina, Scout, enewton and Brümate. Heil says she tries to support Tallahassee businesses in her search for unique items. Flower arrangements are from Hilly Fields, and other offerings include books by local authors, Coton Colors tableware, cake and cupcakes from The Cake Shop, and Valentine's Day and Christmas sweets from Peterbrooke Chocolatier.
Heil and TMH director of volunteer services Melinda Pace say buying at the gift shop illustrates a concept they call "giving through."
When you shop in the TMH Gift Shop, you're giving to the hospital through your purchases," Pace said.
While the Gift Shop's budget is run through the hospital, it is the major fundraising project of the volunteer TMH Auxiliary and is self-supporting. All profits after expenses are donated back to TMH. Some of the requests for proceeds have been small — like heart pillows for patients and memento boxes for the families of infants who died — while others are major, including scholarships, medical equipment and a $1 million pledge to help fund the Tallahassee Memorial Bixler Trauma & Emergency Center.
The Gift Shop had $710,000 in gross sales in the fiscal year 2018–19, but like the rest of the hospital, the auxiliary was upended by COVID. The hospital was closed to the public, nonessential surgeries were canceled and volunteers were told to stay home. As a result, shop hours were cut and sales dropped. The 2021–22 budget year was affected by a second months-long shutdown, but Heil is hopeful.
"We're doing well. I expect for Christmas to really pull us through," she said.
Speaking of Christmas, the shop closes for two days early in the shopping season to reset the store with holiday-themed decor and gift items. It reopens with a three-day Black Friday-like event that begins Wednesday, Nov. 30. Everything (with a few exclusions) in the store will be 25% off. The first day's hours are actually 10 p.m. to 2 a.m. to accommodate the late-night workday of the hospital's third shift. TMH colleagues actually are the gift shop's most loyal customers, Heil said.
Pace shared her long-term goal for the shop.
"I've never put it on paper, but my personal wish in the next five years is that we would reach $1 million in sales. It's sort of a personal goal to see that happen before I retire," she said.
---
GET YOUR SHOP ON
The TMH Gift Shop is open daily.
Hours are:
Monday–Friday
9 a.m. to 5 p.m.
Saturday, 10 a.m.
to 5 p.m.
Sunday 1 to 5 p.m.
Hours are extended during the month of December. The Christmas 25% off sale kicks off Nov. 30 at 10 p.m. and runs during regular business hours Dec. 1–2.
---
---