SunBlest Gardens Hosts Spring Open House
The Van Wingerdens plant the seed for a family tradition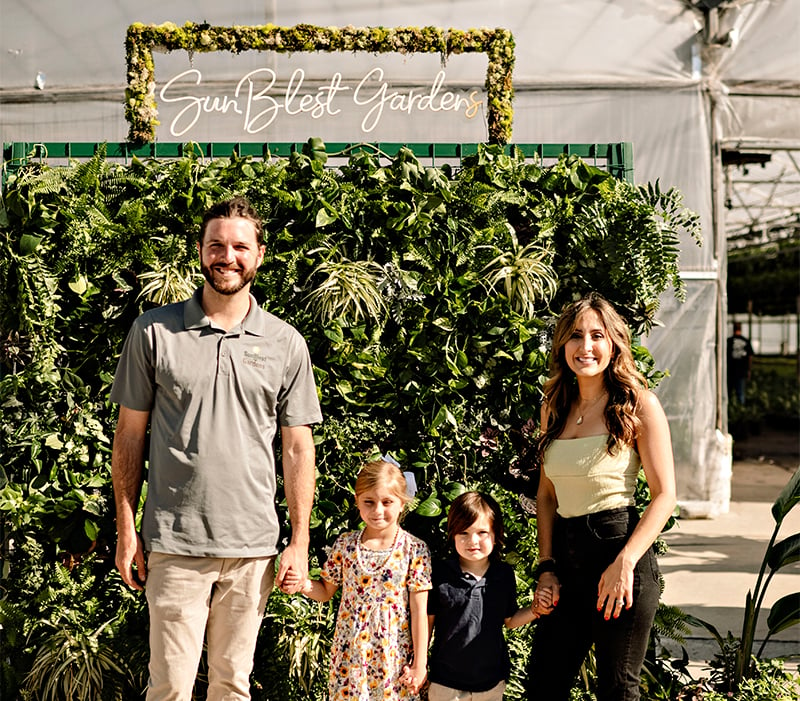 For Caleb and Melanie Van Wingerden, gardening runs deep. The Van Wingerdens got started in the greenhouse industry in Holland and three generations later, Caleb is raising a fourth generation while operating his own greenhouse, SunBlest Gardens in Crawfordville.
SunBlest Gardens is a major supplier of plants for Costco throughout Florida and a contributor to the beautiful landscaping seen throughout the city of Tallahassee. As the owners of a family business, the Van Wingerdens aim is to instill in their two children an appreciation for the importance of plants and the purposes they serve.
The Van Wingerdens welcome other families to attend open houses during the spring and fall. This year's Spring Open House will take place March 25-26 from 9 a.m.-2 p.m. each day. The Spring Open House is an opportunity for the public to shop for annuals, perennials and tropicals from 10 acres of outdoor growing space and 8 acres of covered greenhouses while also enjoying a local vendor market, food trucks and fun family activities.
"We hope this event becomes a family tradition for our visitors," Melanie said. "I hope when people visit, the love, passion and hard work that's put into these plants is apparent. I hope it's apparent how much our team enjoys being part of a family business that provides top quality plants statewide."
Attendees travel from throughout Florida and South Georgia to purchase plants in quantities small and large. Since the greenhouses are not typically open to the public, attendees stock up on quality plants at wholesale prices while learning about the great growers in the state.
Staff and volunteers with the Rotary Club will be stationed at each greenhouse to answer questions. A portion of the proceeds made through plant sales will benefit Big Brothers Big Sisters.
While entry is free, attendees are encouraged to donate canned goods or make monetary contributions that will be forwarded to Good News Outreach, a Christian nonprofit providing services to the elderly and the homeless. All who donate will be entered into a raffle to win two free plants.
The local vendor village will feature food, beverages, and products from local artisans and businesses. Picnic tables and tents will line the area.
There will be plenty of activities and learning experiences for young ones. Redemptive Love Farm will provide a petting zoo for all to enjoy in partnership with SunBlest Gardens, which is providing a butterfly garden for the farm.
"This is a community event where we as a young family are reaching across the table to bring people to a big farmers market where we can help you pick out plants," Caleb said. "It's our way of saying thank you for shopping local."
Melanie is designing a plant wall that will lend itself to fun photo opportunities. A scavenger hunt for the children will be hosted during the event.
SunBlest Gardens makes for an ideal day trip from Tallahassee or weekend getaway for travelers. After visiting the greenhouses, plant lovers may opt to take a dip at nearby Wakulla Springs and enjoy the many small businesses right down the road.
"We encourage people to get outside, get dirty and learn about the environment we live in," Melanie said. "With each plant purchase, they are supporting a family of four who hopes to keep growing and providing for the region for generations to come."
SunBlest Gardens is located at 874 Commerce Boulevard in Crawfordville. Participating vendors will include: The Frothers Daughter, The Juice Box, Tally Sips & Sweets, Pineappetite, Live Love Macaron, Pineapple AC2, Kona Ice, Seasonal Scoops, Fired Up Pizza, Atlas Coffee, Mollywood Designs, MiCo Candles, Olde Fields Clothing Co, Baum Road Studios and SoliKall
---
---