Southern Cuisine & Southern Hospitality Erupt at Table 23
Table 23 is nestled under a canopy of iconic Tallahassee oak trees in a restored residence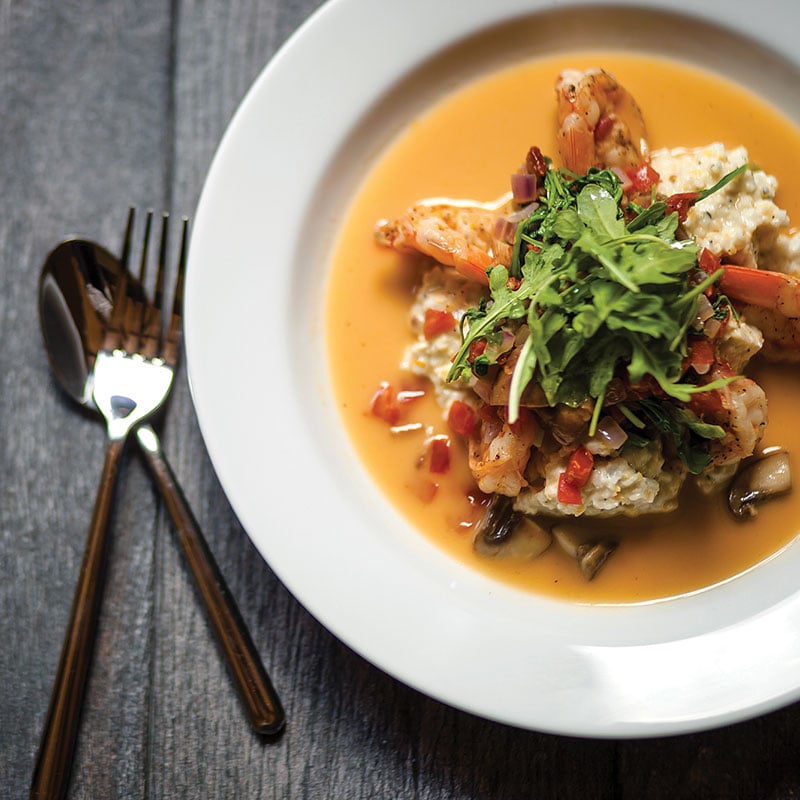 At the age of 23, Joe Lemons embarked on his career in the restaurant industry with Bloomin' Brands where a hostess caught his eye. At 23, Mandy became Mrs. Lemons. The lemon tree would grow, branching out with two daughters and three sons. After 23 years in the corporate restaurant realm and always finding comfort in their favorite Psalm 23, the Lemons grasped the opportunity to open their own restaurant. Making "23" part of its name was a given.
Table 23 is nestled under a canopy of iconic Tallahassee oak trees in a restored residence, which doesn't go unnoticed in the Midtown neighborhood. Like a quintessential Southern home — the building dates to the 1920s — it features a wraparound porch that practically begs to be enjoyed.
"We always loved to sit outside," said Mandy Lemons. "So, we really love that about this building. The location was perfect to create the atmosphere we wanted, a place to unwind, hang out and enjoy one another."
"That's when our dream became real and most rewarding, when we saw the porch full of people drinking, eating and having a good time," agreed Joe.
While the Lemons were no strangers to restaurant management and operations, they needed someone to cook and create the food, and not just anyone. They signed on Brandon Miller, the trusted and talented chef who worked alongside Joe for 12 years at Bonefish Grill, and Brian Knepper, whose culinary craftsmanship has satisfied diners at the renowned Commanders Palace in New Orleans and Cypress and the Governor's Club in Tallahassee.
"The food is unique yet comfortable," said Joe. "The chefs did an incredible job of creating a menu that is straightforward but with a Southern twist that highlights local ingredients and traditional preparations."
Specialities include a ribeye steak that is rubbed in Lucky Goat coffee and whose savory aroma and flavor are scrumptious. Table 23's Gulf grouper brings the coast to the capital and is dressed with Gulf shrimp, blue crab stuffing with bourbon and thyme-infused skillet corn. The Southern Rueben features stacks of housemade corned beef, pickled collard greens, Monterey jack cheese and "ComeBack" sauce.
 "We love the freedom to take what we've learned through the corporate world and apply it to our own business," smiled Joe as one of his waiters passed by with a wave and a nod. "We can commit to what's important and support causes we care about. You will see one of us or both of us here every day."
In bringing about Table 23, Mandy and Joe and their employees have created a restaurant that feels and looks a lot like home — and a lot like all that Tallahassee is.  
---
It's 5 o'clock somewhere, the porch specifically
Relax with a Table 23 cocktail, enhanced with fresh fruit juices.
Southern Paloma brown sugar-blazed grapefruit, Corazon Blanco tequila, fresh lime and a brown sugar/sea salt rim.
Midtown Sundown pureed grilled pineapple, citrus bitters, tequila, vanilla simple syrup, pickled cherry juice, garnished with grilled pineapple.
Watermelon Basil Margarita  Don Julio, Cointreau, watermelon juice, fresh basil, house sours and a salted rim.
Pecan Old Fashioned Michter's American whiskey, pecan syrup, bitters, brulee orange and pickled cherry. 
Southern Heat bacon-infused vodka, strained into a barbecue rub-rimmed glass with a grilled Andouille-stuffed jalapeno.