South Walton
These Coastal Communities Have Whatever You're Looking for at the Beach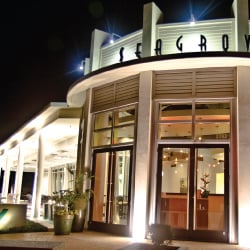 What's your idea of a great time at the beach? Quality time sunning in the lounge chair? Long, secluded walks along the waterline? Exciting nightlife and superb dining? An expansive resort with fun for every member of the family?
The 15 beach communities along the 26-mile South Walton coast offer a wide array of experiences. Take the family to a larger resort, and it's quite possible to park the car when you arrive and forget about it until it's time to leave. In addition to sand and surf fun, Sandestin has miles of bike trails, playgrounds, shopping, kayaking and other water sports, restaurants and a full calendar of special events.
Or, base yourself in a more eclectic community such as Grayton Beach or Dune Allen and find amusements as you hopscotch along 30A — a gourmet grilled cheese sandwich served from a classic Airstream trailer at Meltdown on 30A in Seaside, a visit to 2011 Artist of the Year Allison Wickey's World Six Gallery in Rosemary Beach, a complimentary (tip, please) rickshaw ride courtesy of 30A Coastal Cruisers.
While cruising the highway in your car is enjoyable, seeing the sights on a bicycle can turn the ride into an all-day adventure. Ride the length of the paved, 19-mile-long Timpoochee Trail or visit a community or two at a time. If you need a little help trying to figure out where to begin, the Scenic 30-A website (discover30a.com) includes a Virtual Bike Tour. You'll find a history of each community and sights of interest as well as 200 photos of what you can expect to see along the way.
No bike? No problem! There are rental companies along the beachfront with bikes for every member of the family, including beach cruisers, mountain bikes, tri-wheels, pint-sized bikes with training wheels and baby seats and trailers. Sunny Days in Santa Rosa Beach will even deliver your rental to your door.
The ideal place for a romantic getaway is the still-growing Alys Beach community. Driving past the sculptural entrance, you realize with its blinding-white houses contrasting with the occasional green lawn — this place is different. From a distance, the community looks very simple, but Alys Beach is the result of painstaking planning. Its walkways are oriented to capture the coastal breezes, and a stroll hand-in-hand with your sweetheart offers pleasant surprises. It's fun to peek through open doorways to see often very colorful island-style courtyards reminiscent of Bermuda or Antigua. Homeowners there participate in a particularly charming tradition: Outside of most homes is a "gift" to the community. It might be a small fountain, a vine-covered pot or even a whimsical stone divan.
The 7,200-square-foot Caliza Pool will carry you away with its Morocco-meets-South Beach vibe that includes billowing sunshades, hammocks and secluded cabanas perfect for a romantic tete a tete. The pool deck is surrounded by the Caliza Restaurant, just the spot for an alfresco dinner. If you're looking for a more casual bite, stroll on over to 30A and hang out at the beachy George's at Alys Beach and choose between their healthful "Behave" menu or the heavy-on-the-fried-food "Misbehave" choices.
Alys Beach's white walls become the canvas for a spectacular art show during Digital Graffiti. Drawing digital artists from around the world, it has grown to be a two-day event, set this year for June 8–9.
Whether it's Mom, Dad and a couple of youngsters, or a full-blown family reunion, the WaterColor Inn and Resort is a great place to visit. The Inn features 60 luxurious hotel-style rooms, designed to capture beautiful Gulf views — even from the shower! But for a large group or a more home-like experience, there are also villas and homes for rent.
There are the typical beach amenities — sand, surf, pool — as well as access to Western Lake at The BoatDock. It's the perfect place to learn stand-up paddle boarding, or sign up for an ecotour via kayak, YOLO board, YOLO-yak (a combo of YOLO and kayak) or canoe. Master Naturalist Murray Balkcom of Walco Eco Tours helps you see what may not be obvious at first glance. For example, he points out ghost crab tracks and shows that what at first glance look like scrubby bushes are actually the tip tops of live oak and magnolia trees almost completely covered by sand dunes.
Be sure to set aside an afternoon for a visit to the E.O. Wilson Biophilia Center on Highway 20 East near Freeport. During the week, its purpose is to bump up the environmental knowledge of students prepping for the FCAT, but this fabulous resource is open every Saturday (and on Fridays and Sundays in the summer). Kids will have fun with the hands-on exhibits — including a gopher tortoise hole they can crawl through and a jump-on "piano" where they can play a symphony of animal sounds. Offerings also include lectures and live animal show-and-tells.
Base yourself in a Rosemary Beach loft or at the Vera Bradley Inn by the Sea in Seaside and eat your way up and down the coastline. Many of the chefs in upscale restaurants serve locally sourced food, but new Chef Wayne Alcaide, chef de cuisine at WaterColor's Fish Out of Water restaurant, takes the practice to its highest level. On a recent evening, patrons were able to enjoy a filet of not-often-available cobia procured from a local sport fisherman.
It's a given that one of the area's newest upscale eateries, V Restaurant in Seagrove Beach, boasts a menu full of creative, fresh plates prepared by the talented Chef David Cunningham. What makes this experience extra-special is the venue, a new space decorated in sea glass shades of aqua and turquoise with indoor and outdoor dining for dinner and Sunday brunch. No reservations, though, so come early or be ready to spend some quality time in the bar.
For ultra-casual dining in Santa Rosa Beach, try the Smiling Fish Café in the Gulf Place center. In addition to good food, there's great entertainment in the form of people watching when you dine on the patio. Gulf Place is also home to Restaurant Fire, which features seasonal fine, but casual, dining for breakfast and lunch and an amazing brunch.
The name doesn't sound too appetizing, but Stinky's Fish Camp, also in Santa Rosa Beach, is the place to go for breakfast and great po'boys. You'll also find Basmati's here, which features great drink special during Happy Hour and best sushi on 30A.
Feel free to stay awhile at La Crema Tapas and Chocolate. Its casual attitude, small plate menu and sunny dining room bring a little bit of Spain to Rosemary Beach.
For a fine dining experience at Rosemary Beach, nothing beats Restaurant Paradis. The small restaurant's wine country ambiance is perfect for a romantic dinner for two or a gathering of friends.
For more inspiration, go to visitsouthwalton.com. It features an exhaustive list of places to stay and things to do.