Seven Déjà vu
Popular Performers from Festivals Past Return for a Seven Days of Opening Nights Encore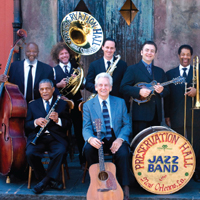 Photo courtesy Seven Days of Opening Nights
With more than 20 events lined up, there's something for every cultural taste during Seven Days of Opening Nights, including performances by the Preservation Hall Jazz Band as seen above.
Combining jazz, bluegrass and folk in ways that excite music lovers, the Carolina Chocolate Drops played for a full house at Ruby Diamond Concert Hall — and they were an instant hit at 2012's Seven Days of Opening Nights.
"People just loved them, they were fantastic," says Chris Heacox, the new executive director of Florida State University's annual performing-arts festival. "A lot of people like that new kind of 'newgrass' bluegrass. They are the hot young group that's doing that," says Heacox.
Photo courtesy Seven Days of Opening Nights
The Lincoln Center Jazz Orchestra
For Seven Days 2013, The Carolina Chocolate Drops are returning for an encore performance, so those who missed the sold-out performance have a chance to hear their unique sound.
They aren't the only artists returning to Tallahassee for 2013. Seven Days is bringing five other acts back from the past to celebrate its 15th year.
Some are perennial festival favorites. The PRISM concert has been a part of Seven Days since 2005. Student ensembles from various FSU band programs will once again unite for a fast-tempo performance that's full of musical surprises.
Geoffrey Gilmore first began showing independent films at the festival in 2008. His selection never disappoints and is always a well-kept secret until the event. Tribeca Enterprises' chief creative officer will present his fifth installment of "A Movie You Haven't Seen" this season.
FSU School of Music professor and international jazz pianist Marcus Roberts usually performs at Seven Days as well. Roberts, whom Heacox calls a "Tallahassee treasure," will present the music of iconic Jelly Roll Morton for his 2013 performance.
Others are blasts from the past. It's been six years since Anthony Zerbe performed at Seven Days. The Grammy-winning actor on Broadway and the big screen is back this year to perform the work of e. e. cummings.
Like the Drops, Zakir Hussain made his festival debut last year. A leader in the world music movement and master of the tabla, Hussain is joined this season by santoor guru and fellow music legend Shivkumar Sharma.
Heacox explains that Seven Days brought Hussain back, not only to perform, but also to connect with students.
Photo courtesy Seven Days of Opening Nights
John Williams and John Etheridge
"This was an opportunity to bring him back to go into our K–12 school here as well as doing some more outreach for our university students," he says.
Education has always been an important part of Seven Days: Some artists perform for school-age students or give master classes at FSU.
As an alumnus and a former music student at the university, the new director knows the impact these programs can have. "That experience, not only in music, but in theater and film and dance and all artistic aspects, is invaluable for students that want to make a career out of this," Heacox says.
In addition, Seven Days will feature 16 other performances and events. Most are being held Feb. 7–25, but there are also outliers in January, March and April too.
Photo courtesy Seven Days of Opening Nights
Creole Choir of Cuba Seven Creutzmann
Headliner Bernadette Peters makes her festival debut this season. The musical theatre star and "Grey's Anatomy" actress will perform a selection of her favorite songs.
Families will enjoy the Saturday Matinee of the Arts, an annual event that combines performances from local artists with arts and crafts activities. Best of all, it's completely free.
Events
To purchase tickets, visit tickets.fsu.edu or call the ticket office at (850) 644-6500. Student tickets, available for purchase with a valid FSU student ID, are $10 unless otherwise noted.
Saturday, Jan. 19
Anthony Zerbe:
It's All Done With Mirrors
8 p.m. The poetry and prose of
e. e. cummings. Richard G. Fallon Theatre, FSU. $25
Wednesday, Jan. 23
Richard Thompson
7 p.m. The guitar virtuoso performs. Ruby Diamond Concert Hall, FSU. $30–$50
Photo courtesy Peter Miller
Hilary Hahn
Thursday, Feb. 7
Hilary Hahn
7:30 p.m. Several pieces from the violinist's latest project. Ruby Diamond Concert Hall, FSU. $30–$60
Friday, Feb. 8
FSU Museum of Fine Arts
6 p.m.  Three unique exhibitions. FSU,
Museum of Fine Arts. FREE
Friday, Feb. 8
Wynton Marsalis and the Lincoln
Center Jazz Orchestra
7:30 p.m. A night of jazz. Ruby Diamond Concert Hall, FSU. $30–$75
Saturday, Feb. 9
Saturday Matinee of the Arts
10 a.m. A family event that includes local performers and arts and crafts. Tallahassee Museum. FREE
Saturday, Feb. 9
PRISM
7:30 p.m. FSU band students
converge for one powerful punch.
Ruby Diamond Concert Hall, FSU. $30
Sunday, Feb. 10
Cheryl Strayed
7:30 p.m. New York Times bestselling
author speaks about her books.
Ruby Diamond Concert Hall, FSU. $20
Photo courtesy Seven Days of Opening Nights
Marcus Roberts Trio
Monday, Feb. 11    
The Chieftains
7:30 p.m. The band celebrates their
50th year of traditional Irish music.
Ruby Diamond Concert Hall, FSU. $35–$75
Tuesday, Feb. 12
Actors Gang: Tartuffe
8 p.m. The ensemble presents an adaptation of this famous French play.
Fred Turner Auditorium, TCC. $25
Wednesday, Feb. 13    
American Legacies:
The Preservation Hall Jazz Band
& the Del McCoury Band
7:30 p.m. Jazz and bluegrass unite for
a concert of epic proportions. Ruby
Diamond Concert Hall, FSU. $30–$60
Thursday, Feb. 14
Kyle Abraham: Abraham.In.Motion/World Premiere Tour
8 p.m. Dancer/choreographer
Abraham presents his latest work.
Nancy Smith Dance Theatre, FSU. $25
Friday, Feb. 15
Bernadette Peters
7:30 p.m. A selection of her favorite
songs. Ruby Diamond Concert Hall, FSU. $60–$95, $40 students
Saturday–Sunday, Feb. 16–17
Sérgio & Odair Assad
2 p.m. Brothers and guitar legends
perform "La Belle Vie!"
Pebble Hill Plantation. SOLD OUT
Opperman Music Hall, FSU. $30
Saturday, Feb. 16
Carolina Chocolate Drops
7:30 p.m. Ruby Diamond Concert
Hall, FSU. $25–$50
Photo courtesy Seven Days of Opening Nights
Wynton Marsalis
Sunday. Feb. 17
Marcus Roberts Octet: New Orleans Celebration: The Music of Jelly
Roll Morton
7:30 p.m. Ruby Diamond Concert
Hall, FSU. $25–$50
Monday, Feb. 18
Geoffrey Gilmore: A Movie
You Haven't Seen VI
8 p.m. Student Life Cinema, FSU
$30, no student pricing
Monday, Feb. 25
Creole Choir of Cuba
7:30 p.m. A musical celebration
of Cuban and Haitian culture.
Ruby Diamond Concert Hall, FSU. $25–$35
Tuesday and Thursday, Mar. 5 and 7
Second City Touring Company:
Laughing Matters
8 p.m. The best of 50 years of comedy.
Richard G. Fallon Theatre, FSU. $30
Tuesday SOLD OUT
Saturday, Mar. 23
John Williams & John Etheridge
8 p.m. A collaboration of classical
and jazz guitar legends.
Opperman Music Hall, FSU. $40
Wednesday, Apr. 10
Zakir Hussain & Shivkumar Sharma
7:30 p.m. Ruby Diamond Concert Hall,
FSU. $25–$50
Photo courtesy Seven Days of Opening Nights
Pandit Shivkumar and Zakir Hussain