Role Player
Bill Kelly relished his brush with stardom in 'Crawdads'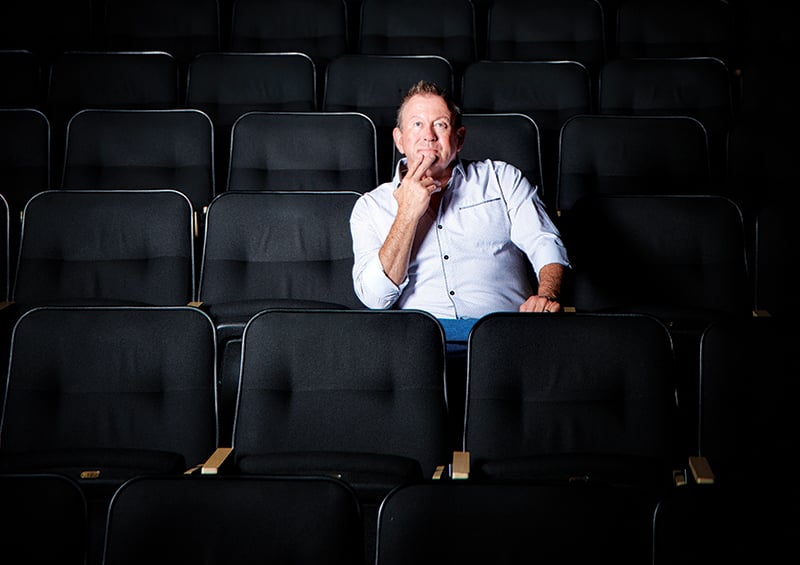 The fictional town of Barkley Cove in North Carolina's marsh country is far too small to conceal a murder as far as Sheriff Ed Jackson is concerned.
The sheriff is among the characters central to Delia Owens' bestselling novel, Where the Crawdads Sing, now a major motion picture in which Tallahassee resident Bill Kelly plays the role of Jackson.
Jackson leads an investigation into the death of Chase Andrews, who had befriended Owens' protagonist, Kya, a young woman left to fend for herself after her parents abandon her. The sheriff develops the "Marsh Girl" as a suspect despite finding little evidence of a crime at the fire tower where Andrews' body was found.
Kelly was in the midst of reading Owens' novel when he learned that he would be fitted for a sheriff's uniform. He had landed a trophy of a part.
"I get a lot of authority figure roles," he said. "There's law enforcement in my family, and I'm a father. I suppose those parts come more naturally to me because I have some real-life experience."
Kelly has been in broadcasting and acting for decades. Some 40 years ago, he got his start at a small AM radio station, KEKY, in his home state of Kentucky. As an actor, he has appeared in the movie, Hillbilly Elegy, and the True Detective and Bloodline TV series. Roles have included a military general, a banker and a devoted father.
"When it comes to working in radio broadcasting or acting, we're all trying to move up the ranks," Kelly said. "Getting the part of Sheriff Jackson was really an honor to me, and the experience was spectacular."
Kelly spent seven weeks on-site with the production team. Director Olivia Newman — best known for First Match, a wrestling movie — and producers Reese Witherspoon and Lauren Neustadter undertook the job of bringing Owens' novel to life. Filming took place not in North Carolina, but at Fontainebleau State Park in Mandeville, Louisiana.
"You'd never know it watching the film, but people are camping and cooking hotdogs just a few feet away during some scenes," Kelly said. "Most of what you see in the movie was built or staged just for the film."
With marshes, of course, come bugs.
"There's one shot where my deputy (played by Jayson Warner Smith) and I are walking toward Kya's house, and I had to swat this huge mosquito," Kelly said. "We called it for the night after that because the bugs were so bad. I joke that they had landing lights with numbers on them because they were massive."
Filming scenes that involved searching Kya's shack or testifying in court, Kelly was excited to be performing alongside many talented actors, including Daisy Edgar-Jones as Kya.
"It's an honor to be around such prestigious individuals," he said, "and it's also nice to see that they are people, too, working on their craft."
Many have helped Kelly in the course of his career, and he is quick to acknowledge the importance to him of the Florida State University College of Motion Picture Arts.
"That's where I cut my teeth," Kelly said. "The FSU film school is truly a hotbed of filmmaking."
Kelly is a proud Tallahassean.
"When I'm traveling to be on set for these shows and films, people assume I'm from Los Angeles or Atlanta," he said. "I happily correct them and share that I live in Tallahassee."
Kelly has called Northwest Florida home since 1986. He and his wife Nancy worked together when their careers were just beginning; both were married to others at the time.
"We lost connection over the years," he said, "and then we both got divorced. It's a funny story of how we reconnected. She was watching Bloodline and noticed that I was in it. She found me on Facebook and told me, 'I was watching this great show, and then there you were!'"
Nancy moved to Tallahassee after suddenly finding herself unemployed and receiving an unsolicited offer on her home.
"There's nothing better than having your spouse support your dreams," Kelly said.
Nancy helps Kelly prepare for his auditions and can be a tough critic.
"She'll tell me I need to do something again or that I can do it better," Kelly said. "I want to say that's good enough and take a break, but she keeps pushing me to do it better, and that's really helpful for me."
Kelly was proud to bring his wife to the premiere showing of Where the Crawdads Sing in New York. Together, they walked a green carpet — a nod to the lush setting for the film, which has been nominated for a People's Choice "Drama Film of the Year" Award.
Kelly said he has learned to set aside personal concerns when he is behind a microphone or a camera.
"When you walk into that studio, you have to hang your emotions and problems on the door," he said. "Your job is to help others enjoy their day a little bit more and maybe set aside their problems for a moment."
---
As Seen In
Bill Kelly has appeared in over 50 film and television projects. Among his most famous appearances are: Where the Crawdads Sing (2022), Hillbilly Elegy (2020), The Last Thing He Wanted (2020), Pain & Gain (2013) and Catching Hearts (2012).
---