Realtor and Former Model Shares How She Wears 'Boho Chic'
Her eclectic style plays with color, texture, shape and finish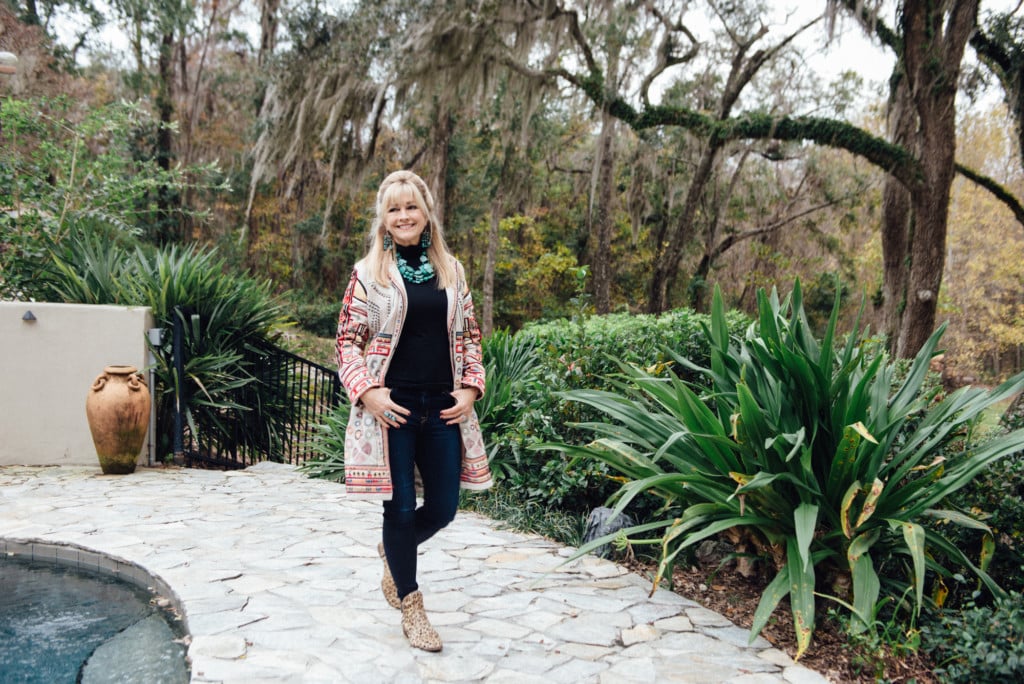 It is hard to miss Tallahassee native Calynne Hill.
Whether in cowboy boots and slim jeans or in a fitted black sheath, the former model, crowned with cascades of thick blonde hair, seems to step to the front of any crowd.
A founder of the realty company Hill Spooner & Elliott and a former fashion and style editor at Tallahassee Magazine, Hill, it seems, was born with a sense of style — one that manages to be both fun and fancy.
"When I was still a teenager, I became interested in fashion — pouring through magazines, learning about color and what paired with what," she said.
She served on teen fashion boards and observed trends in style and design.
Perhaps inevitably, with her photogenic looks, Hill decided to act on her fascination with fashion and became a professional model.
She modeled in Miami and New York in the early 1980s, she said, and after she moved back to Tallahassee a few years later, Hill often appeared in hometown publications, including Tallahassee Magazine.
Hill's eclectic take on fashion and savvy business persona give confidence to her personal style.
A kind of "boho chic," it extends from hair and makeup to the tips of her designer boots.
A bit of eyeliner and blush and a brush of that gleaming hair, and she is ready to go. "I never leave the house without my lip gloss," she says.
Daytime cosmetics may be light, but her tresses are treated right. "I get a blow-out every week," she says. "Sometimes, twice."
Hill thinks back to her mother and aunts who religiously went to the beauty parlor, and she doesn't see her own visits as an extravagance.
"But, occasionally, I still like just pulling my hair up into a messy bun," she says.
That may be how she sometimes wears her hair when she and husband, retired plastic surgeon Lou Hill, go hiking or skiing.
Though comfortable in athletic-wear during vacation activities, the couple's inclusion of "binge museum hopping" as part of their getaways brings out Hill's taste for "a lit bit of fitted and a little bit of flowy."
"All things in balance," she likes to say.
Coupled with the blacks, whites and camel colors she prefers, Hill likes to add the occasional block of color.
"Corals and turquoises are great, with a bit of hot pink, gold or even purple." With her taste for upscale "boho," one might expect to find florals or big prints in Hill's closet. But there's not a one.
"Instead of small patterns, I would rather use big jewelry pieces for an eye-catching element," she says.
For nighttime and gala events, it's always back to sophisticated black.
But there'll be no "taffeta Southern girl big bows" for her, she says. "There's a black Halston jumpsuit I love. Flowing legs and bat-wing top … with some chunky costume jewelry and strappy sandals; it's perfect."
Over time, the busy realtor who is involved with her husband in art collecting, in her own thriving business and in a myriad of other community endeavors has come to rely locally on Narcissus.
"The buyer there knows just what I like," she says. "I'll tell her where I'm going, and they'll have two or three pieces out. They're pretty much always right."
When in doubt, classic and sophisticated with a bit of whimsy is Hill's comfort spot.
Of course, in any circumstances, a pair of gorgeous cowgirl boots will go with anything.