Plantation Wildlife Arts Festival Celebrates 20 Years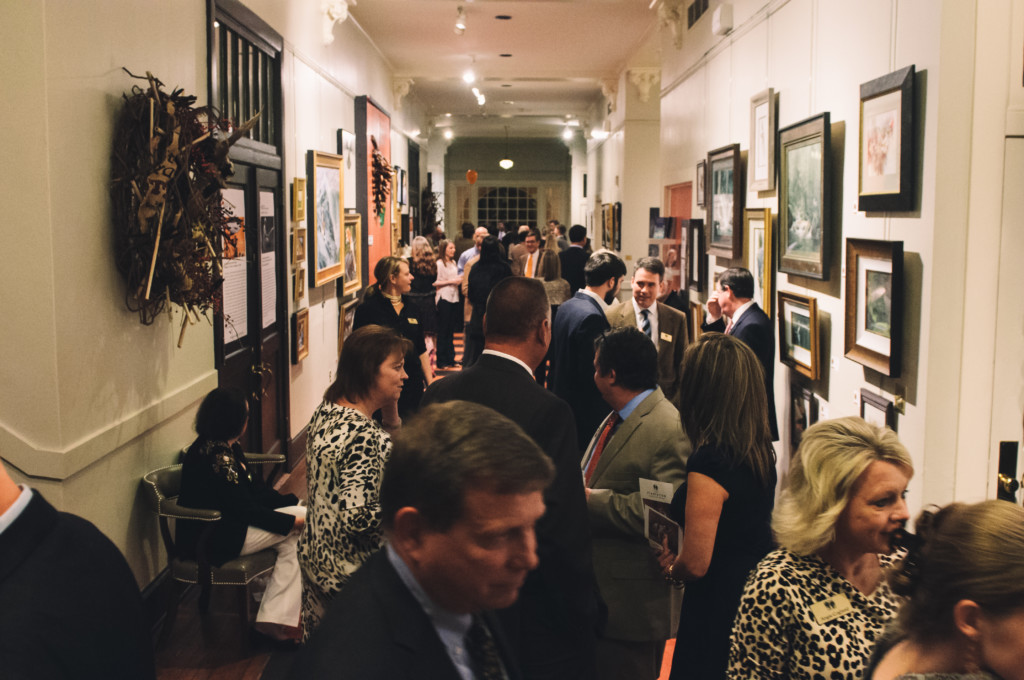 Thomasville, Georgia's Plantation Wildlife Arts Festival has become one of Fall's favorite highlights in the Red Hills region. It is a weeklong celebration that calls for cocktail dresses and cowboy boots, bourbon bars and bird dog sculptures, global sporting artists and southern makers. And this year, the Festival turns 20.
Throughout the ante-and-post bellum periods, sporting and wildlife artists often journeyed to Thomasville's plantations to observe wildlife, enjoy the sporting life, and practice their craft. PWAF pairs a rich cultural history to the tastes and needs of great wildlife artists and art collectors today.
At the heart of the event is a fine arts show featuring 65 of the best sporting and wildlife artists and artisans, held at the event's beneficiary Thomasville Center for the Arts. This year, instead of selecting one Featured Artist, 23 of PWAF's past Featured Artists have been tapped to create an Encore Gallery with original work.
Like the Encore Gallery artist twist, another – and perhaps the biggest – PWAF surprise is in the form of music by a "soul bent swamp-rocker" and the chance for families to experience what a day on a hunting plantation is like. On Sunday, November 15th, PWAF's newest event An Afternoon in the Field and 20th Celebration Concert will kick off at Pebble Hill Plantation.
Kids (and parents!) can experience a bobwhite quail hunting demonstration, an outdoor birds of prey flight show, duck decoy painting, fishing and shooting simulators and so much more. There will be food onsite at the "Red Hills Market," serving lunch, dinner and everything in between. Think local foodie favorites like Sweet Grass Dairy cheeses, Blackberry Patch jams, Schermer Pecans and for a bigger bite, try items like JB Crumb's fried grouper sandwich or Bradley's Country Store's sausage dogs and grits. Following the day's activities, a sold-out Celebration Concert with JJ Grey & Mofro will take place (but you can still get tickets if you become a Festival Underwriter!).
The 20th celebration truly offers such a diverse range of experiences for everyone: the art admirer, the fashion lover, the concert fan, the plein air painter, the wildlife enthusiast and much more. Join us November 13-22…we can't wait to cheers 20 years with you!
Events Not to Miss:
November 13: The Longleaf Affair Dinner and a Game of Chance with Birmingham's award-winning Chef Chris Hastings at Pebble Hill Plantation
November 14: Tall Timbers Research Station & Land Conservancy presents Earth, Pine & Fire Photography Exhibition Opening Reception featuring the works of Elmore DeMott at Studio 209
November 15: Afternoon in the Field and 20th Celebration Concert with JJ Grey & Mofro at Pebble Hill Plantation
November 18: Meet the Homegrown Chef with Wes Kent at Sweet Grass Dairy Cheese Shop
November 19: Women of Wildlife Painting Workshop with Sue Key and Betsey Fowler; En Plein Air Paint Out with C.D. Clarke and Clive Tyler; Wildlife Floral Workshop with St. Simon's The Vine Garden Market owners Bryce Vann Brock and Kelly Revels; Holland & Holland Fine Shooting Attire Runway Show with Holland & Holland Creative Director Niels van Rooyen and Kevin's of Thomasville
November 20: Encore Gallery Underwriters Preview; Commercial Bank presents the Fine Art Show Opening Night Preview Party at Thomasville Center for the Arts
November 21 & 22: Sporting & Wildlife Fine Art Show & Sale
November 21: Wildlife Conversation "From Cairo to Cairo" with Atlanta architect Keith Summerour; Commercial Bank presents Bird Dog Bash at Pebble Hill Plantation's Sugar Hill Barn
Plantation Wildlife Arts Festival
November 13-22
PWAF.org
229.226.0588