One to Watch: Dr. Charlotte Maguire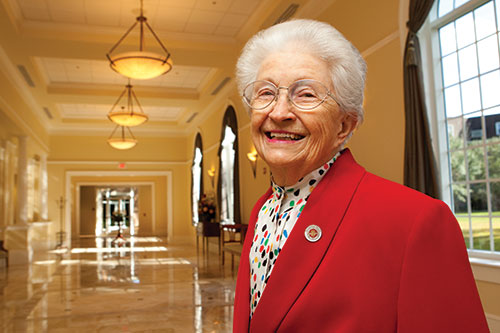 At 90, She's Still Insipiring Others to Learn One to Watch: Dr. Charlotte MaguireAt 90, She's Still Insipiring Others to Learn By Margie Menzel
Dr. Charlotte Maguire gives a whole new meaning to the notion of "golden years." At 90, after a brilliant career in medicine and government, she's still in love with learning — and still inspiring others to learn.
Her latest project: the Maguire Center for Lifelong Learning at Westminster Oaks Active Living Community, where she lives. The 10,000-square-foot center has a high-tech virtual library, a 350-seat auditorium, a computer lab and a bistro. It was seeded with a $1 million donation from Maguire, the largest lifetime gift ever to Westminster Oaks, and is estimated at $4.3 million in all.
"We've got to stimulate their brains!" said Maguire, an avid reader who loves to paint and take walks with her dog, Windy.
A pathfinder for women, Maguire practiced pediatric medicine in Orlando for 25 years, then came to Tallahassee as an official at the then-Department of Health and Rehabilitative Services. She served in such groundbreaking roles as chief of staff for the Children's Home Society's central Florida division and as the first woman president of the Florida Pediatric Society.
Maguire has already given FSU a state-of-the-art virtual medical library. In 1999, she donated $1 million to create the dean's chair and endow student scholarships at what was then known as the Program in Medical Sciences.
After advocating for the establishment of FSU's College of Medicine, she gave another $1 million
to endow a chair in geriatrics. She also established a scholarship fund for Westminster Oaks employees to train as certified nursing assistants, LPNs and RNs.