On the Waterfront
Dining with a view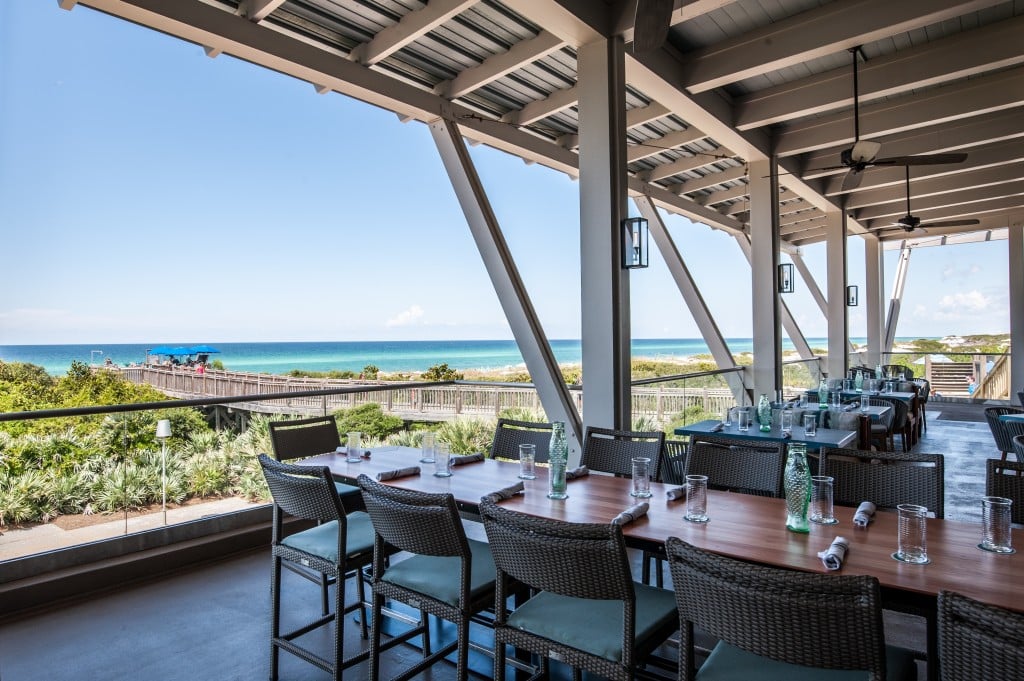 While the incredible variety of local cuisine options makes dining in Walton County, Florida, a delectable experience, one distinct advantage is the stunning backdrop provided by all the diverse local waterways. Whether it's for a date night, a casual family meal or drinks with friends, there are countless spots to celebrate with a breathtaking view.
Ready for Romance
A table for two is better with a view. And when it comes to a romantic meal with that special someone, nothing beats a sunset on the water.
At Fish Out of Water (FOOW) in WaterColor, you'll find great views, along with a Southern twist on several made-from-scratch dishes. From oysters and the Gulf fish sandwich to the grouper and swordfish, Chef Matt Moore serves inspired dishes in a casual, beautiful space overlooking the Gulf of Mexico. Not to mention, FOOW has one of the best happy hours in South Walton, complete with live entertainment — perfect for date night.
At Vue on 30a, you're set high up on a dune overlooking the pristine beach, with nothing between you and the glorious spectacle of a water-meets-sky horizon line. The breathtaking views help complement an upbeat ambiance in the dining room — perfect for special events. And a menu of updated classics — including plenty of fresh seafood — is always sure to please.
Casual Good Eats
With a bait house, fishing charter and restaurant all under one roof, Stinky's Fish Camp sure has a big-picture understanding of seafood. They serve up some of the freshest catch on the coast with a laid-back atmosphere. Be sure to check out their Sunday brunch and famous Oyster Log. It's a true work of art. They're just steps from the Gulf, and plenty of outdoor seating along scenic Allen Lake also provides a different type of view.
For yet another alternative waterfront, stop by The Bay, aptly named for its location right on the banks of the beautiful Choctawhatchee Bay. Nestled in Santa Rosa Beach, they often have live music and a festive bonfire. With a wide-ranging menu that covers both an incredible lobster roll and Vietnamese-style chicken wings, every palate will be pleased here. Family-friendly, it's a true winner for
all ages.
Also on the bay is Nick's Seafood, a long-standing favorite of locals. They're well-known for an array of options such as blue crabs, oysters and shrimp. The no-frills ambiance is very relaxed, with a mix of tables and seats at the bar, as well as an outdoor patio space. It has the feel of a familiar neighborhood spot. And if you time it right, you just might behold the spectacle of their annual winter bonfire — most likely the largest you've ever encountered.
If you're in the mood for more of a resort-style environment without losing the relaxed vibe, bring the family over to Barefoot's Beachside Bar & Grill at Hilton Sandestin Beach Golf Resort & Spa — open to the public daily. Pair a panoramic Gulf vista with some zesty fish tacos and a tropical drink. And if you're ready for something a bit more upscale, just head downstairs for a dinner at Seagar's, the area's only AAA Four-Diamond steakhouse.
Elevated Evenings
There's nothing like a night on the town with friends, cocktails and a view. Fortunately, South Walton has plenty of great spots to grab a drink and a rooftop vista with your crew.
Kick the celebration off ceremoniously, with Bud & Alley's time-honored tradition of ringing the bell to mark sunset. Right in the middle of the action in Seaside, this South Walton classic has tasty bites, a fun atmosphere and an iconic view of the beach. Meet some friends for a playful spin on your favorite refreshments (the fruitier, the better).
Pescado overlooks the Gulf from a perfect perch in Rosemary Beach. The space is sleek and sophisticated while remaining casual. Their eclectic menu ranges from small plates and a raw bar to shareable large-format dishes.
Over at The Pearl Hotel, you'll find the Havana Beach Rooftop Lounge and its classic bar serving craft cocktails, beer and wine. This elegant oasis with vintage Cuban styling might transport you to another time and place. But there's no time like the present to share a few contemporary, Gulf-to-table dishes.
Spreading the Flavor
South Walton cuisine is in high demand, so sometimes the taste has to travel. Being masters of their craft, some of the top chefs — including those from Stinky's, FOOW and Hilton Sandestin — are often showcased at events outside of the area, such as Emeril Lagasse Foundation's Boudin, Bourbon & Beer in New Orleans. While you may not be able to take in the same South Walton views, you can at least be reminded of them while savoring some of your favorite meals. These daydream dishes will help tide you over until you can return and rest your eyes on the glorious local waterways.
Visit South Walton
VisitSouthWalton.com