Not So Uniform
A Fresh, Stylish Start to a New Year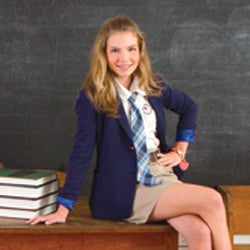 I remember all the years when I was growing up, looking forward to back-to-school shopping. Weeks before the first day of class, I would lay out outfit after outfit on my bed, planning what I would wear the first day of school. It was important — I wanted to get the new year started off right.
Even if your school requires a uniform, there are several ways to stand out in a crowd of plaid and khaki. Make your school uniform unique — and all about you! Here are a few tips; just don't buy anything until you knowit will pass muster with your school's rules:
» Instead of outfits, change your hair. Don't stick with one style; wear it up, down, curly or flat-ironed. Then add bows, barrettes and hairbands to create a variety of sassy looks.
» Make a statement with your jewelry. Change up your earrings. You may have restrictions, but there's no reason to wear the same pair every day. Or wear a signature necklace or bracelet.
» Choose an eye-catching watch.
» Ditto for your backpack and lunch bag. You can highlight your personality with color, charms, pins and patches. For a more sophisticated look, tie on a scarf.
» Pick a purse that pops.
» Wear a scarf as a belt. Or, wear a belt with a distinctive buckle.
» When the weather gets cold, get creative with your outerwear. There are so many different possibilities to choose from, including sweaters, jackets, hoodies, Pashminas, shrugs and capes.
» If the color of your tights is limited, choose the regulation color with unique textures and patterns.
» Say it with shoes. Wear pumps, ankle boots, Chuck Taylors or cute ballet flats. If you're saddled with a lace-up shoe, pick patterned laces rather than the standard black or white.
A Fresh, Stylish Start to a New School Year
Whether you're rocking checks, high-top shoes, ballet flats, graphic tees, stacked bracelets or a maxi dress, always remember: A smile and a good attitude are your best accessories.
That said, here are a few trends you should be finding in the school hallways starting in August:
» Skinny jeans are the season's hot trend — especially in bright colors. But keep in mind that skinny jeans don't suit everyone's body type. The very good news is that boot-cut and flared jeans are also in style.
» What would jeans be without a tee? Just be careful about wearing T-shirts that feature slogans or phrases — there's no need to be offensive. For the guys, a plaid cotton shirt is a great way to dress it up a bit.
» The hot fashion colors for the season are jade, teal, bamboo, coffee, orchid and phlox (also known as psychedelic purple).
» For nails, the season's colors are graphite, peridot and quartz, topped with crackle polish. Look for new scented polishes too.
» When it comes to accessories,
the watchwords are chunky and funky. Think plastic, oversized rings and stacks of big, fat bracelets. Feather earrings are also a hot trend, as well as retro sunglasses and cross-body purses.
» Here are a few other fashionable words to remember: crochet detailing, blazers, scarves and eco-friendly.