Northern Michigan's Crystal Mountain Resort Offers Hospitality and Snow Sports Galore
SKI "The Mitten"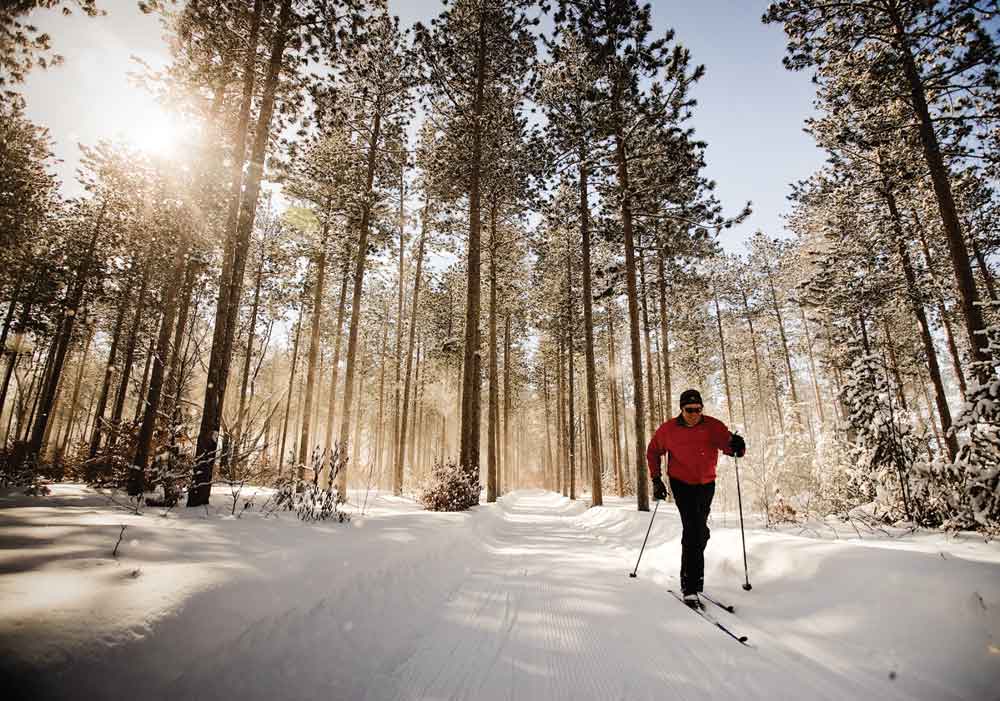 Many Northwest Florida ski enthusiasts begin their ski experiences on the gentle slopes of North Carolina. But, after a while, they're ready for the next step before they move on to tackle the Rocky Mountain destinations. The intermediate slopes of Michigan's Crystal Mountain Resort & Spa offer the perfect stop on the way to the challenges of skiing in the West.
SKI Magazine has rated Crystal Mountain as the Midwest's top ski resort. And yes, there are several full-service ski resorts in an area many people perceive as flat. Located about 45 minutes from the Traverse City airport, this 55-year-old resort is currently owned and operated by the Petriz and MacInnes families, who were among the original investors when 93 families pooled their resources more than 50 years ago to create a recreational slope for use by themselves and friends.
Crystal Mountain employs 400 local Midwesterners whose quest is to make you feel welcome and like part of the family, giving you a sense of connection you don't find at the corporate ski resorts. Every named run has a personal history attached to it. Once you arrive, you don't need to be concerned about anything more than getting up and fully enjoying your day and the variety of activities to choose from — and you will not be disappointed.
The resort, located on the pinkie side of Michigan's "mitten" near the coast of Lake Michigan, has developed into afour-season destination for groups, couples and families — with amenities designed for each group.
In the winter, there are 45 perfectly groomed slopes with a fair share of black diamonds. Yet, the majority of downhill slopes are greens and blues, with good long runs allowing beginner and intermediate skiers plenty of movement time. An important offering is the resort's ski school, with more than 70 full and part-time instructors. There are classes for kids and adults, obstacle courses for snowboarders and freestyle skiers, as well as weekly "race" events for those more advanced in the sport.
For more winter fun, try your hand at snowmobiling. Just a short ride from the resort, Crystal Outfitters provides the instruction, machines and outerwear necessary for a spin around the countryside. Or, spend a few hours practicing your double axel — OK, how about just staying upright? — at the resort's skating pond.
A unique offering of Crystal Mountain is a paintball biathlon course that gives novices a glimpse into the feeling of and skills necessary in this Olympic sport. It is a 1.5-mile loop you can navigate with cross-country skis or snowshoes, with three shooting stations that will test your speed and sportsmanship. You can play competitively in teams, trying to finish in the shortest amount of time, or just for fun. Currently only one other American destination offers this challenging and unique opportunity.
Did I say unique offerings? How about a dog sledding experience where you get to stand behind the sled and guide a pack of 10 Siberian huskies across a 40-acre preserve? The Tim Dewey family, enthusiasts of this ancient means of travel, has a stable of more than 30 dogs at their Shemhadar Kennels. Their passion, excitement and knowledge of dog sledding will capture you immediately.
The Crystal Mountain resort has evolved over the decades and now offers 262 lodging accommodations, from hotel rooms to five-bedroom townhomes. The original lodge and guest rooms are still in use and provide value packages.
A new guest hotel was built in the past few years, featuring a full-service, upscale restaurant, the Thistle Pub & Grille. In addition to fine dining, Executive Chef Darren Hawley has perfected a "peak performance" menu, designed to fuel winter's high-energy activities. With the right balance of carbohydrates, calories, proteins and fat, meals on this menu will sustain your body's needs during activity and extreme weather conditions.
Another way to spend your days — or at least your mealtimes — is sampling the wines produced in Michigan's nearby wine country. Leelanau and Old Mission peninsulas, and the water surrounding them, create a climate that protects the vines from Northern Michigan's icy winters. Experts say the region's Rieslings are world class. Periodically, the resort offers wine dinners, wine classes, wine tastings and bus tours to local wineries. Ciders and microbrews are also produced in the area.
After a day of winter sports, using muscles that Floridians never knew they had, it's time to adjourn to the resort's recently completed Crystal Spa. It's easy to relax on a chaise in its lodge-like environs, featuring a stacked-stone fireplace. It's beautiful, as well as being LEED-certified, winning numerous awards for its eco-practices and environmental stewardship. The spa has developed a Snowsports Massage that uses a series of passive and resistance stretches to improve flexibility while also reducing muscle fatigue. The Boot Relief Ritual takes you through 50 minutes of pampering to every muscle and bone below the knee.
If You Go
Travel Michigan
(800) 644-2489
michigan.org
Crystal Mountain Resort
(800) 968-7686
crystalmountain.com
Crystal Adventures
(231) 651-9648
crystaladventures.com
Shemhadar Kennels
(231) 779-9976
sleddog@vbs20.com