No Place Like the Family Home
Boys Town stabilizes the lives of displaced children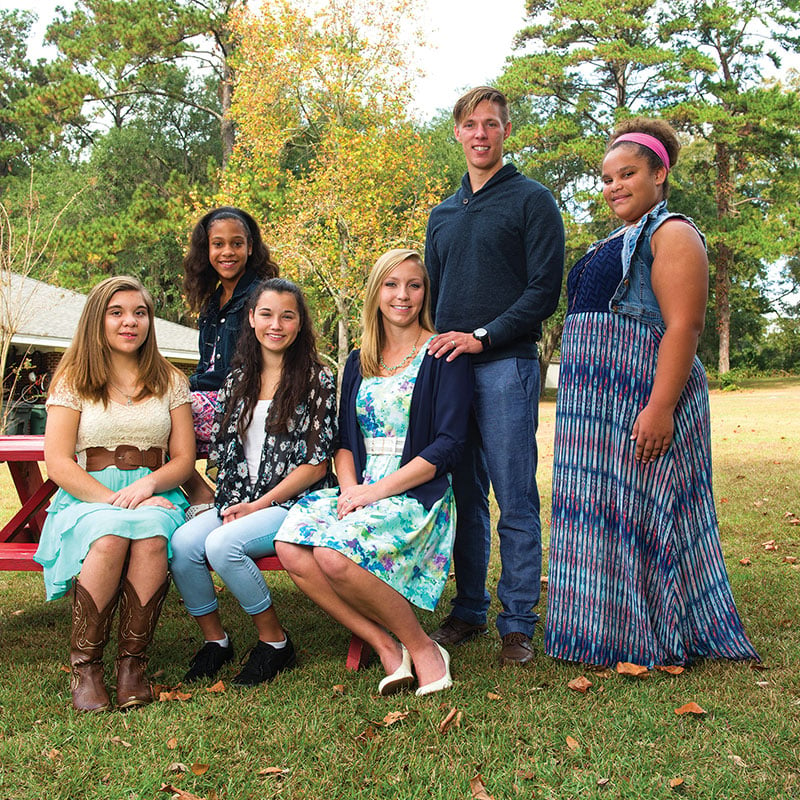 After four years working as a correctional officer, Craig Shelton was ready to make a career move. His wife, Victoria, newly graduated from Florida State University, was — she would find out — ready to start hers.
The couple paused when they spied an online job posting: Boys Town North Florida was looking for a teaching couple to lead a household of six teenage girls.
"I was the product of a poor family, but I got involved in church at a young age, and a family there took me under their wing and helped raise me," Craig said. "I had always wanted to help kids in the way that I had been supported, and Boys Town seemed to me to be the perfect opportunity to do so."
Victoria had planned to "go straight through" to a master's degree in social work.
"Working right away wasn't part of the plan, but once we read about the opening at Boys Town, we couldn't let it go," she said. "It's not just a job; it's a lifestyle. If you don't feel like you are called to do it — whether by a higher power or because it's your purpose in life to give back to children, you are probably not going to last very long.
"We were called."
The Sheltons had been married for two years when they signed one-year commitments to Boys Town. Two years later, they have no plans to leave any time soon.
Victoria grew up in Crawfordville as the oldest among seven siblings. For her, the prospect of a large family was "just like a regular day."
Guidelines for the Boys Town Family Home Program are established at the headquarters office in Omaha. But the household presided over by the Sheltons is an exercise, said Marcus Lampkin, Boys Town North Florida's senior director of program operations, in "self-governance."
Children are afforded a chance to "appeal the negatives" when disciplined. At family meetings conducted in the living room after the evening meal, cases are pleaded and "consequences" may be raised, left unchanged, lowered or removed by decision of the group.
But far more often than not, those family meetings have to do with positives: sharing accomplishments, planning outings, playing board games.
The children — girls were first enrolled in Boys Town programs in 1979 — take turns serving as the household manager, and chores are rotated among them. Girls newly arrived at the house are required to stay in constant contact with a family teacher, but soon cross a "bridge" to greater independence.
Privileges include placing three foods that the girls would rather not eat on a "Yuck List." Broccoli is prominent among the foods listed.
Children come to the Family Home Program after participating in other Boys Town programs; through referrals by social service or juvenile justice agencies; or through placements made by parents or other caregivers. The average length of stay is 12 to 18 months; children age out of the program at 18.
After Boys Town, children may return to their families, join an adoptive family or undertake independent living.
"We are here to play the roles of typical parents," Victoria said, "and to provide stability to children that have been through lots of transitions. Here, they see the same people every day."
The Sheltons recognize that one day, they, too, will graduate from Boys Town, and the children they will be mentoring at that time will have another shift to deal with.
---
Celebrating a Centennial of Service
Boys Town North Florida's 14th annual Spirit of Youth Gala will celebrate Boys Town's 100 years of caring for children with love, respect and dignity.
"Boys Town has delivered a century of help for every child, strength for every family and hope for every community," said Boys Town North Florida development director Dena Strickland, quoting the centennial slogan adopted by Boys Town programs throughout the country.
Those programs, founded by Father Edward J. Flanagan in Omaha in 1917, rely on a combination of public funds and community support.
The local gala, chaired by Matt and Sheri Bryan and Tim and Jill Meenan, will take place Friday, April 7, at the University Center Club. Boys Town North Florida currently is seeking event sponsors and donations of silent auction items.
Contact Strickland at (850) 504-5007 for further information about this and other centennial events.